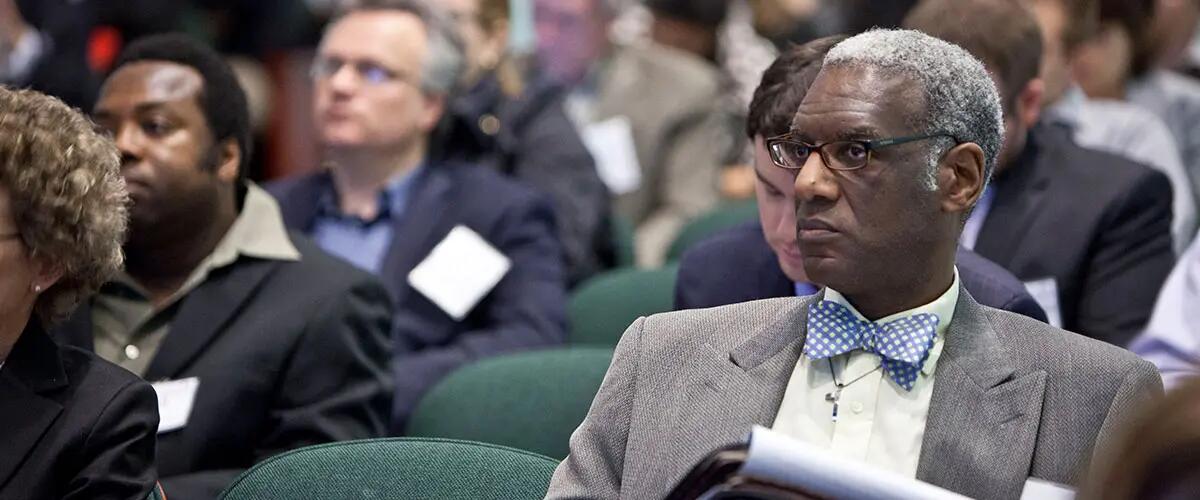 Collaborative Action Newark
Collaborative Action Newark (CAN), a new initiative of the Institute for Ethical Leadership at Rutgers Business School, seeks to expand the capacity for civic collaboration in Newark through values-based leadership development, peer support, and action. Over a two-year period, participants will attend monthly sessions that will enable them to develop skills and learn best practices for working across sectors to solve civic problems. CAN encourages participants' organizations to incorporate their learning into organizational involvement in collective action as a way to ensure that the benefits produced will extend beyond the individual participants.
Goal
The primary goal of Collaborative Action Newark is to strengthen the capacity for effectively addressing important community issues in Newark by enhancing the collaborative leadership skills of leaders from all sectors, especially leaders who are already involved in existing collective-action initiatives. It does this by
Offering skill-enhancement opportunities focused on best practices for civic collective action,
Creating opportunities for leaders who are engaged in this work to learn from and support each other, and
Providing targeted assistance to selected existing initiatives to help them achieve their goals.
Participant Criteria
To be eligible for participation in CAN, applicants should satisfy the following criteria
Lead, be actively engaged in, or be potential participants in collective-action initiatives in Newark;
Be senior-level leaders within their organizations and/or have responsibility for or the ability to influence their organizations' involvement in collective action; and
Have support from their organizations for their participation in the initiative. That support should include a commitment to incorporate participants' learning into organizational involvement in collective action.
CAN requires significant commitments from participants as well as their organizations. Participants commit to attend and actively participate in monthly sessions and one-on-one coaching meetings with their assigned mentors. Their organizations agree to grant them time away from their jobs for monthly sessions and coaching meetings. The organizations also commit to incorporate their learning into organizational involvement in collective action.
Participant Benefits and Expected Outcomes
Collaborative Action Newark will help participants develop practical frameworks, skills, and tools for leading and participating in civic collective action. Participants will explore personal strengths, challenges, and aspirations for collaborative leadership. They will utilize rigorous investigative approaches to deepen their understanding of the systemic features and common underlying factors associated with some of the challenging issues confronting Newark. By participating in CAN they will become part of a strong peer network that includes talented leaders from multiple sectors. They will also receive mentoring and coaching in leadership challenges from CAN Advisory Board members, who are top executives from various sectors.
By the end of their participation in CAN participants should be able to
Demonstrate increased effectiveness in leading and participating in collective-action work;
More effectively analyze and understand complex local issues on which collective action is being taken;
Have a better understanding of effective policies and practices, as well as challenges and setbacks, associated with collective action in Newark as well as in other places; and
Serve as catalysts for effective participation in collective action within their organizations.
Collaborative Action Newark Advisory Board
The Collaborative Action Newark Advisory Board provides the following types of strategic advice and guidance for CAN:
Recommends viable candidates for participation
Mentors the cohort and individual participants in leadership challenges
Recommends experts to speak to the cohort
Recommends viable collaborative efforts with which to engage
Recommends viable collective-action groups with which to engage
Provides input on the curriculum as well as the collaborative action projects to be selected by participants
Offers feedback on CAN's strategies, objectives, benchmarks, and outcomes
Acts as ambassadors for CAN by pursuing buy-in among the wider community to advance collaborative approaches to civic problem solving in Newark
Advisory Board Members
Damien Atkins, General Counsel, Panasonic Corporation of North America
Kathleen Boozang, Dean, Seton Hall University Law School
Marcia Brown, Vice Chancellor, Rutgers University - Newark
Robert Clark, Founder and Executive Director, YouthBuild Newark
Joseph Della Fave, Executive Director, Ironbound Community Corporation
Douglas Eakeley, Professor, Rutgers University School of Law - Newark
Angela Garretson, Director of Policy and Partnership, New Jersey Institute of Technology
Steven Gomez, Executive Director, Greater Newark Enterprises Corporation
Jill Johnson, Co-founder and CEO, Institute for Entrepreneurial Leadership
Robert Johnson, Dean, Rutgers New Jersey Medical School
Ellen Lambert, President, PSEG Foundation
Louise Scott-Rountree, Clergy Affairs Manager, Mayor's Office of Clergy Affairs
Warren Tranquada, Executive Vice President and COO, New Jersey Performing Arts Center
Grizel Ubarry, Trustee, Victoria Foundation
Kathy Weaver, Vice President of Programs, Newark Alliance
Financial support for Collaborative Action Newark is provided by Victoria Foundation, The Prudential Foundation, and PSEG Foundation.
Contact Us
For additional information, please contact:
Carla Robinson, Project Director
Rutgers Institute for Ethical Leadership
Rutgers Business School – Newark and New Brunswick
1 Washington Park, 10th Floor, Newark NJ 07102
Phone (862) 205-1197 Fax (973) 353-1136