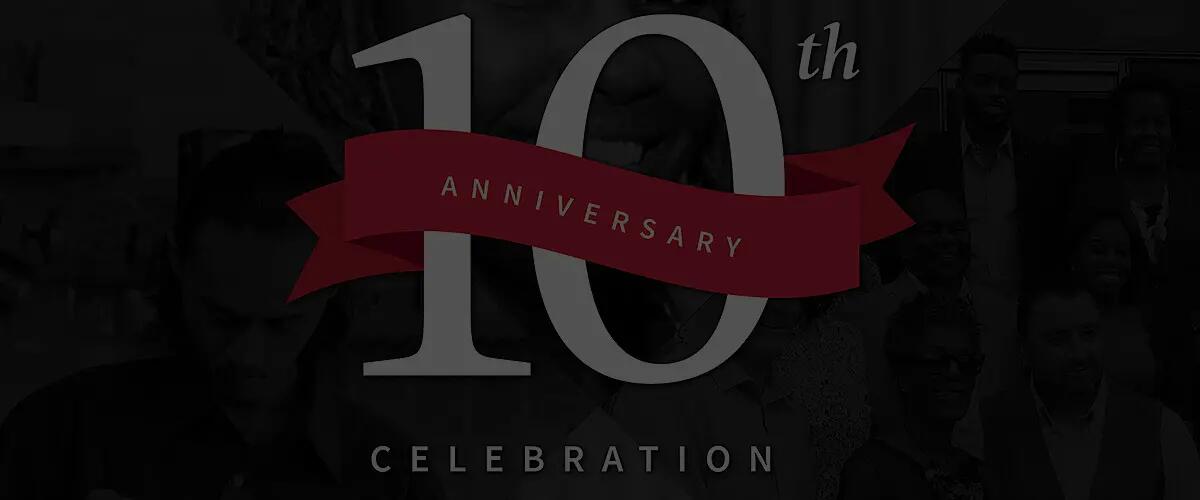 The CUEED UnGala Experience
A decade of stimulating economic growth through entrepreneurship
On October 10, 2019, the Center for Urban Entrepreneurship and Economic Development (CUEED) at Rutgers Business School will host a 10-year anniversary celebration called The CUEED UnGala Experience. The unique event, which will take place at Express Newark, will be a gathering of the Rutgers University community, CUEED program participants, partner organizations, and philanthropic supporters.
In the same way that the hundreds of inner city entrepreneurs who CUEED has guided, inspired, and educated have found original ways to revitalize their communities and build their businesses, our UnGala Experience will flip the script on typical gala events by presenting an evening that's fresh, dynamic, and innovative – including:
Delicious cuisine by restaurateurs who participated in CUEED programs
A marketplace that will highlight the unique products and artistic wares of our program participants/graduates
One-on-one Q&A sessions about timely business topics between experienced business pros and CUEED's entrepreneurs
Recognition of the CUEED Council of Entrepreneurs, which is comprised of outstanding individuals who have achieved noteworthy business accomplishments and important community service contributions.
October 10th, 2019
CUEED UnGala Experience
Express Newark
54 Halsey Street
Newark, New Jersey 07102
6:00 pm to 9:00 pm
Destination Newark Special CUEED UnGala Edition
ADVERTISE WITH US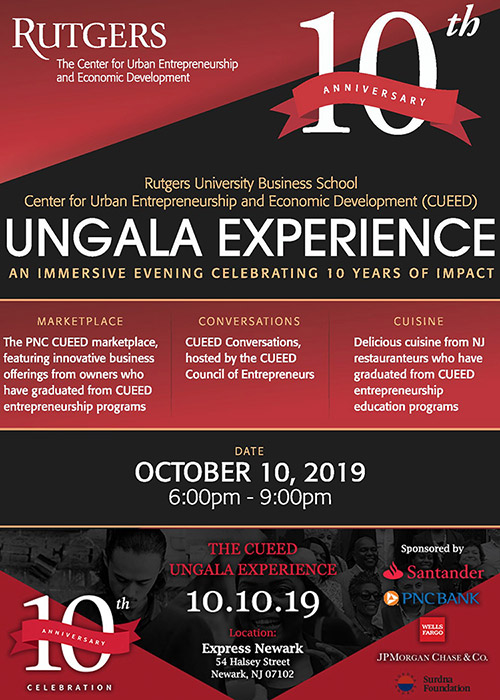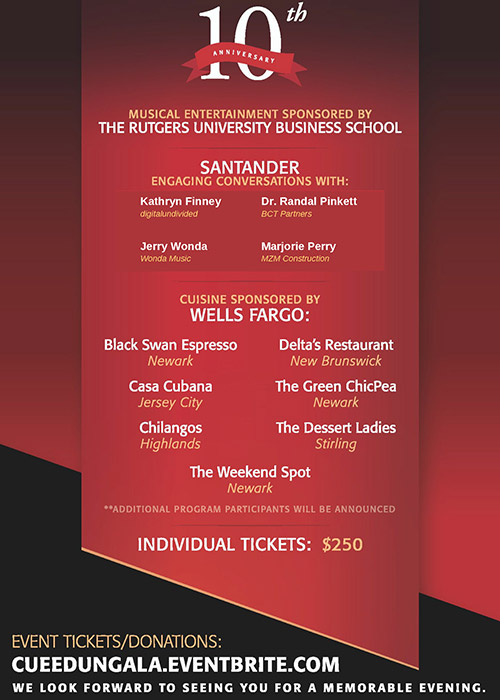 Event Details
This immersive evening celebrating 10 years of impact will include:
Marketplace
The PNC CUEED marketplace, featuring innovative business offerings from owners who have graduated from CUEED entrepreneurship programs
Conversations
CUEED Conversations, hosted by the CUEED Council of Entrepreneurs
Cuisine
Delicious cuisine from NJ restauranteurs who have graduated from CUEED entrepreneurship education programs
Sponsored By Wells Fargo:
Black Swan Espresso
Newark
Delta's Restaurant
New Brunswick
Casa Cubana
Jersey City
The Green ChicPea
Newark
Chilangos
Highlands
The Dessert Ladies
Stirling
The Weekend Spot
Newark
**Additional program participants will be announced
Musical Entertainment sponsored by
The Rutgers University Business School
Santander - Engaging Conversations with:
Kathryn Finney
digital/undivided
Dr. Randal Pinkett
BCT Partners
Jerry Wonda
Wonda Music
Marjorie Perry
MZM Construction