Meet Our Alumni
Master of Supply Chain Analytics
Nikita Bhosale, Class of 2020
Bayer U.S. LLC Buyer/Planner Co-op from June-Dec'19
hired upon graduation
Academic Background: BA in Supply Chain Management & Economics from Michigan State University
Master in Supply Chain Analytics
Years of Working Experience: 2 years
Industry: Manufacturing– Food and Healthcare
Hometown: India
Contact: nikita.bhosale@rutgers.edu
---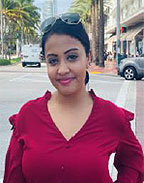 The reason I chose Rutgers Master in Supply Chain Analytics Program is to broaden my skills not only in the Supply Chain domain but also, to dig deep into the Analyt ical aspect. With data becoming so prominent in our everyday life learning how to manage it and utilize it to our benefit is a necessity. The program taught me various methods and technologies to tackle this necessity which I know has and will help me adv ance my career. The only thing constant is change and with the advancements in the industry the only way to keep up is to constantly keep learning which I gained from taking this program.
My favorite quote to share:
"The secret of success is to do the common thing uncommonly well." -John. D. Rockefeller
Linjie Lai, MSCA Class of 2020
Amazon - Area Manage
Hired 2 months before graduation
Academic Background: B.S in Marketing
M.S in Supply Chain Analytics
Years of Working Experience: 0.5 years
Industry: Logistics/E-commerce
Hometown: Shenzhen, China
Personal Interest: Travel, Sports
Contact: ll811@scarletmail.rutgers.edu
---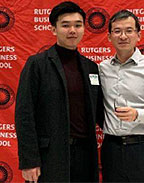 I am honored and fortunate to further my study in supply chain analytics program. In the program, there's always a huge space for you to establish achievements and seek career opportunities as long as you are determined about your goal and willing to explore. The faculty members in this program always give tremendous help and support to help you become a better version of yourself.
When I first came to this program, I was not a good candidate in the supply chain field. However, after actively engaging in substantial curriculum and practical workshops, I gained so much knowledge and insights from this community. I became well prepared for my dream job and a competitive candidate among my peers.
I am sure you will not be disappointed by the exploration of this program.
My favorite quote to share:
"Winners never quit and quitters never win" -Vince Lombardi
Wayne Chen, MSCA Class of 2019
Data Scientist, Recent College Grad Hire - Intel Corporation
Academic Background: B.S in Supply Chain Management & Marketing Sciences, M.S in Supply Chain Analytics
Years of Working Experience: 3 years
Industry: Semiconductors
Hometown: Livingston, New Jersey
Personal Interest: Cooking, Fitness, Personal Finance, Economics, Philosophy
Contact:LinkedIn | Website
---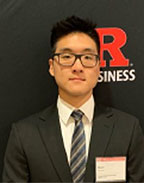 Fascinated by how businesses ran growing up, I knew Supply Chain was for me after taking the intro course during my undergraduate tenure. Witnessing what a critical role data analytics played to drive efficiencies in businesses, I started looking for ways to marry the two concepts together. I was sold on the MSCA program after seeing how it seamlessly tied together both analytics and supply chain concepts.
The MSCA program introduced me to the possibilities of how leveraging analytics can help business processes be more efficient. More importantly, it taught me who benefits from better and more timely decisions upstream: the people of the world!
My favorite quote to share:
"Most people want to be a bestseller rather than write a great book. Write that great book." -Anon
Qiying Xu, MSCA Class of 2017
Vice President Assistant - Shenzhen Mindray Bio-Medical Electronics Co., LTD.
Promoted from Data analyst 6 months after hired.
Academic Background: BS in Management and SCM; Master of Supply Chain Analytics
Years of Working Experience:  2 years
Industry: E-commerce; Medical Device
Hometown: Shenzhen, China
Personal Interest: Travelling, Exploring, Learning different culture and lifestyle
Contact: LinkedIn – Qiying Xu (Shirley)
---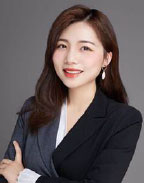 MSCA's admission offer came at the time when I was rejected multiple times on job interviews after earned my bachelor's degree. I wasn't clear what I want to do as a career, and somehow,I felt the interviewers know my lack of concentration. I am extremely grateful to have known Professor Alok Baveja, who was my mentor and my part-time job boss, and he introduced the program to me just at the right time.
The  program would  allow me  another year to  not  only  gain expertise in a specific domain but also identify my career path.Also,I will be eligible fora three-year OPT extension since the program  is  a  STEM  program.Therefore,joining  the MSCA program was a clear benefit. It was an easy yes for me to accept the admission offer. Some of the moments I enjoyed the most in the program were in an industry client project. We helped solve a  real-life  problem,  on  flower  game  when  we  were  tensely negotiating   with   our   suppliers.   Business   forecasting, Data analysis, and decision making were a headache to start with, but eventually, they become the most unregretful courses I took.
My career also started turning around. I landed a part-time job at OEC  group in my  first  semester  and  met  a  group  of  lovely colleagues.  I  got  an  invitation  from  Amazon  on  Linked-In  and received my first full-time job offer. Professor Weiwei Chen was supporting me throughout my choices. When I realized the role of  Amazon  was  not  what  I  wanted  for  the  long  term,  he encouraged me to follow my heart and passion.
Currently, I am in China,working 40% as a data analyst and 60% as  a  vice  president  assistant.  My  daily  life  is  working  on  data visualization  projects  using  Tableau  and excel  and preparing contents  and  arrangements  for the  vice  president. I  can  see where  the  future  is  leading  us --big  data utilization  and  lean value  chain,  and  I  feel  more  than  grateful  to  have  learned  the skills and mindset to catch the trend.
My favorite quote to share:
"Live the life you love, love the life you live."