Keep in Touch
Rutgers Business Connect: The RBS Alumni Network
The Rutgers Business School alumni network is a tool available to our graduates, but it is one that relies on our alumni to keep active and effective. We need your help in keeping your contact information up to date so that we may keep you informed and engaged with RBS, your fellow alumni, and our corporate connections.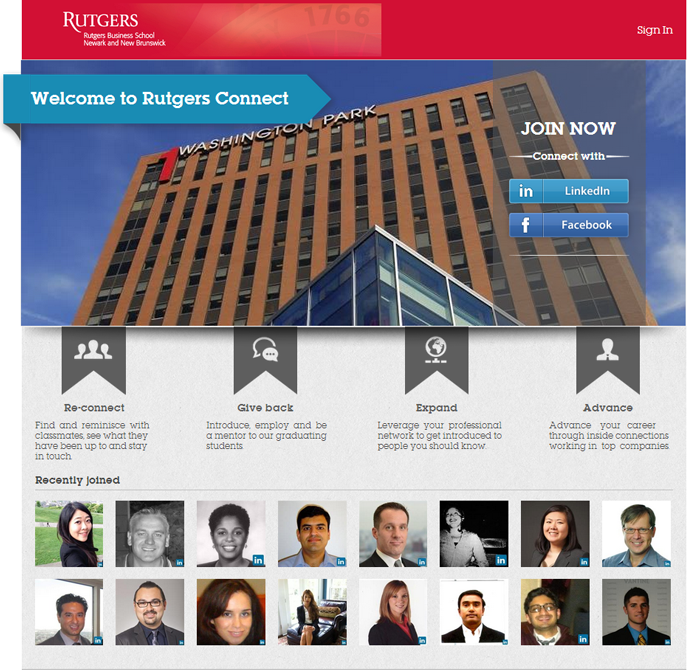 RBS values the relationship with our alumni and we attempt to invest in activities, events, and programs that bring maximum value to our students, alumni, and corporate partners. We encourage you to provide us with your ideas, feedback, and comments regarding alumni activities and programming.
Rutgers University Alumni Resources
Update Your Information with the Rutgers University Alumni Association
To update your contact information and have it immediately appear in your online community profile, click here. Your current employment information is particularly important in helping ensure our programming and networking activities reflect the needs and characteristics of our alumni.
You can also complete this form or send your contact information update by mail to: Department of Alumni Records, Winants Hall, 7 College Avenue, New Brunswick, NJ 08901.
Rutgers Alumni Online Community
The Rutgers Alumni Online Community is not only a place to reconnect, it's a place to stay connected. This dynamic online community offers all Rutgers graduates a variety of ways to connect with friends, classmates, colleagues, and Rutgers.
In this online social network, you can search for classmates, network, become a mentor to others, and send instant notes. You'll be able to add friends to your Friends List, and upon adding and connecting with friends, add more friends and make more connections.
You'll also be able to personalize your community profile, upload photos, create blogs, join in discussions on message boards, and share news about yourself. And, of course, you'll always be able to update your alumni record, so you will always be connected to your Rutgers family.
Be assured that you have control over what information is shared publicly with the online community and what information you can update with Rutgers but keep private from the alumni community.
Feel free to register or log in and dive right into the site, or for more information on getting started as an online community user, download our helpful Getting Started guide.