Rutgers Business School- Newark New Jersey County College Case Competition
Presented by M&T Bank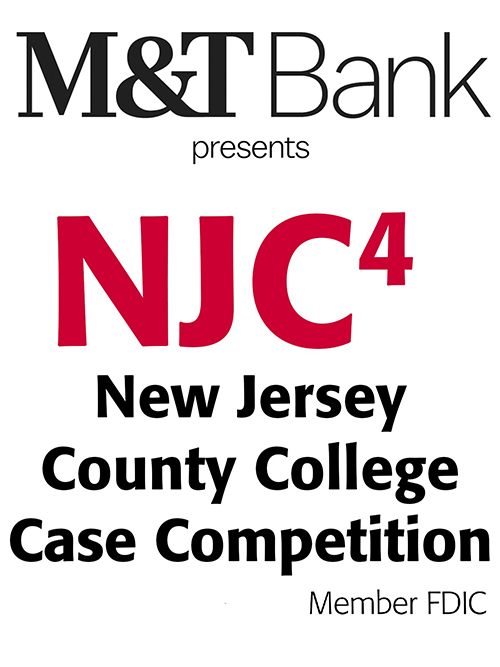 The Rutgers Business School-Newark (RBS-Newark) New Jersey County College Case Competition (NJC4), presented by M&T Bank, will be held on Friday, April 13, 2018 at Rutgers Business School in Newark.
 
The goal of this event is to provide New Jersey county college students, from diverse backgrounds and disciplines, the ability to collaborate, network and demonstrate their talent, knowledge and skills to a panel of expert judges as they solve a real-world business problem. This challenge affords students the opportunity to use creativity, analytics, and presentation skills well beyond the classroom environment.
The purpose of this initiative is to:
Provide county college students the opportunity to take part in a real world business case competition
Strengthen the relationship between RBS – Newark and New Jersey County Colleges
Showcase some of the best county college students in New Jersey
Encourage future business leaders to think more broadly about important business problems
Allow students to present to a panel of judges comprised of RBS faculty/administration and corporate partners
Add a great accomplishment to students' resumes
Last year eight county colleges and over 60 students participated in the second annual event. RBS is looking to increase both the number of schools and students for this year's competition.
Bergen Community College has taken the top prize for the last two years. Learn more about last year's event by reading more.
Key Dates
February 16 – Release of case to County Colleges
March 2 – Information Session for Students (held at RBS)
April 5 – Final presentation submission, student participation forms, and press release forms due
April 13 – NJC4, presented by M&T Bank, held at Rutgers Business School, Newark, NJ
For more information, please contact Ms. Kathy Wagner.
   Every winning team also receives an $1,000 RBS-Newark Scholarship for each team member