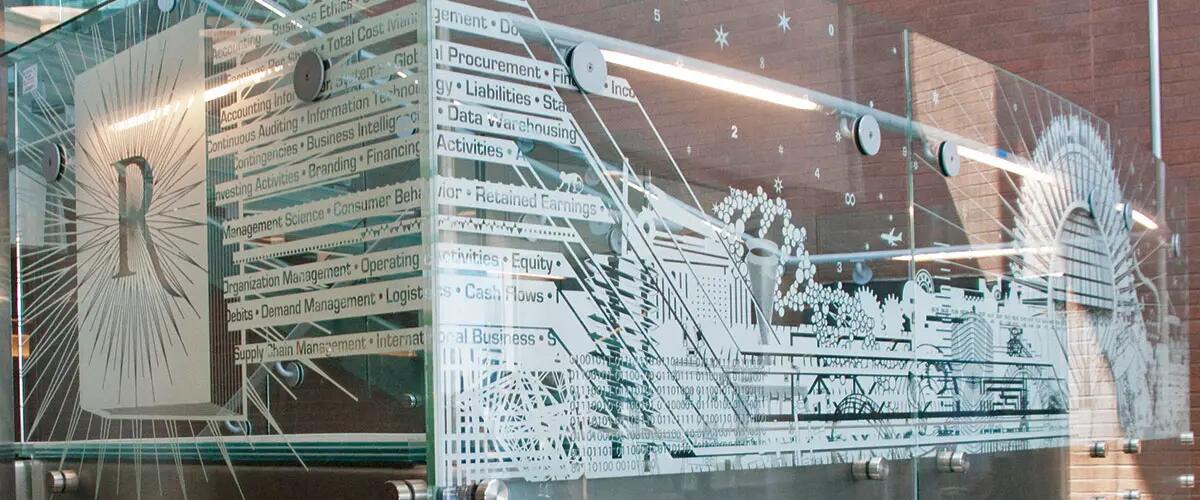 Distinguished Alumni
Celebrating the past. Inspiring the future.
Wall of Distinguished Business Alumni
Created in 2001, the Wall of Distinguished Business Alumni recognizes the business achievements of graduates of Rutgers, The State university of New Jersey and those schools that have since been incorporated therein. It ensures that the school maintains a permanent link with its past while inspiring current and future students to achieve.
The Wall of Distinguished Business Alumni was made possible by the generosity of Dick and Barbara Romano and the AT&T Foundation. The cast bronze plaque is the centerpiece of the lobby at 1 Washington Park—the Newark home of Rutgers Business School's graduate and undergraduate programs. Up to four plaques are placed on the wall annually. Alumni are selected through a nomination process.
Please click here to learn more about the nomination process.
Meet Our Distinguished Alumni
Orville E. Beal
Degree: BA '37, MBA '54
Title: President; The Prudential Insurance Company of America
Recognized: May 10, 2001
Orville E. Beal served as the ninth president of the Prudential Insurance Company of America. He came to the company in 1926 via the coal mines of Pennsylvania. Mr. Beal started as a $15-a-week clerk, and worked his way up the corporate ladder by day while studying at Rutgers by night - first as an undergraduate in the depression-era thirties, and two decades later as one of the first MBA candidates at the then-new Graduate School of Management. He completed his BA in 1937 and his MBA in 1954, graduating Phi Beta Kappa and Beta Gamma Sigma. By 1945, Prudential had named him a vice president. In 1954, he relocated to Minneapolis to head the company's north central operations. He returned to Newark in 1957 as an executive vice president and was named president on October 1, 1962.
Robert J. Boutillier
Degree: BS '48
Title: Vice Chairman; Northeast Region, Peat Marwick
Recognized: June 11, 2003
Robert J. Boutillier is a 1948 graduate of the Rutgers School of Business Administration, the name by which the Newark undergraduate program was then known. He spent his career at the accounting firm of Peat Marwick, rising through the ranks to head the firm's Newark office in the Sixties, and US operations in the early Seventies. In 1977, he became the company's vice chairman for the Northeast Region, a position he held until his retirement in 1982. Boutillier remained actively involved at Rutgers throughout his life, serving as a trustee of the university and an overseer of the foundation. His legacy at the business school lives on in many ways, most notably in the newly-created endowed faculty professorship in accounting that bears his name.
Robert E. Campbell
Degree: MBA '62
Title: Vice Chairman, Johnson & Johnson
Recognized: June 19, 2002
Robert E. Campbell spent 40 years at Johnson & Johnson before retiring in 1995 as vice chairman. He earned his MBA from Rutgers on a part-time basis while rising through the ranks at J&J. He held various positions in financial management and systems planning, and was named treasurer and a director in 1976. In succeeding years, his responsibilities continued to increase, and, in 1985, he was appointed vice chairman. Under his watch, the company introduced major professional medical devices including disposable contact lenses, endo surgery instruments and cardio-vascular stents. Campbell helped J&J grow from a $240 million dollar domestic company that focused primarily on consumer products to a $30 billion dollar international corporation focused on pharmaceuticals and professional devices.
Frank Cassidy
Degree: MBA '74
Title: President and COO; PSEG Power LLC
Recognized: Recognized: June 11, 2003
Frank Cassidy joined Public Service Electric and Gas in 1969, holding various posts of increasing responsibility including General Manger - Corporate Performance, Senior Vice President - Fossil Generation, and Vice President - Transmission Systems. When the company created PSEG Power in 1999, he was named president and chief operating officer. Under his leadership, the company quickly became one of the largest independent power producers and energy trading companies in the country. Cassidy is a leading advocate for national legislation that would implement mandatory air emissions reductions targets and timetables for pollutants most associated with the electric generation industry. He serves on the U.S. Environmental Protection Agency's Clean Air Act Advisory Committee and on the board of the Center for Clean Air Policy, among others.
Art Certosimo
Degree: BS '77
Title: Former senior executive president of the Bank of New York Mellon Corporation. He is currently an executive advisor for Broadridge Financial Solutions, Inc., and chairman of the Broadridge company, LTX.
Art is non-executive Chairman of LTX, A Broadridge Company and a senior advisor to the executive team at Broadridge Financial Solutions, a leading global financial technology firm. As part of his role with Broadridge, he also represents the firm of the LiquidX Board of Directors as Chairman. Art retired from Bank of New York Mellon in December 2014 as a member of the Executive Committee and Operating Committee of the Company and as Senior Executive Vice President and CEO of Global Markets, leading the company's foreign exchange, capital markets and derivatives trading businesses worldwide. Prior to this role, Art served as Chief Executive Officer of Alternative, Broker-Dealer and the Treasury Clearance Groups, where he played a major role in the 2001 9/11 recovery and the 2008 credit crisis. Before joining The Bank of New York in 1998, Art was a principal of Morgan Stanley Asset Management (MSAM). Prior to this, he was a vice president at The Chase Manhattan Bank's Global Investor Services group.
Art is Ex-Chairman and member of the Board of Overseers of the Rutgers University Foundation and Chairman of the Board of Advisors of the Rutgers Business School; where he is also a co-adjutant professor in the Executive MBA program. He is also a member of the Board of Directors of the Saint Pio Foundation.
Art holds a B.A. in Business Administration from Rutgers College at Rutgers University and an M.B.A from Fairleigh Dickinson University. He lives in Rutherford New Jersey USA with his wife Terry and has two children, Matthew and Cara.
Mei Wei Cheng
Degree: EMBA '99
Title: President and CEO, Siemens Ltd., China, and CEO North East Asia; Former Chairman and CEO; Ford Motor (China), Ltd.
Recognized: April 27, 2005
Mei Wei Cheng started his career with AT&T in 1972 as a plant engineer for New Jersey Bell. He rose through the ranks, taking increasingly senior positions with AT&T companies in the United States and Asia, eventually serving as president of AT&T China. Executive-level positions with General Electric followed. In January 1998, he joined Ford Motor (China), Ltd. as president and COO and was elevated to his current position a year later. Cheng is a member of the Committee of 100, an organization of Chinese American leaders devoted to encouraging better U.S.-China relations. He served on the board of governors of American Chambers of Commerce in China and was vice chairman in 1996. He earned his MBA in 1999 through the RBS Beijing International Executive MBA program, having taken MBA classes at the school in the early '70s while working in New Jersey.
 
Gary M. Cohen
Degree: MBA '83
Title: President, BD Medical
Recognized: April 27, 2005
Gary M. Cohen is president of BD Medical, one of three business segments of Becton, Dickinson and Company (BD). He began his BD career as a marketing research analyst. Cohen held positions of increasing responsibility in marketing and product development through the late 1980s and early 1990s. In 1994, he became president of the company's worldwide hypodermic syringe and needle business. He was appointed president of BD's worldwide sample collection business in 1996, and president of BD in Europe the following year. In 1998, Cohen was named an executive vice president of BD. He has served as president of BD Medical, which represents more than half of BD's total sales revenues, since 1999. Cohen is very active in the global effort to limit the spread of infectious diseases in the developing world.
Alvaro G. de Molina
Degree: MBA '88
Title: Retired Chief Financial Officer; Bank of America
Recognized: June 27, 2007
Alvaro G. de Molina began his career in 1979 with Price Waterhouse, and quickly climbed the corporate ladder after receiving his M.B.A. He spent 17 years of his distinguished career at Bank of America, where he was most recently chief financial officer and a member of the bank's Risk and Capital and Management Operating Committees, managing more than $56 billion in revenue and $16.5 billion in earnings in 2005. As CFO, he orchestrated growth strategies for a financial institution that serves more than 55 million consumers with 5,800 banking offices and 16,800 ATMs. While CFO, he was instrumental in completing the $35-billion purchase of MBNA, making Bank of America the nation's largest credit-card issuer. Prior to becoming CFO, he was chief executive officer of Bank of America Securities, and president of their Global Corporate and Investment Bank. The June 2006 issue of Treasury & Risk Management magazine called him a "visionary CFO," and ranked him among the 100 most influential people in finance.
William M. Freeman
Degree: MBA '83
Title: President; Verizon Public Communications Group
Recognized: May 10, 2001
William M. Freeman is president of one of Verizon's most profitable lines - public communications. With responsibility for approximately half a million stations in 33 states, he is providing the visionary leadership that is transforming an industry in flux. The old cash for calls business model is giving way to one befitting the information age we live in - payphones as "information gateways." Mr. Freeman's innovative management and business practices have won recognition through the prestigious Filtz Quality Award, which was modeled after the well-known Malcom Baldridge National Quality Award. He has served as President & CEO of Bell Atlantic - Washington and Bell Atlantic - New Jersey, and has been widely recognized for his commitment to and passion for children, the disabled and education.
Mary Jo Green
Degree: MBA '70
Title: Senior Vice President & Treasurer; Sony Corporation of America
Recognized: June 11, 2003
Mary Jo Green earned a bachelors degree in economics from Rutgers in 1969 and an MBA in Accounting a year later. She began her career in 1970 as a senior accountant at McCrory Corporation. Executive-level positions followed at American Cyanamid, Schering-Plough and Pitney Bowes. In 1999, Sony recruited her to serve as senior vice president and treasurer. In that capacity, she is also senior vice president and general manager of Sony Global Treasury Services, and assists the top management of Sony's U.S.-based operating units - including Sony Electronics, Sony Music and Sony Pictures - develop financial strategies and evaluate investment opportunities. Professionally, she serves on the board of Financial Executives International, a prestigious organization comprised principally of corporate CFOs, treasurers and comptrollers. In 2004, she became only the second female in that organization's history to serve as chair.
Ralph Izzo
Degree: MBA '02
Title: Chairman and CEO; Public Service Enterprise Group Inc. (PSEG)
Recognized: June 27, 2007
In April 2007, Ralph Izzo was elected chairman and chief executive officer of Public Service Enterprise Group Incorporated (PSEG). Six months earlier, he was also named as the company's president and chief operating officer, and a member of the board of directors of PSEG. Previous to that, Mr. Izzo was chief operating officer of Public Service Electric and Gas Company (PSE&G). Mr. Izzo is a well-known leader within the utility industry and also in the public policy arena. He served as an American Physical Society Congressional Science Fellow in the office of U.S. Senator Bill Bradley. He also served four years as a senior policy advisor in the office of New Jersey Governor Thomas H. Kean, specializing in energy, science and technology. His career began as a research scientist at the Princeton Plasma Physics Laboratory, performing numerical simulations of fusion energy experiments. He has published or presented over 35 papers, and been the recipient of national fellowships and awards. He is a member of the RBS Board of Advisers.
Irwin M. Lerner
Degree: BS '51, MBA '58
Title: Chairman, President and CEO; Hoffmann-La Roche, Inc.
Recognized: May 10, 2001
Irwin M. Lerner spent 32 years at Hoffmann-La Roche before retiring in 1993 as chairman, president and CEO. A 1951 graduate of the School of Business (Newark), and a 1958 graduate of GSM, he more than tripled the company's size and profitability. Mr. Lerner is credited with originating the concept of co-promotion, whereby two companies join forces to market a drug. It was through co-promotion that he introduced the anti-ulcer drug Zantac, which, in its day, was the best selling drug in pharmaceutical history. At the federal level, he oversaw reforms that streamlined the drug approval process and increased funding to the FDA. Today he is chairman of Medarex Inc., and a director of a number of public and private companies. Mr. Lerner was the first distinguished executive-in-residence at Rutgers Business, and serves on the school's Board of Advisers.
Gerald H. Lipkin
Degree: BA '63
Title: Chairman, President, & CEO of Valley National Bank
Gerald H. Lipkin, Chairman of the Board, President and Chief Executive Officer of Valley National Bancorp and Valley National Bank. Mr. Lipkin began his career at Valley in 1975 as a Senior Vice President and lending officer, and has spent his entire business career directly in the banking industry. He became CEO and Chairman of Valley in 1989. Prior to joining Valley, he spent 13 years in various positions with the Comptroller of the Currency as a bank examiner and then Deputy Regional Administrator for the New York region. Mr. Lipkin is a graduate of Rutgers University where he earned a Bachelor's Degree in Economics.
Soichi Matsuno
Degree: MBA '81
Title: Chairman and CEO; Eisai Inc.
Recognized: June 11, 2003
Soichi Matsuno began his career with Eisai Co. Ltd., one of Japan's largest pharmaceutical companies, in 1967. He worked as a medical rep in Tokyo before spending the Seventies abroad. He received his MBA from Rutgers in 1981 and has since played a key role in helping Eisai build its business in the U.S. In 1984, he was named executive vice president of Eisai USA, a pharmaceutical machinery company. In the late Eighties, he was named U.S. president of drug discovery and clinical research. In 1992, he assumed the role of president of Eisai Corporation of North America - the headquarters for all U.S. businesses. When Eisai, Inc. was established in 1995, he was given the added responsibility of serving as its president. In 2000, he was elevated to his current position. Eisai Inc. is only the fourth U.S. pharmaceutical company to pass $1 billion in U.S. sales in five years or less. Its drug, Aricept, is the leading therapy for Alzheimer's disease.
Richard P. Mayer
Degree: BS '62 & MBA '65
Title: Retired Chairman & CEO, Kraft General Foods
Richard P. Mayer served as Chief Executive Officer and Chairman of the Board at Kraft General Foods North America (now Kraft Foods Inc.) from 1989 to 1996. Mr. Mayer has been Independent Director of Brown-Forman Corporation since 1994.
Sheri S. McCoy
Degree: MBA '88
Title: Chief Executive Officer, Avon
Sheri S. McCoy was Vice Chairman, Executive Committee, and member of the Office of the Chairman, Johnson & Johnson, with responsibility for the Pharmaceutical and Consumer business segments. She assumed this role in January 2011.
Previously, she was worldwide chairman, Pharmaceuticals, a position she assumed in January 2009. Her appointment followed a diverse career in the Johnson & Johnson's Consumer and Medical Devices businesses.
Sheri began her Johnson & Johnson career in 1982 as a scientist in the research and development organization supporting the Consumer women's health business. Advancing through positions of increasing responsibility, she served as head of the consumer R&D organization and later as global president of the Baby and Wound care consumer franchises. In 2005, she became Company Group Chairman for the Ethicon device franchise and a member of the Medical Device & Diagnostics Group Operating Committee, and assumed responsibility for the Group's businesses in Latin America. Three years later, she was named Chairman of the Surgical Care Group, and became a member of the Johnson & Johnson Executive Committee.
In her most recent position as worldwide chairman of the Pharmaceuticals Group, Sheri led the organization through a period of significant product launches, acquisitions and partnerships, and pipeline advances, while managing through significant loss of patent exclusivity. She is a passionate advocate for diversity of thought, leadership development, employee engagement and customer focus.
Sheri represented Johnson & Johnson on the board of PhRMA, the industry trade association, and as a member of the board of the National Quality Forum and of the Institutes of Medicine's Roundtable on Value & Science-Driven Healthcare. She serves as a board member of FIRST, a non-profit organization created to inspire young people's interest and participation in science and technology; a member of the Rutgers University President's Business Leaders Cabinet, and as a board member of Stonehill College.
Sheri holds four U.S. patents. She has a B.S. degree in textile chemistry from the University of Massachusetts, Dartmouth, a master's degree in chemical engineering from Princeton University, and an MBA from Rutgers University.
Rosemary T. McFadden
Degree: BA '70, MBA '73
Title: Managing Director, CSFBdirect; President & CEO, New York Mercantile Exchange
Recognized: June 19, 2002
Rosemary McFadden received both her graduate and undergraduate degrees from Rutgers and then a law degree from Seton Hall. Since then, her career has spanned the globe.
In 1984, she became the first woman president of any U.S. stock exchange when she was named president and chief executive officer of the New York Mercantile Exchange, the world's largest energy futures exchange. She became a global presence in the world of energy, forging professional relationships with senior government officials, industry executives and international press in London, Tokyo, Singapore and the Middle East. During her tenure, NYMEX grew at an impressive rate of 70 percent a year.
After leaving the exchange, she remained a force in the expansion of global markets. As senior manager at the International Practice Group of Price Waterhouse, she spearheaded projects related to the development of capital markets in Russia, the Ukraine, China, the Philippines, Pakistan and Nepal. As senior vice president and associate general counsel at the Pershing Division of Donaldson, Lufkin & Jenrette, she continued to work on international initiatives. And as director of Global Business Development for DLJdirect, an online brokerage firm, she led the company's first-ever international expansion strategy, which included the launching of online brokerage businesses in the UK, Hong Kong, Japan and the Middle East. The latter two have been recognized publicly for their excellence. She is currently managing director at Credit Suisse First Boston, where her colleagues speak of her in glowing terms.
And Rosemary is not just a global business star; she has also brightened the lives of many children in Jersey City and Newark through the philanthropic work she and her late husband, Brian Doherty, have done at St. Anthony's High School, the Boys' and Girls' Club, and St. Benedict's Preparatory School.
William F. Rasmussen
Degree: MBA '60
Title: Managing Director, CSFBdirect; Founder; ESPN
Recognized: June 19, 2002
William F. Rasmussen is the founder of ESPN, a network that is recognized as "the worldwide leader in sports."
To fully appreciate the scope of his accomplishment, you have to consider the television landscape in the late 1970s. Compared to today's standards, cable was in its infancy. It focused mainly on providing service in rural areas that otherwise didn't get good reception. There wasn't much by way of original programming and what was produced was generally of poor quality and in black and white. No one, including the major networks, broadcast around the clock.
Enter Bill Rassmussen, his son, Scott, and a handful of others who helped along the way. Working from desks that were little more than closet doors with legs nailed to them, and with an initial investment of $9,000 courtesy of Bill's credit card, the ESP Network – a company that would help define modern cable television – was born.
The initial plan was decidedly more modest, however. Bill envisioned a regional sports network that would broadcast Hartford Whalers and University of Connecticut games and other local events several nights a week. He knew that to succeed, original cable programming had to compete on a quality level with the major networks. But he admits that he knew nothing of satellites, which were fast becoming the new method for delivering a program's signal to the cable operators. Exploring further would have a big impact on their plans.
Surprisingly, it was cheaper for the ESP Network to have its own 24 hour transponder on the satellite than to rent a few hours a night several nights a week from someone else. But that begged the question – since the satellite could deliver their signal to providers across the country, should they stick with their regional business model or focus nationally? And how would they fill 24 hours of broadcast time?
The answer came while he and his son were stuck in traffic en route to the Jersey shore. Why not a national network that would broadcast games from around the country, around the clock live and on tape delay? All sports all the time. That immediately led to the need for broadcast trucks, a studio and on-air personalities. Bill also came up with the idea for "Sports Center" – a nightly half-hour show with updates between events. By the end of the day, they had created the concept for something that millions of sports fans enjoy daily – ESPN.
Sandy Tungare & Ravi Reddy
Degree: MBA '80
Title: Co-Founders, ThinkSystems, Vistaar Technologies
Recognized: June 19, 2002
Sandy Tungare and Ravi Reddy met as MBA students on their first day of classes at Rutgers and forged a quick and lasting friendship.
As students, they talked about forming their own business and drew up a business plan on a cocktail napkin after class one day at McGovern's Tavern. Dreams of entrepreneurial success would have to wait, however. Ravi graduated in 1980 and went to work for an accounting firm that one of his professors, Lou German, was a partner in. Sandy graduated the following year and went to work for Nabisco.
The opportunity to start their business came several years later when Nabisco needed a software application that Sandy thought he could build. So, in 1986, Sandy quit his job at Nabisco, Ravi put up the money and they did what every new entrepreneur does – hoped they could make ends meet while they built a business.
They pulled the cocktail napkin out of a drawer and co-founded ThinkSystems with Sandy serving as chairman and CEO and Ravi serving as vice chairman. Sandy, who was an early pioneer in the field of multi-dimensional technology was the product visionary, and Ravi, who had the financial acumen needed to nurture the fledgling organization, proved to be perfect partners.
Over the next ten years, they took the company from a three person start-up (Sandy, Ravi's wife Prathi, and a summer student) to a 150 person multi-national organization with numerous large customers including 3M, Compaq, General Electric, IBM, Intel, Motorola, Nabisco, Pfizer, Phillip Morris, and Whirlpool. By the time they sold it in 1997 to i2 Technologies (making that company the largest developer of supply chain management software), their venture was worth $146.6 million.
They have since co-founded several companies, including Vistaar Technologies, a company that focuses on building software applications for global enterprises, which is run by Sandy, and Quest Industries, a packaging company run by Ravi. Their partnership, which began at Rutgers, is now over two decades old.
Thomas A. Renyi
Degree: BA '67, MBA '68
Title: Retired Executive Chairman; The Bank of New York Mellon
Recognized: May 10, 2001
Thomas A. Renyi served as Chairman of The Bank of New York Mellon Corporation and its predecessor institution, The Bank of New York Company, Inc., during more than a decade of unprecedented growth and transformation.
At the time of his retirement in July 2008, he was Executive Chairman of The Bank of New York Mellon, overseeing the global integration of the people, technology, and capabilities of two major organizations, The Bank of New York and Mellon Financial, which merged in July 2007. Prior to the merger, Mr. Renyi served as Chairman and Chief Executive Officer for The Bank of New York, which traces its roots to 1784 and was the first company listed on the New York Stock Exchange. Mr. Renyi followed a line of leaders that began with the bank's founder, Alexander Hamilton.
Mr. Renyi's career at the bank began in 1971 and spanned almost four decades. In 1989, he headed the transition team responsible for integrating the Irving Trust Company into The Bank of New York. It was the largest merger in the U.S. banking industry at the time. In 1992, Mr. Renyi was named President of The Bank of New York and elected to its Board of Directors. In 1997, he was appointed Chief Executive Officer and the following year was elected Chairman of the Board. During his 10 years as CEO, he successfully led The Bank of New York's transformation from a traditional commercial bank to a global leader in securities servicing. He accelerated the bank's strategic evolution through more than 80 acquisitions.
Mr. Renyi graduated from Rutgers College in 1967 with a B.A. in Business Administration and earned an M.B.A. in 1968 from Rutgers Business School–Newark and New Brunswick, then known as the Graduate School of Management. He served as a first lieutenant in military intelligence with the U.S. Army in Vietnam.
Mr. Renyi is a member of the Board of Overseers of the Rutgers University Foundation and serves on the Board of Directors of Public Service Enterprise Group and Risk Metrics. He is also a member of the Board of Directors of the Lincoln Center for the Performing Arts and the boards of trustees of the Healthcare Chaplaincy and the Catholic Charities of the Archdiocese of New York.
Dr. Holly H. Roberts
Degree: MBA '97
Title: Physician and Author
Recognized: June 27, 2007
Holly H. Roberts, D.O., Ph.D. came to the Rutgers Executive M.B.A. program with a distinguished medical background. A physician, she had taken residencies and obtained certification in two specialties: Pathology and Obstetrics & Gynecology, and practiced in both. As a Rutgers M.B.A. student, she wrote a business plan for the purchase of a building that would create a surgical center strategically located between two nearby hospitals, and serve to increase the size of her obsetrics and gynecology practice. One year after receiving her M.B.A. degree, she and two partners bought a multi-million-dollar building, leased it to Meridian Health and a number of other tenants, and sold it three years later for a substantial profit. She has since left clinical medicine in order to write and study, and has become a prolific author, with six published books of philosophy, vegetarianism, and non-violence: Your Vegetarian Pregnancy; The Vegetarian Philosophy of India; Vegetarian Christian Saints; Compassionate Vegetarians; Tao Te Ching, the Art and the Journey; and The Analects of Confucius. She has also earned a Master's in Theology, and a Ph.D. in Asian Religion and Philosophy.
John F. Ruffle
Degree: MBA '63
Title: Vice Chairman and Director; J.P. Morgan & Co.
Recognized: April 27, 2005
John F. Ruffle joined J.P. Morgan & Co. in 1970 as controller, and was named CFO ten years later. In 1985, he was appointed vice chairman and a director, a position he held until his retirement in 1993. Prior to joining J.P. Morgan, Ruffle held positions with International Paper Company, where he was assistant treasurer and director of accounting, and PriceWaterhouse. From 1985 to 1990, he served on the board of the Financial Accounting Foundation, which offers oversight over the Financial Accounting Standards and Governmental Accounting Standards boards, and was its chairman during his last two years. Ruffle also served as chairman of the board of Financial Executives International, and in 1991 received the organization's National Award for Distinguished Service to the profession. In 1990, he was named by Accounting Today as the "Most Influential Accountant in America." Ruffle earned his MBA in finance from Rutgers in 1963.
Dr. Clifford M. Sales
Degree: MBA '02
Title: Chief Executive Officer, The Cardiovascular Care Group; Chief of Vascular Surgery, Overlook Hospital
Recognized: June 27, 2007
Clifford M. Sales, M.D. (M.B.A. '02) is recognized as one of the best doctors in the New York/New Jersey metropolitan area. He is chief executive officer of The Cardiovascular Care Group in Scotch Plains, a practice he has been with since 1993. At Overlook Hospital in Summit, Dr. Sales has been Chief of Vascular Surgery since 2002; he also heads the Noninvasive Vascular Laboratory there. Since 1998, he has been an assistant clinical professor of surgery at the Mount Sinai School of Medicine in New York City. Dr. Sales continued to practice medicine while pursuing his M.B.A. Since receiving his business degree, he has applied the principles learned at Rutgers Business School to running his thriving medical practice. His work has been published in several prestigious journals, and presented across the nation. He is past president of the Vascular Society of New Jersey; co-chair of the Medicare Carrier Advisory Committee of New York and New Jersey; and a chair of the Clinical Practice Committee for the Center for Medicare and Medicaid Services.
Bernard B. Zients
Degree: BS '33
Title: President, Gimbels New York
Recognized: April 27, 2005
Bernard B. Zients, a member of Rutgers Business School's first graduating class, had a distinguished career in retailing. A former president of the Metropolitan Retail Merchants Association, Zients started his career at Abraham & Straus, where he was a buyer, and then became a divisional merchandise manager for Associated Merchandising Corporation, a leading research and buying office. In 1947, he took a position as general merchandise manager of City Stores Mercantile Corporation, and in 1955 became vice president of the corporate buying office Gimbel Brothers. In that capacity, he overhauled the company's purchasing practices, reduced the number of suppliers, and increased its net profit. In 1962, was appointed president of Gimbels New York, a position he held until his retirement in 1971. During his tenure, he doubled the volume of his stores, emphasizing better quality goods and showmanship presentation.