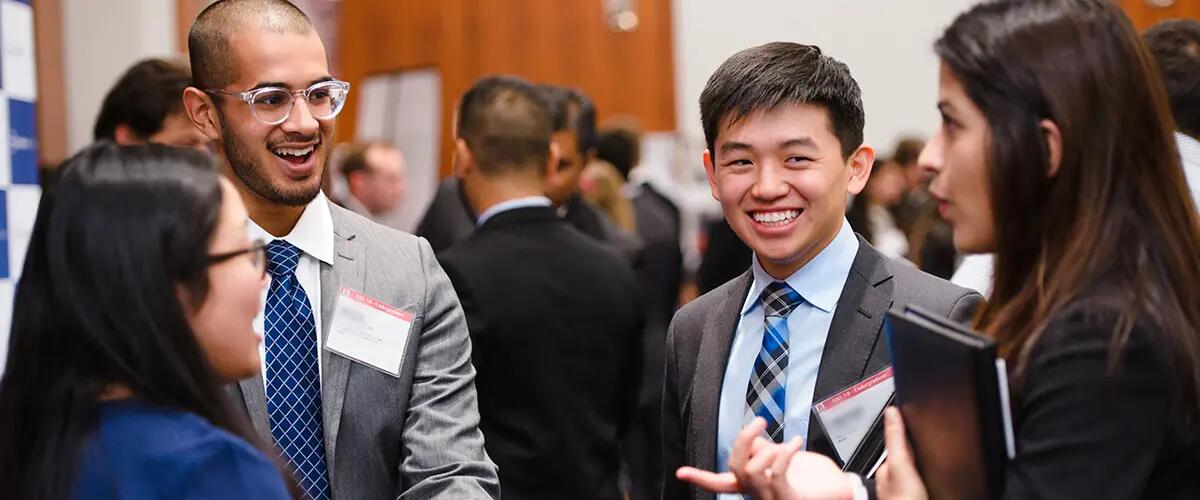 Undergraduate Program
Employers & Recruiters
Opportunities to Engage and Build Relationships
Our students are highly engaged and we have various ways that you can establish a relationship with potential candidates and build your brand on campus:
Career Fairs
We host two business career fairs annually in the Fall and Spring semester. The career fairs are open to all Rutgers Business School students, which include undergraduates, graduates, and alumni. We also hold a career fair that is specifically for our Supply Chain Management students. Students who attend this fair must have Supply Chain Management as one of their majors/concentrations. For more information, please click here.
Rutgers University Career Services, located on the New Brunswick campus, holds a bi-annual, 2-day career fair in the Fall and Spring semester that is open to all Rutgers students. They also host a statewide fair open to all New Jersey residents. For more information, please click here.
Rutgers University Career Development Center, located in Newark, hosts four bi-annual career fairs focused on different audiences throughout the semester. For more information on these career fairs, please click here.
Case Competitions
You can create and host a case competition that can help you to identify top talent in a competitive setting. These events allow for you to view our students in action and assess their fit with your company.
Corporate Presentations
This is the most formal way of interacting with our students. A presentation is typically 90 minutes and consists of a 50-minute presentation, followed by a 40-minute networking reception and questions. In these presentations, you are encouraged to share information about your company's history, the work culture, hiring needs, and the recruitment process.
In-class Guest Speaker
Many of our faculty are always looking for ways to enhance the classroom experience, and they look to industry experts to share their knowledge and experiences to supplement the course material. Your company can have a representative speak in front of a classroom of students with audiences ranging from 30 -100+ on topics such as current industry trends, advances in technology, navigating the current workforce and more.
Industry Client Project Program
Rutgers Business School offers a unique opportunity to collaborate with our talented, driven students. If there are projects that you have not had the time or resources to complete, this program can be the solution to your needs.
Meet & Greets
Meet & Greets are an alternative to Corporate Presentations that allow for you to have a more personal interaction with our students. We can help you to schedule a Meet & Greet either on-campus or at an off-site venue. These events are great ways to develop stronger relationships with your top candidates and to assess their fit with your company culture. They provide a chance to have more one-on-one interaction with the students and are beneficial for them as well as you.
Mentorship Programs
We have mentor programs that professionals can participate in to help students gain a better perspective on what it is like to work in your field. To learn more about these programs, please click here.
Panel Participant
You or a representative from your organization can participate in panel discussions held throughout the year. Panel topics vary but have included themes such as "Day in the Life," industry panels, diversity panels, alumni panels, executive leader panels, etc. 
Sponsored Ad
You can create long-lasting visibility by purchasing ad space in a day planner that is distributed to students every semester. The day planner is created annually.
Student Club Events
There are student clubs that you can partner with to co-host an event. Working with student clubs can give you a more targeted audience based on the particular club's membership. The type of events can vary depending on your partnership with a club and the events can be coordinated with the leadership of the organization. A list of student organizations can be provided upon request.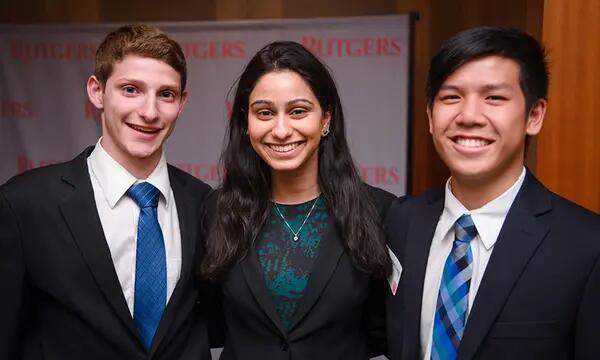 Post Your Opportunity
If you are looking to recruit an RBS student for an internship or full-time opportunity, you can post on our internal job board, BusinessKnight. To start, click on the link below and create an account in our system. If you already have an account you can log in and post your opportunity.
Undergraduate Student Profile
Our driven, passionate, and dedicated undergraduate students make up over 70% of the Rutgers Business School population. The program is located on both the Newark and New Brunswick campuses and boasts a diverse population of students with different cultural and professional backgrounds.