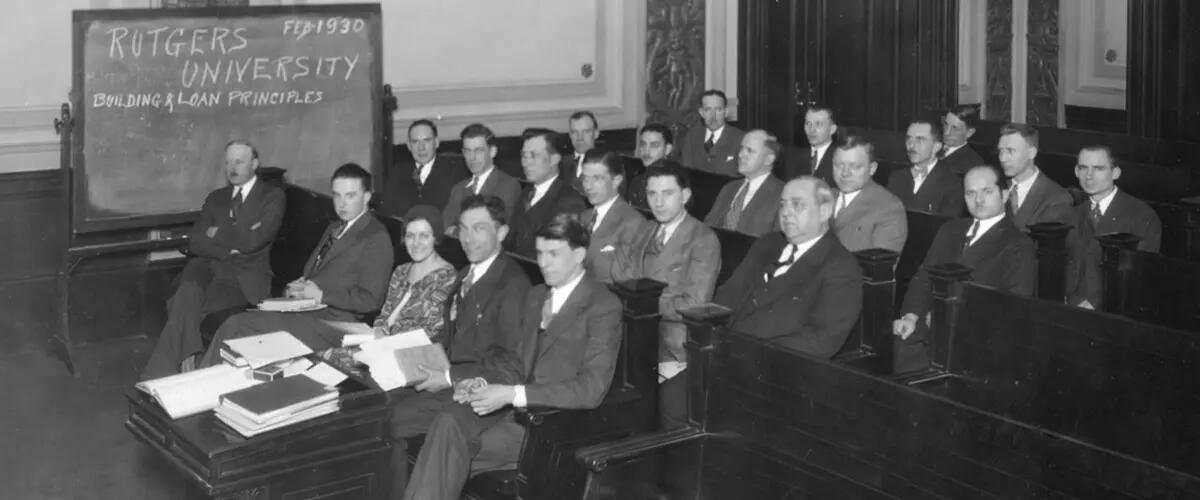 The Rutgers Business School Story
Founded in 1929, Rutgers Business School has a rich history in the state of New Jersey -- a history deeply embedded in the larger story of Rutgers University-Newark and Rutgers University-New Brunswick. Rutgers University. Rutgers has been revolutionary for 250 years. That's not changing. 
---
1929
Rutgers Business School founded. Seth Boyden School of Business opens at the site of the former Ballantine Brewery on Rector Street. Full-time students paid $283 in tuition for two semesters of classes.
1932
Strong history of corporate engagement. A group of students launch Business Forum as a way of forging connections with corporate executives. Today, Business Forum is a requirement for undergraduate students.
1934
Close ties to Newark. The newly formed University of Newark absorbs the business school and renames it the School of Business Administration.
1935
The first Dean. Accounting Professor George Esterly becomes the school's first dean. He is dean for 30 years.
1941
Accreditation. American Association of Collegiate Schools of Business grants accreditation to the School of Business Administration. Rutgers Business School has been continuously accredited ever since.
1946
Rutgers takes command. The University of Newark and the School of Business Administration merge with Rutgers University.
1947
Deeply committed alumni. A dinner is held to launch a business school alumni association. Seven years later, the group awards its first student scholarship.
1950
Masters of Business Administration introduced. The first MBA students are enrolled. The program grew rapidly, becoming the 11th largest MBA program in the country by 1957.
1954
Innovative Professional Accounting MBA created. A master's in professional accounting – the first of its kind – is offered, giving liberal arts students a way to learn a profession at the graduate level.
1966
Pioneering leader. Economist Horace DePodwin, who served on President John F. Kennedy's White House staff, is appointed dean. He serves for 17 years.
1968
History of giving. John T. Connor, chairman of Allied Chemical, leads a four-month campaign to raise money for construction of a new business school building. The campaign raises more than $2.8 million.
1971
Fitting the needs of executives. The new Rutgers Advanced Management Program, or RAMP, features one-week residency programs combining liberal arts and management classes. It quickly becomes New Jersey's leading executive development program.
1973
Expanding business education. A new building is completed, giving Rutgers Business School prominent space in Engelhard Hall on the Newark Campus.
1977
Expertise for small businesses. Congress chooses Rutgers Business School to be among the first to pilot a Small Business Development Center.
1978
Training the next academic leaders. A PhD program is created.
1980
The Powerhouse begins. The Executive MBA program is started, built on a foundation of executive education that began nearly a decade earlier with the creation of the Rutgers Advanced Management Program.
1981
Footprint in New Brunswick. University College's courses in marketing, management and accounting are reorganized to form the School of Administrative Sciences in New Brunswick.
1984
Increased importance of business education. The School of Administrative Sciences is reorganized into the School of Business in New Brunswick.
1993
Foundation for the future. Undergraduate business studies are merged again with graduate-level programs in Newark.
1994
Global reach. Rutgers expands to Asia, partnering with Dalian University in Beijing to offer an MBA program. Executive MBA programs followed in Shanghai, Beijing and Singapore.
1995
United faculty across two campuses. Rutgers Business School merges with the School of Business in New Brunswick, which began as the School of Administrative Sciences in 1981. The Janice Levin Building on the Livingston Campus was the school's first permanent home.
1998
Leader for the next millennium. Distinguished economist Howard Tuckman becomes dean.
1999
Meeting the needs of the bio pharma industry. A Bristol-Myers Squibb executive approaches Rutgers Business School about creating a specialized MBA degree in pharmaceutical management.
2003
Globally recognized. The Financial Times recognizes Rutgers as being among the Top 10 Executive MBA programs in China.
2004
Raising for the future. Rutgers Business School raises $20.4 million as part of a university-wide "Creating the Future Today" campaign.
2009
Transforming the Newark campus. Rutgers Business School opens new building at One Washington Park, Newark.
2011
Nationally ranked. Rutgers Supply Chain Management and Marketing Sciences program ranked #3 in the nation by Gartner Supply Chain Leaders.
2013
Dramatic gateway opens. Rutgers Business School opens new building on the Livingston Campus.
Top 10 in the world. Rutgers MBA in Pharmaceutical Management is recognized as one of the world's Top 10 MBA programs for health care, pharmaceutical and biotechnology by Find-MBA.com.
2014
Women success. Females make up 51 percent of the incoming class of MBA students for the first time.
MBA graduates find jobs. Rutgers Business School's MBA Program is ranked No. 7 in post-graduate employment by U.S. News & World Report.
2015
Leadership for the 21st Century. Professor Lei Lei, who built Rutgers Business School's Department of Supply Chain Management into one of the nation's leading programs, becomes the first female dean.
Top 50 Business School. Rutgers Business School is ranked #48 overall and #24 public business school in the nation by U.S. News & World Report.
Global Recognition. Rutgers Supply Chain Management is ranked #11 in the U.S. by both Gartner Inc. and U.S. News and World Report.
2016
Climbing the Ranks. Rutgers Business School is ranked #1 in MBA employment among Big 10 Schools (U.S. News & World Report), #1 in MBA job placement in the U.S.(Bloomberg Businessweek), and #1 for most women students among Big 10 business schools (U.S. News & World Report). 
Best for Vets. Rutgers Business School is ranked #3  best program for veterans nationally by MilitaryTimes.
Undergraduate Advantage. Rutgers Business School's New Brunswick program is ranked #25 Best Undergraduate Business Programs by Poets & Quants. The undergraduate supply chain management program is ranked #5 in North America by Gartner, and the undergraduate accounting program is ranked #7 nationwide by College Choice.
2017
Sustained Success. Rutgers Business School continues its upward trajectory of excellence, ranked #1 in MBA employment among Big 10 schools (Financial Times), the #1 Public Business School in the Tri-State Area (U.S. News & World Report), and #1 for Return on Investment and salary increase in the nation (Financial Times). 

$1 Million Prize. Rutgers Business School students Gia Farooqi, Hasan Usmani, Moneeb Mian, and Hanaa Lakhani won the $1 million Hult Prize for social entrepreneurship.

Gold Chapter. The international business honor society Beta Gamma Sigma presented Rutgers Business School-New Brunswick with its Gold Chapter Award making it the top chapter in the world out of 544 business schools. 
2018
No. 1 Public B-School in Northeast. Financial Times released a comprehensive overall ranking of business schools in 2018 placing Rutgers Business School No. 24 among business schools in the Americas and No. 1 among public business schools in the Northeast U.S.
Top Accounting Information Systems Research. Rutgers ranked No. 1 in accounting information systems research according to Accounting Rankings compiled by BYU based on having the most peer reviewed articles in 12 accounting journals since 1990. 
2018-2021
High ROI. Rutgers Business School consistently ranks in the Top 15 for Return on Investment (ROI) for a business degree in the nation (Poets & Quants, 2018, 2019, 2020, 2021). "We are very proud of our ability to deliver an affordable world-class education and student experience that provides opportunities for career success," said Rutgers Business School Dean Lei Lei.
2020
Entrepreneurial Ecosystem. Rutgers Business School is ranked as the No. 24 Best MBA Program for Entrepreneurship globally making it No. 1 among public business schools on the East Coast (Poets & Quants/Inc. Magazine, 2020). Students can draw on research centers, faculty, coursework, technology from across the university, an on-campus startup accelerator, and a large network of alumni and investors.
2021
Top 25 Public MBA. In U.S. News and World Report's "Best Business Schools," both the Full-Time MBA (No. 22) and Part-Time MBA (No. 16) programs are ranked among the Top 25 Public MBA programs in the U.S.  Overall, among all U.S. business schools, the Full-Time MBA Program was ranked No. 44 and Part-Time MBA Program ranked No. 28.
2022
$3 Million Gift. Dean Lei announces a $3 million gift, the largest in Rutgers Business School's history, from alumnus Robert Platek, his wife, and MSD Partners to support diverse students in the Road to Wall Street Program. The gift creates the MSD Scholars Initiative to work closely with Rutgers Road to Wall Street and Rutgers Business School's Office of Inclusion, Diversity, Equity and Access (IDEA) to support and train diverse talent – students from historically underrepresented communities – for jobs in the finance industry.
2023
No. 1 in Employment Outcomes. U.S. News & World Report ranks Rutgers MBA No. 1 in the nation for employment outcomes. With 100 percent job placement for the Class of 2022, Rutgers Full-Time MBA ties with 15 other programs out of 149 schools highlighted in the 2023-2024 report. Among public business schools, the Part-Time MBA is ranked No. 16 (No. 25 overall), the Full-Time MBA is No. 21 (No. 45 overall), and RBS Supply Chain Management MBA ranks No. 9 in the U.S.
Protecting Our Data Privacy. The White House announces that a team of data privacy researchers from the Rutgers Institute for Data Science, Learning, and Applications (I-DSLA) led by RBS professor Jaideep Vaidya, his postdoctoral research associate Hafiz Asif, and two Ph.D. students, Sitao Min and Xinyue Wang, win first place in the "Financial Crime Prevention" track of the U.K.-U.S. joint sponsored Privacy Enhancing Technologies (PETS) Prize Challenge. The competition includes leading experts from top academic institutions, global technology companies, and privacy start-ups.

History of Rutgers University-Newark
1892
Newark becomes a college town. Newark becomes home to a series of independent institutions of higher education: New Jersey College of Pharmacy, New Jersey Law School, Newark Institute of Arts and Sciences, and Mercer Beasley School of Law
1929-1934
A business school is born. The Seth Boyden School of Business and Dana College are created from the Pre-Legal Department of the New Jersey Law School; Rutgers University -- a private institution in New Brunswick -- opens University College in Newark, offering evening classes.  Newark Institute of Arts and Sciences and Mercer Beasley merge, forming the University of Newark.
1945-46
Newark colleges become part of Rutgers. Rutgers University is designated a New Jersey public university; the following year, the University of Newark, along with the Rutgers College of Pharmacy, becomes the Newark Colleges of Rutgers University.
1997
Most diverse campus in the nation. Rutgers-Newark is recognized by U.S. News & World Report as the most diverse national university campus in the country, a recognition it has retained every year since.
2010
Strong partnership between Rutgers and the City of Newark. Rutgers University -Newark is named one of the 25 "best neighbor schools" in the "Saviors of Our Cities: A Survey of Best College and University Civic Partnerships." The survey recognizes colleges and universities that work to spur economic expansion, cultural renewal and other improvements in their host cities.
One of the best universities dedicated to the public good. Washington Monthly ranks Rutgers University-Newark, at # 18 in the nation among National Universities for its contributions to public good.
2011
Commitment to social justice. Rutgers School of Law–Newark is rated #3 in the nation for its emphasis on the value of public service and the use of the law to advance the cause of social justice according to Prelaw Magazine's "Best Law Schools for Public Interest."
Runner-up in Fed challenge. Student team from Rutgers University-Newark places 2nd in the nation behind Harvard in Federal Reserve Competition: "College Fed Challenge."
2012
A literary landmark for jazz studies. Rutgers University-Newark's Institute of Jazz Studies, founded in 1952, recognized as having the world's largest jazz archives.
2013
Expanding Rutgers presence. The City of Newark gains a second Rutgers campus: the Rutgers Health Sciences campus at Newark, part of Rutgers Biomedical and Health Sciences (RBHS), which came into existence in July 2013 when the University of Medicine and Dentistry of New Jersey (UMDNJ) merged with Rutgers University.
The merger increases Rutgers' total presence in Newark to more than 15,000 students, both graduate and undergraduate; more than 1,200 fulltime faculty; and 49 buildings on 103 acres.
2014
High return-on-investment for students. Rutgers University – Newark ranked #4 in "Social Mobility" and #14 for "Best Bang-for-the-Buck" in the U.S. according to Washington Monthly.
2020
Addressing Pandemic Challenges. Rutgers Business School faculty advised the public on issues such as Wall Street's gyrations, shortages in supermarkets, the survival of small businesses and the pandemic's impact on productivity for parents working from home. Rutgers Public Private Community Partnerships (PPCP) helped connect Newark-area manufacturers with area hospitals to meet the challenges of the pandemic.
2021
Honor for Former Professor Ruth Bader Ginsburg. Rutgers – Newark dedicates 15 Washington Street, a neoclassical icon of the Newark skyline, as Ruth Bader Ginsburg Hall in honor of the late U.S. Supreme Court Justice. Ginsburg, who taught at Rutgers Law School from 1963 to 1972, credited her students with sparking her interest in gender discrimination and the law – the topic of the first case she argued before the U.S. Supreme Court.
2022
Professor Salamishah Tillet Wins Pulitzer Prize. Salamishah Tillet is awarded the Pulitzer Prize in criticism for her New York Times essays on race in arts and culture. Tillet is the Henry Rutgers Professor of African American Studies and Creative Writing at Rutgers – Newark and the director of Express Newark, a Rutgers-led center for socially engaged art and design.

History of Rutgers University-New Brunswick
1766
The college is chartered. William Franklin, last Royal Governor of New Jersey and Benjamin Franklin's son, grants a charter to the Dutch Reformed Church to establish Queen's College. The college is named in honor of Charlotte of Mecklenburg-Strelitz, the wife and queen consort of King George III.
8th Oldest Colonial College. The Colonial Colleges are nine institutions of higher education chartered in the American Colonies before the United States of America became a sovereign nation after the American Revolution: Harvard, Yale, Princeton, Penn, Columbia, Brown, Dartmouth, the College of William & Mary in Virginia and Rutgers University, the state university of New Jersey.
1825
The college is renamed Rutgers College. The renamed college honors Colonel Henry Rutgers. A captain at the Battle of White Plains and a colonel for the New York Militia, he was a trustee and benefactor who gave the college the interest he earned on a $5,000 bond and the bell that still rings in the Old Queens cupola.
1864
New Jersey's land-grant school is established. Opened in 1864, Rutgers Scientific School is designated New Jersey's land-grant school under the federal Morrill Act. Rutgers is chosen over Princeton. It is the first time Rutgers enters into a relationship with the State of New Jersey, paving the way for what will be The State University of New Jersey.
1869
Birthplace of college football. The first intercollegiate football game is played between Rutgers and its neighbor Princeton on November 6, 1869, on a plot of ground where the present-day College Avenue gymnasium stands. Rutgers wins 6–4. The student newspaper, the Targum, debuts in January of the same year and covers the game as a major news item.
1945
The State University of New Jersey. An act of the state legislature designates Rutgers as The State University of New Jersey.
1969
Livingston campus opens. The college's original motto, "Strength through Diversity" speaks to its mission of social relevance. "The college gives high priority to programs in community development, health and social services, social studies, journalism and communications, computer sciences, and ethnic studies, as well as offering traditional academic programs."
1989
Association of American Universities. Rutgers is invited to join this prestigious organization that now comprises the 62 leading research universities in North America. The only other AAU school in New Jersey is Princeton.
2014
One of the top Universities in the world. Rutgers University-New Brunswick ranks 33rd among world's top universities according to Center for World University Rankings, Rutgers also ranks 24th among U.S. universities.
2020
Rutgers tackles COVID-19 Crisis. FDA approves Rutgers' game-changing COVID-19 saliva-based diagnostic test developed by genomicist Andrew Brooks. Other Rutgers innovations include the first FDA-approved rapid point-of-care diagnostic test, first FDA-approved New Jersey clinical trial to treat patients with survivor plasma, and the nation's largest study of healthcare and other workers exposed to the virus.
2021
Best Student Entrepreneurs. Alyssa Krisinski (finance), Claire Whang (cell biology and neuroscience), Harrison Zhang (finance) and Juliet Petillo (pharmacy) win 1st Place in the 2021 Schulze Entrepreneurship Challenge against 104 entries representing 55 U.S. universities, securing $63,500 in funding to support their business, Nutrivide. The company was formed as part of the Honors College Innovation Lab – an experiential course to help interdisciplinary student teams launch social innovation ventures (pictured – back row, L-R: Akshay Kamath, Joseph Bajor, Claire Whang, Alyssa Krisinski; front row, L-R: Juliet Petillo, Yash Dave, Harrison Zhang).