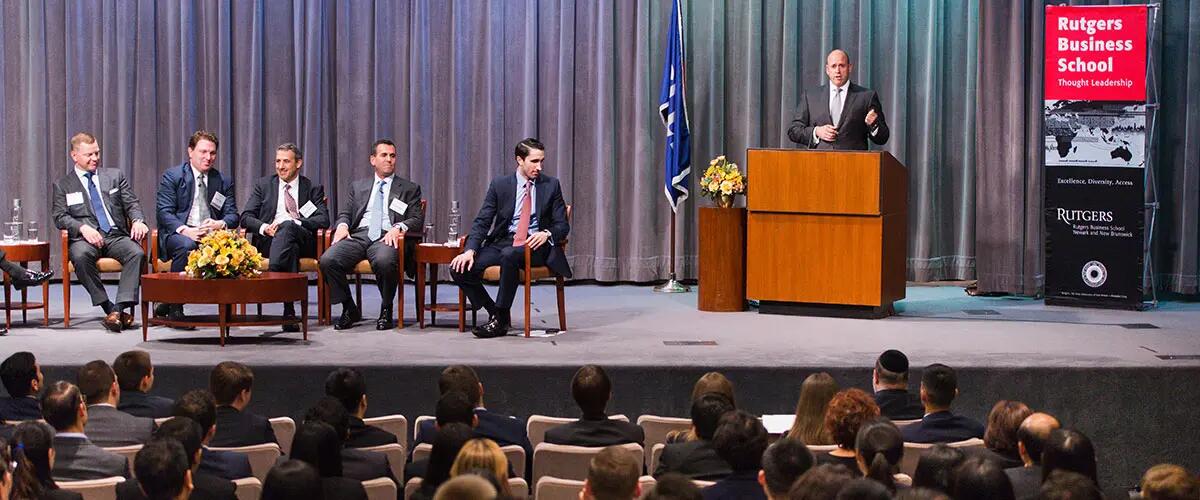 C-Suite Speakers
Connecting students and alumni to industry leaders
An Inside Look at Industry
Industries are shaped by influential leaders. Top leaders, many who are Rutgers Business School alumni, have partnered with us to share insights, expertise and advice with our students, and to help shape the academic experience here.
Through our frequent speaker series events, we bring industry into the academic experience—a critical part of our commitment to provide relevant and valuable learning and networking opportunities for our students.
As part of our community, you aren't just watching business happen along the sidelines. You're being connected to industry where it matters most—through career opportunities and internships, mentoring programs, and exclusive access to lectures and events that put you in the know.
Business Leadership Speaker Series
Using our  long-established relationships with corporate leaders, we frequently bring speakers to the Newark and Livingston campuses for the Business Leadership Speaker Series. With a special emphasis on equipping undergraduates, these events enable our students to interact directly with executives influencing the future of business.
Business Leadership Speaker Series guests have included the CEO of Bed, Bath & Beyond, the Director for Higher Education at LinkedIn and Vice President and Controller at Prudential Financial. 

Love to learn, learn how to think, stay intellectually curious, and never be satisfied with half an answer.
— Steve Temares, CEO, Bed, Bath & Beyond, Business Leadership Speaker Series
Sign up for more Insights & News