Admissions Deadline:
Deadlines for the next admission cycle are not yet available. View the Application Process for more details.
Inspired by industry trends and demand, the Master of Supply Chain Analytics program at Rutgers Business School will prepare you to be a data-driven decision-maker in a rapidly growing job market. The Supply Chain Analytics program is taught by highly recognized faculty in the Supply Chain Management department -- a globally ranked program with a long history of success.
Program Highlights
Based out of centrally located New Brunswick campus
Suitable for both full-time and part-time students
Relevant, industry-informed curriculum
Practical training strongly encouraged
Internship & industry client projects available
Who is this for?
This highly competitive program is best suited for those with a mindset to apply analytics to supply chain fields and be the future supply chain leaders. Don't have a degree in a quantitative field? As long as you have a basic background in mathematics and statistics, we encourage you to apply.
Still an undergraduate supply chain student and looking ahead? Learn more about our dual-degree option to earn both a Bachelor's and a Master's degree within 5 years.
How long will it take?
At 33 credits, the Master in Supply Chain Analytics -- a STEM-designated program -- can be completed full-time in 1 to 1.5 years. Based out of our centrally located New Brunswick campus, and with flexible class arrangements that include evening and weekend courses, the Rutgers Master of Supply Chain Analytics program is a good fit if you're a busy professional wanting a program that fits your schedule.
Why it matters
Big data analytics are changing the way supply chains are managed. In our program, you'll learn the hard analytics skills you need and the insight to apply those skills to solve real problems and create faster, better, more efficient supply chains.
We show you how to turn hard data into predictive insights. You step out and lead.
Interested in Applying?
Learn more about tuition & fees, application deadlines, graduate admissions events and how to apply to the program by visiting the Admissions page.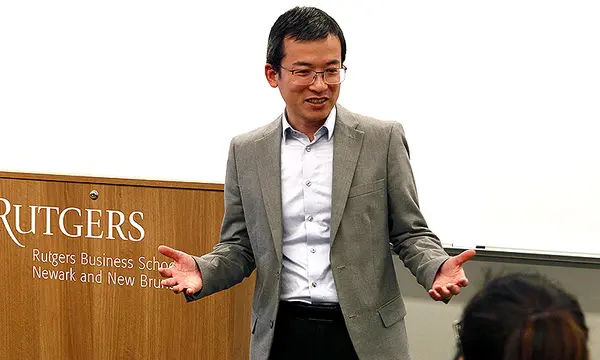 Faculty Spotlight
Associate Professor and Senior Director of MBA Programs
Dr. Chen's research interest lies in data analytics in service operations, supply chain optimization, as well as operations and finance interface. He also works on simulation and global optimization methodologies. He has extensive research and consulting experience with businesses and public sectors, aiming to improve strategic decisions...