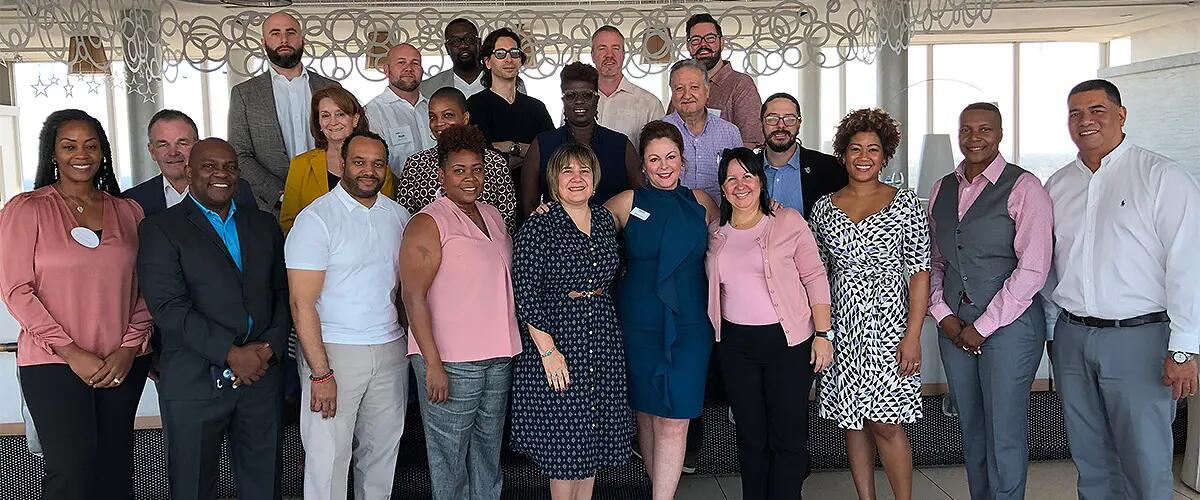 The Center for Urban Entrepreneurship & Economic Development
Support Us
Consider supporting CUEED initiatives by sending a donation today
The Center for Urban Entrepreneurship & Economic Development (CUEED) is the first center of its kind in the nation to integrate scholarly works with private capital, government, and non-profit sectors to develop citywide resources and bring renewed economic growth and vitality through urban entrepreneurship. We promote and foster a new generation of urban entrepreneurs who actively seek socially conscious urban renaissance.
Our mission is to build a world-class research-driven, teaching and practitioner-oriented urban entrepreneurship and economic development program that will transform the economy of the City of Newark, New Jersey, and other urban centers; create wealth in urban communities; and be a model for all urban universities.
Our vision is to be the world's leading Center for innovative thinking and research on entrepreneurial activity in urban environments. As such, we work across constituencies to create new knowledge and tools that build thriving urban communities.
CUEED provides various types of assistance to entrepreneurs in different industries. You may use this directory to search for service providers/products. (Please note that CUEED is not responsible for the services and/or products that are offered by the businesses or for the content of their website. If there is any inappropriate content please notify us.)
CUEED Initiatives
ASCEND Newark
Part of National ASCEND this program leverages the 3M model (Money, Management, and Market) to expand the capacity of local diverse suppliers and enable them to increase the level of business they are engaged in with RWJB, Prudential and/or land larger contracts with other anchor institutions. CUEED achieves this by providing a five-month customized entrepreneur certificate program. This is in partnership with RWJB, Prudential, Greater Newark Enterprise Corporation and LISC.
NJ BEST (Black Entrepreneurs Survive and Thrive)
Existing resources are not designed or sufficiently resourced to support deep engagement to ensure that Black-owned High-Impact Vital Enterprises (HIVEs) survive the compounding effects of the COVID-19 pandemic, economic recession and ongoing civil unrest, and thrive in the economy that emerges. CUEED has created an entrepreneurial management consulting program that provides in-depth technical assistance and coaching to assist HIVEs in developing a two-part business case and action plan to stabilize and grow.
Black and Latinos in Technology
The Black and Latino in Tech Initiative (BLT) is a 6-week "pre-accelerator" for founders of color to develop critical skills, receive mentorship, develop relationships and refine business ideas to attract capital investment. The goal of BLT is to assist Black and Latino founders with admission into accelerators or to attract significant capital investment and to develop a pipeline of Black and Latino technology entrepreneurs for our established venture capital partners.
Entrepreneurship Pioneers Initiative
Designed exclusively for first-generation entrepreneurs, EPI is a highly competitive nine-month program that can serve as a single source to support the growth of your business. The program offers a powerful blend of monthly classes, intensive training, one-on-one counseling, financial guidance, peer coaching and networking — all at a nominal cost.
iReady
iReady works at the interaction of pre-accelerator/accelerator program completion and investor screening and due diligence processes to get exceptional entrepreneurs investment-ready.
National Minority Supplier Development Council's Center of Excellence Certificate (NMSDC COECP)
CUEED provides the Rutgers Entrepreneurship Education for the National Minority Supplier Development Council's Center of Excellence Certificate program. The goal is to help minority business enterprises with revenues between $1,000,000 and $10,000,000 grow their businesses to the next level. The focus is to help create a stronger supply chain for corporate members of the Council, build more results-focused supplier diversity programs, and enhance supplier diversity opportunities for Council-certified minority business enterprises.
Resources and Opportunities for Entrepreneurs
CUEED's economic development initiatives focus on assisting entrepreneurs to sustain and grow their businesses and thus create wealth within their communities.