Who we are
The Collaborative for Technology Entrepreneurship and Commercialization (CTEC) is the newest initiative at Rutgers Business School. CTEC's focus is on translating cutting-edge technology and scientific discoveries into new business opportunities as startup ventures or new lines of business. It is a place where students, faculty, inventors and business people come together to build the future through innovation grounded in a foundation of sound business practices.
What we do
We offer educational and outreach services through Rutgers Business School and seek to establish partnerships with other institutions that will enable access to our classes and activities to an even broader pool of potential participants.
Our mission
To build a hub of excellence where scientists, engineers, entrepreneurs, researchers, students and tech transfer professionals all come together in a supportive environment to develop solutions to meet the world's challenges.
Our vision
To become a world leader and exemplar for building technology-based solutions through collaboration and enablement. With research and engagement as the cornerstones of our efforts, we strive to elevate the practice of technology commercialization and thereby enhance the relevancy of the university in society, support economic development and improve the quality of life for New Jersey and the world.
Our philosophy
We believe the highest achievement to which any university can aspire is to be relevant in the real world—to pursue research that both advances knowledge and leads to economic development, to provide access to its facilities and expertise to the community at large, and to offer an education that prepares our students for the future.
In this light, we see Rutgers not as an ivory tower for scholars, but as platform for collaboration, cooperation and enablement. We enhance our relevancy and educational goals by embedding our students in the local entrepreneurial ecosystem and addressing real-world challenges faced by businesses in our community in our classes. We believe our success is measured as much by the achievements of our clients and partners as by our own endeavors. And we are equally as proud of their accomplishments as our own.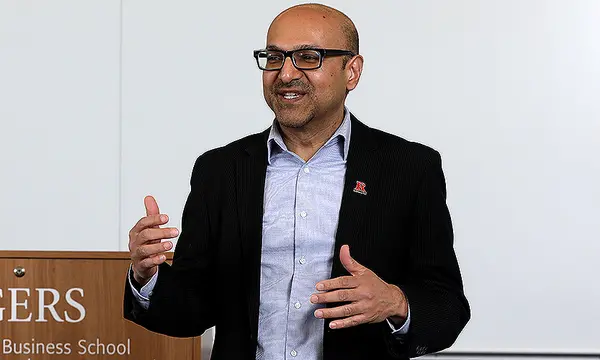 Faculty Spotlight
Assistant Professor of Professional Practice and Director of the Collaborative for Tech Entrepreneurship & Commercialization (CTEC), RSVP and Innovation Lab
Professor Mukesh M. Patel is a serial entrepreneur and executive board advisor with experience in private equity, venture capital, angel investments, innovation, technology, business law, and education. As an award-winning Professor and recipient of the Presidential Award for Excellence and Innovation in Teaching and Service, he designs and teaches inter-disciplinary...
Contact Us
Please contact us or more information about the Rutgers Collaboration for Technology Entrepreneurship and Commercialization (CTEC) and how to get involved.