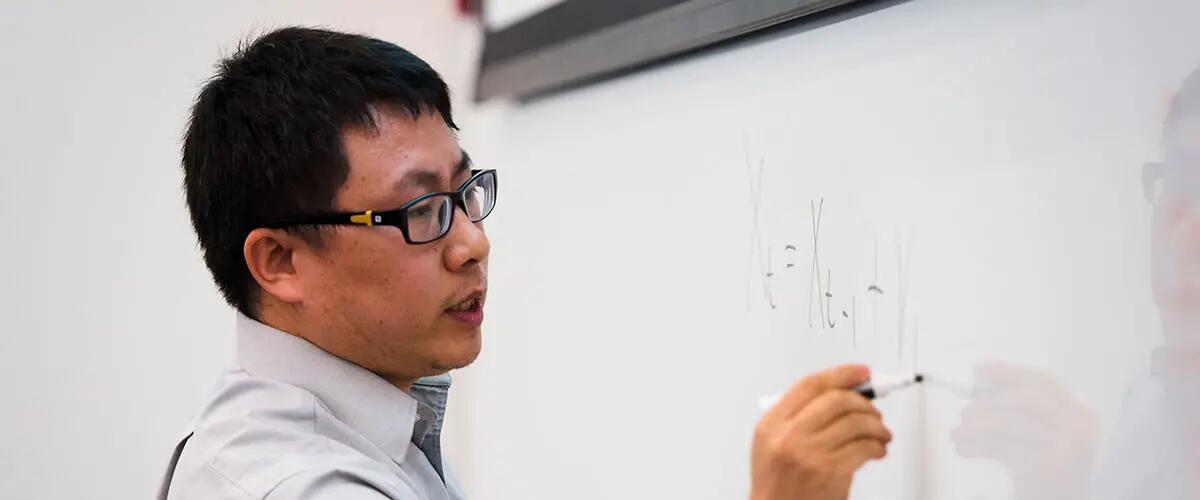 Management Science & Information Systems
As part of a business school in a major public research university, the department of management science & information systems is committed to the advancement of knowledge and preparation of future leaders for business and academic careers through scholarly research, teaching, and service.
The Management Science & Information Systems department is home to the disciplines of Business & Data Analytics, Information Technology and Operations Research. Its faculty teach and do research on data modeling, data mining, security and privacy, risk, operations and decision-making. Our emphasis on strong analytical skills and a clear understanding of information technology aims to provide students with tools and skills for tackling challenging modern business problems and to become leaders in the Business Analytics field.
Faculty and Research
In research, the department strives to produce high-quality, innovative research in the areas of business analytics, operations research, management science, statistics, and information systems that is relevant to policy makers, academics, and practitioners. Department faculty have been recognized by the largest international professional societies in their fields, including with the prestigious INFORMS Fellow award, the Leonid Khachiyan Prize, the Farkas Prize, as well as ACM Distinguished Scientist, senior members of the IEEE, elected members of the International Statistical Institute. Its faculty compete successfully with recognized benchmark schools and they serve on the editorial boards of highly regarded academic research and professional journals.
Highlights
Dr. Andrzej Ruszczynski is the 2018 winner of the Dantzig Prize of SIAM and the Mathematical Optimization Society
Faculty of the department who serve as Chief Journal Editors include Drs. N. Adam, E. Boros, M. Katehakis, and J. Eckstein.
Faculty of the department who are INFORMS Fellows: Michael Katehakis (2012), Jonathan Eckstein (2014) and Andrzej Ruszczynski (2017).
Dr. Farid Alizadeh, is the 2014 winner of the INFORMS Farkas Prize
Dr. Andrzej Ruszczynski, is the 2014 winner of the 2014 Rutgers University Board of Trustees Award for Excellence in Research.
Dr. Endre Boros is an external member of the Hungarian Academy of Sciences and Editor-in-Chief of the Annals of Operations Research (Springer) and Discrete Applied Mathematics (Elsevier).
The National Security Agency (NSA) and the Department of Homeland Security awarded Rutgers University and the Rutgers Center for Information Assurance, directed by Dr. Xiong, the status of National Center of Academic Excellence in Cyber Defense Education through academic year 2021.
View Management Science & Information Systems Faculty
Affiliated Faculty
Dimitris Metaxas
Past Affiliated Faculty