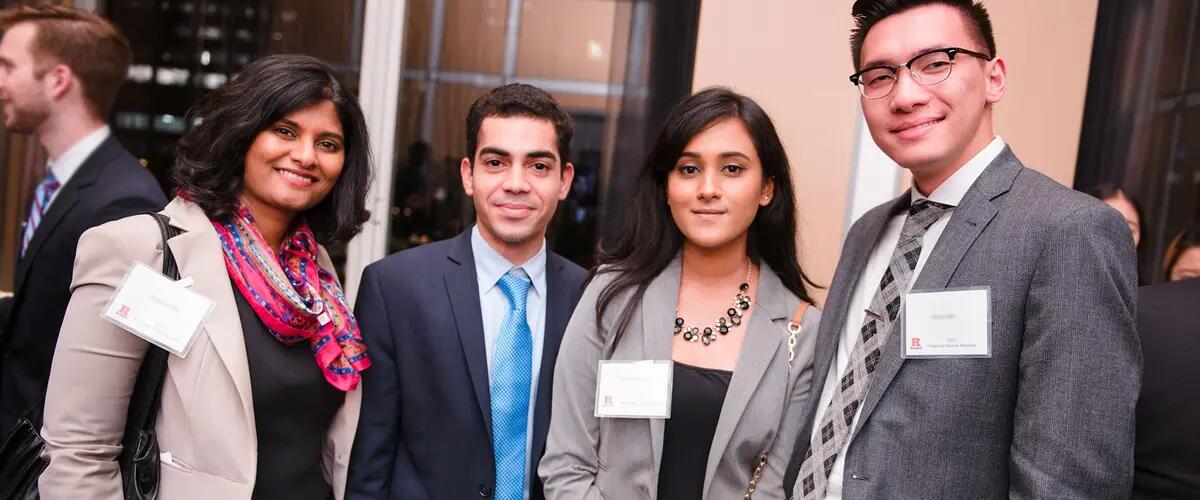 The Office of Mentoring Programs at Rutgers Business School facilitates valuable mentoring experiences for our graduate and undergraduate students with the goal of guiding and preparing the next generation of successful business leaders.
Our alumni and professional and corporate partners have a unique opportunity to impact a future generation of business leaders through our mentorship programs. Join our mentor pool and help transform our undergraduates into star business professionals through meaningful one-on-one mentoring relationships.
TeamUP
This mentoring program seeks to help in the transformation of Rutgers Business School undergraduates into responsible business professionals. Students accepted into the program will consult one-on-one with a business professional to obtain insights about the nature of their profession, as well as guidance on how to grow and prosper within the profession.
Nearly 200 business professionals in the NY Metro area have joined TeamUP as mentors this year. As a result of TeamUP, students report being more confident about both interacting with professionals, and charting their professional path ahead.
Apply to be a mentor today!
Women BUILD
Women BUILD (Business Undergraduates in Leadership Development) is a leadership program for high-achieving, motivated, and talented undergraduates at Rutgers Business School. This program engages select students of all identities who are dedicated to gender equity in business and are passionate about women's leadership. BUILD offers students the opportunity to reach their full leadership potential as business students and empowers them to work toward their future as the next generation of business leaders committed to excellence in business, ethical judgment, and global perspective.
Women BUILD works in conjunction with major corporations who support its mission. Students in the program will have the opportunity to engage on a regular basis with BUILD's corporate sponsors as well as senior executives with sustained connections to Rutgers Business School.
Women BUILD is a fantastic program of which I am very proud to be a part. The vast network of support and experience the alumni provide has been an essential part of my early career. When the opportunity came to give back to the program through mentorship I jumped at the chance. Helping students make that transition into the workplace is something I have cherished.
— Lina Zamamiri, Associate, Goldman Sachs, Women BUILD Alum & Mentor

Helpful Executives-In-Reach (HEIR)
The Helpful Executives-In-Reach (HEIR) program at Rutgers Business School connects students with a senior executive within the professional field they are preparing for. HEIRs act as a resource to all students, including the MBA students that are assigned to each executive for mentoring. In offering their unique perspective and professional insights to students, HEIRs help in the transformation of business students into successful and responsible business professionals.
HEIRs regularly contribute to blogs and are accessible via email to all students, to provide professional advice to students as they seek to enter or advance into different professional roles.
Contact the Office of Mentoring Programs
Please contact our office to learn more about partnering with Rutgers Business School as a mentor or corporate sponsor.
Sangeeta Rao
Assistant Dean for Mentoring Programs
Phone: 973-353-5709