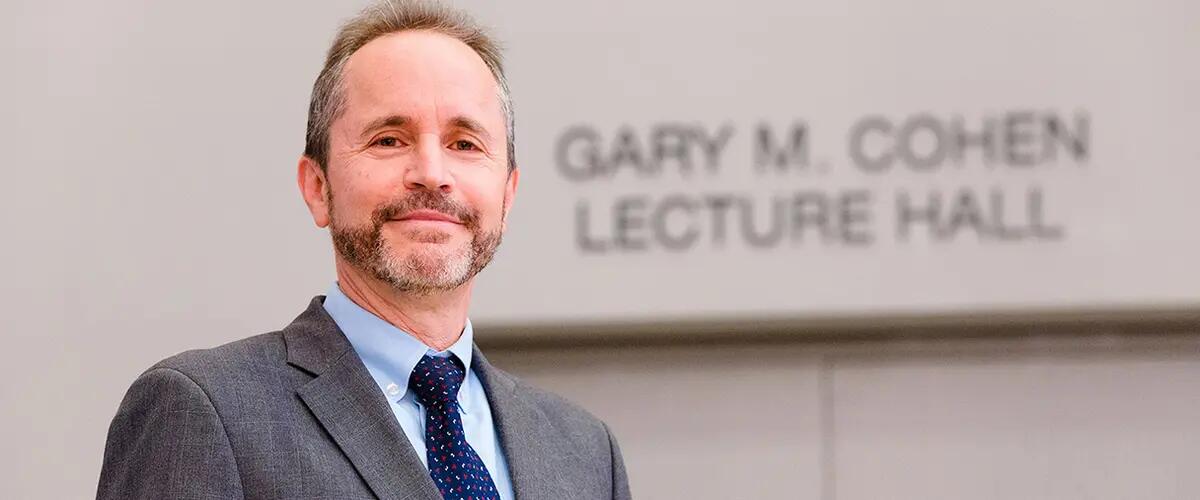 At 100 Rock, Room 1095 gets a name
For the past four years, the large lecture hall with stadium-styled seating at the Rutgers Business School's Livingston Campus building was known as 1095.
Sometimes, it was referred to merely as the big lecture hall on the first floor.
Now, it has a name: the Gary M. Cohen Lecture Hall.
Cohen, an alumnus of the Rutgers MBA program and an executive at medical device maker BD (Becton, Dickinson and Company), has supported Rutgers Business School for years, making his first donation as an alumnus a year after completing his MBA in 1983. He has funded an endowed scholarship, served on the dean's board of advisors and earlier this year, established the Rutgers Institute of Corporate Social Innovation, which will be housed within Rutgers Business School.
After a ceremonial ribbon cutting on Nov. 14, Cohen spoke to nearly 200 students about his career at BD, which includes three decades of work he led to address societal issues, including needle safety and health system strengthening during the HIV and AIDS pandemic. "If you choose to work in business, you need to help make your company successful," Cohen told the students. "This is not at odds with achieving positive social impact. It actually helps enable it."
From his seat in the back of the lecture hall, Rutgers Business School sophomore Matteo Tavella considered the lecture hall's new name as he waited for his evening business forum class to begin.
"It sounds better than Room 1095," he said.
Press: For all media inquiries see our Media Kit