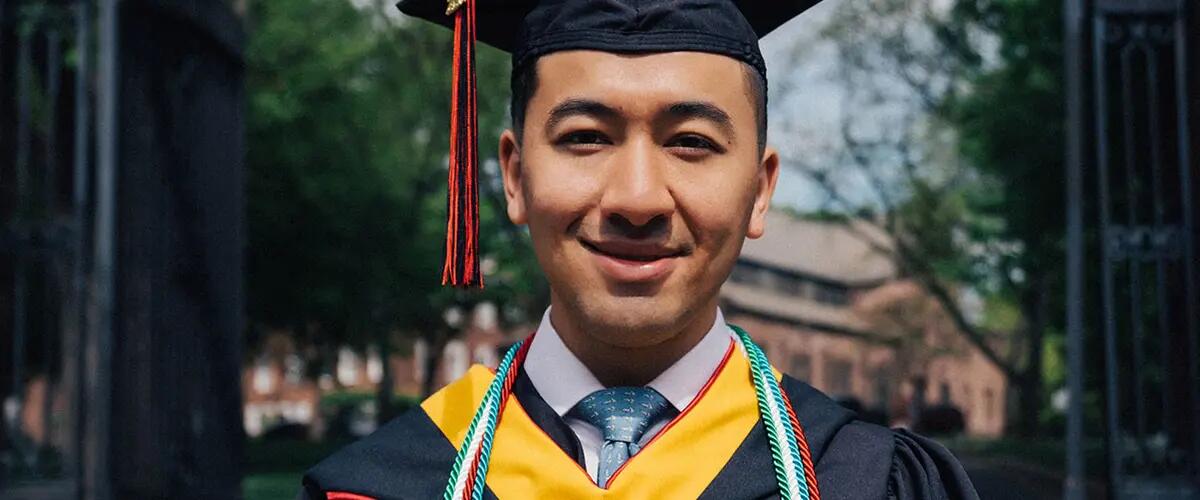 Alumnus chosen for prestigious Schwartzman Scholar program
Alumnus Malike Naibi was one of two Rutgers University students selected to receive a full scholarship to the global affairs masters program at Tsinghua University in Beijing.
This story was originally published in Rutgers Today. It was written by Kevin Lorincz.
Julien Rosenbloom, a Rutgers senior who has been working to address economic and racial inequality and Malike Naibi, a recent graduate and entrepreneur who has become one of China's most successful social media influencers, were both named Schwarzman Scholars, a program designed to build a community of global leaders and deepen understanding between China and the world.
They join an elite group earning a full scholarship to attend the global affairs master's program at Tsinghua University in Beijing next fall.
"When I got the call that I had been selected, I immediately thought of what this meant to my family," said Rosenbloom, who is studying political science and economics in the School of Arts and Sciences at Rutgers University-New Brunswick.
"We struggled a lot financially, but with substantial assistance, we were able to climb out of poverty, so I'm keenly aware of how privileged I am not just to be graduating from a world-class institution like Rutgers, but to be awarded such a prestigious honor."
The highly competitive admissions process to the one-year program not only evaluates the proven intellectual ability and leadership potential of applicants but gauges their ability to capitalize upon emerging trends and desire to understand other cultures.
"When I was notified that I was accepted into the program, it felt completely unreal," said Naibi, a 2018 graduate of Rutgers Business School-Newark and New Brunswick. "This is a priceless opportunity and I'm grateful to Rutgers for making it possible."
Rosenbloom and Naibi are among 154 students selected as Schwarzman Scholars this year, with 45 percent of scholars coming from the United States, 20 percent from China, and 35 percent from the rest of the world.  
"Julien and Malike have helped to solidify Rutgers' position as a major player in the competition for one of the world's most prestigious graduate fellowships," said Arthur D. Casciato, director of Rutgers' Office of Distinguished Fellowships. "I have no doubt that these two extraordinary young men will establish themselves as leaders among the sixth cohort of Schwarzman Scholars and, in doing so, demonstrate the full value of a Rutgers education."
"This is a priceless opportunity and I'm grateful to Rutgers for making it possible." - Malike Naibi
Rosenbloom, studying in the Eagleton Undergraduate Associate program that links the study of politics to its real-world application, has published research on emergency food delivery as a Ralph W. Voorhees Fellow in Public Service, conducted a study on the impact of the Great Recession on American race relations as a Lloyd C. Gardner Fellow in Leadership and Social Policy, and contributed to successful advocacy initiatives in higher education policy with the Rutgers Office of Federal Relations. A graduate of Voorhees High School in Glen Gardner (N.J.), he has also held leadership positions in student government, various student organizations, and research centers focused on civic engagement, international and domestic politics, and consulting.
"My professional interests largely focus on developing public policy solutions that combat economic and racial inequality, especially in terms of higher education, labor, and economic policy," said Rosenbloom. "I think the task of my generation is to rethink and invent new structural and political approaches to these issues." 
Naibi returned to China after earning his degree and devoted himself to creating educational content through social media. His venture, Lime Education, has attracted millions in investments from various venture capitals, incubated hundreds of scholastic content creators, and serviced some of China's top educational companies.
"The relationship between the United States and China is a bit tricky," said Naibi. "There is collaboration in certain fields, but there are conflicts in many others. You need people that understand both cultures. Having been born and raised in China, with an undergraduate degree from Rutgers, I want to be a bridge and Schwarzman Scholars will help me to develop that vision."
Rosenbloom, who has held internships with the State of New Jersey's Treasury Department, the Rutgers Office of Federal Relations, and several strategy consulting and government affairs firms, said he wants to use his experience as a Schwarzman scholar to reshape domestic policy in the United States.
"I've grown really concerned with the power vacuum created by the United States' withdrawal from global leadership, particularly in terms of post-pandemic global governance," said Rosenbloom. "Since we're still in the grips of dealing with a botched pandemic response at home, countries like China have been able to lead national and regional recoveries for other economies."
Naibi frequently shared content that highlighted his life as a Rutgers student and credits this for building his large following that has grown to approximately 10 million people across platforms. He views social media as a tool to magnify leadership and enhance accessibility to education.
"Rutgers provided me with a comprehensive vision of what America really looks like," said Naibi. "It's a diverse and interesting community comprised of immigrant backgrounds and local cultures. Some may set apart Ivy League schools, but Rutgers gave me genuine insight into how Americans perceive China and the world."
Six Rutgers students have been selected for the prestigious scholarship since it was launched by Blackstone Group Chair and CEO Stephen A. Schwarzman in 2016 to prepare the next generation of business, political and civil society leaders to create change in the geopolitical landscape.
Press: For all media inquiries see our Media Kit