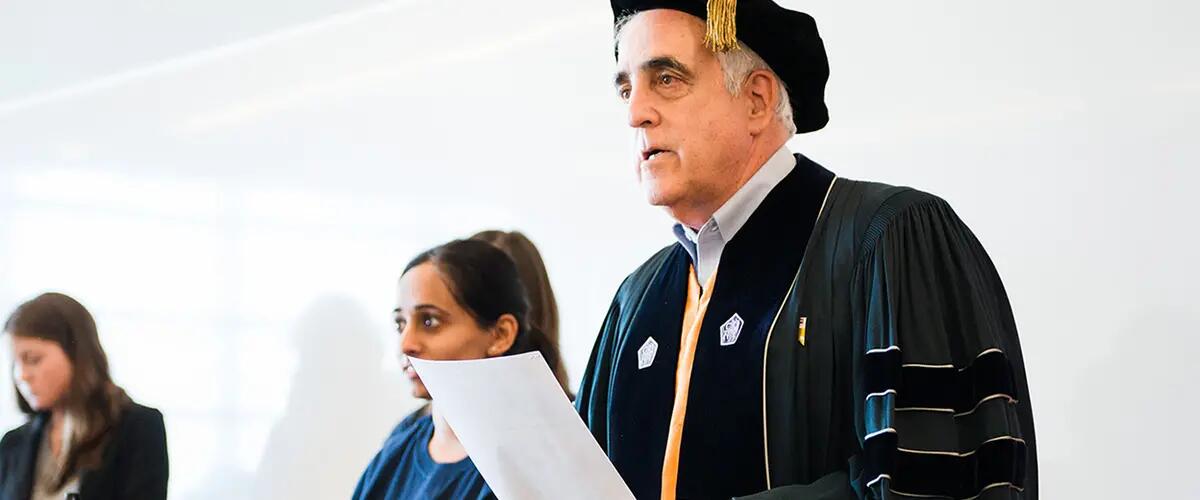 Beta Gamma Sigma at Rutgers Business School-New Brunswick wins Gold Chapter Award
Rutgers Business School has No. 1 Beta Gamma Sigma Chapter in the world.
International business honor society Beta Gamma Sigma has presented Rutgers Business School-New Brunswick with its Gold Chapter Award for 2017 making it the top chapter in the world out of 544 business schools.
Rutgers Business School-New Brunswick, which started its chapter in 1991, has tripled membership in the past three years, growing to nearly 100 students.
The growth in membership coincides with the introduction of traditional "tapping" ceremonies when eligible students are "tapped" or invited to join Beta Gamma Sigma. The ceremonies are carried out by Martin Markowitz, senior associate dean of Rutgers Business School-New Brunswick and Helen Pensavalle and Michelle Tomitz of the undergraduate student services staff.
"Becoming the Beta Gamma Sigma Gold Chapter brings recognition to our students and our program excellence," Markowitz said. "The students in our chapter not only demonstrate superior academic skills but also exhibit enthusiasm to help others."
Beta Gamma Sigma is open to students whose academic performance puts them in the top 10 percent of their class. Membership in the honor society is considered the highest recognition business students anywhere in the world can receive for their academic achievements.
"This is a huge accomplishment for the New Brunswick chapter," Pensavalle said. "It is a reflection of the hard work, devotion and determination put forth by the BGS student board members and all involved."
"In the past few years, we find that students are working harder to make the top 10 percent so they can be invited to join.  It's a win-win situation," she said. "Our students continue to amaze me. No matter how high you raise the bar, they don't give up, they just reach higher."
The Gold Chapter Award reflects the strong membership at Rutgers Business School as well as the community service events performed by students in the chapter. Pensavalle said students perform two community service events a year. In 2016, the chapter held a fund-raiser on Rutgers Day to benefit The Make-a-Wish Foundation for children with life-threatening illnesses.
"We have worked to create a scholarly identity among our members by providing ceremonial, community service, social, and school-wide support activities in which our BGS members could participate," Markowitz said. "We are very proud of our students' accomplishments."
In addition to being recognized as the top chapter in the world by Beta Gamma Sigma, Rutgers Business School will receive a $1,500 scholarship to be awarded to one chapter member.
- Susan Todd 
Press: For all media inquiries see our Media Kit