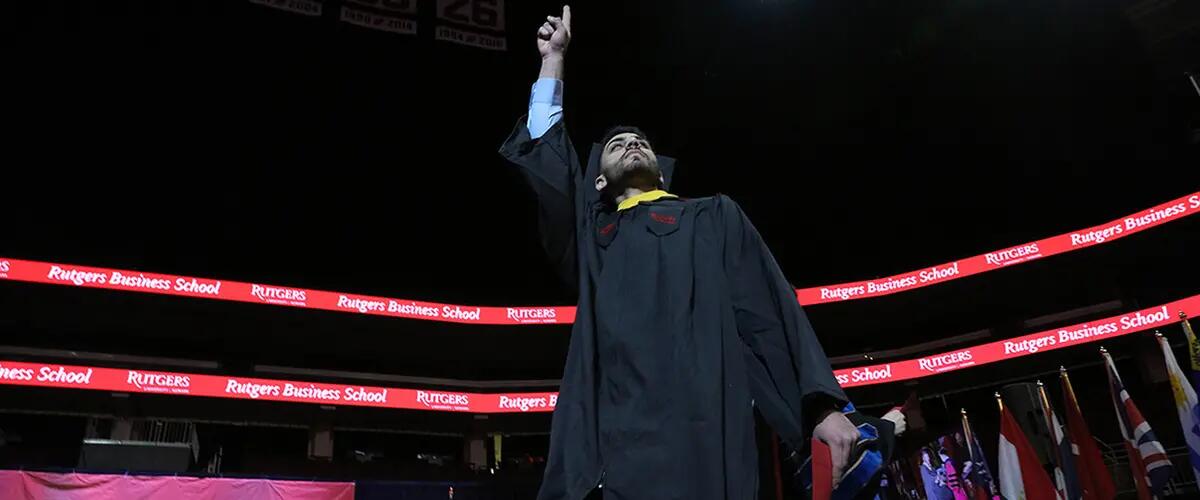 Business students encouraged to be force for change
More than 600 undergraduates from Rutgers Business School were among the crowd of cap-and-gown wearing students celebrating the completion of their college classes at the 2019 Rutgers University-Newark Commencement.     
The ceremony, a huge event for six schools on the Newark Campus, opened with a rendition of the National Anthem performed by Florianna Heun, a Rutgers Business School alumna, and it was marked by a rousing chant of RBS! RBS! RBS! when Dean Lei Lei took the podium to address the graduates.
Chancellor Nancy Cantor challenged the graduating students to be productive citizens, filled with purpose. She praised the students who had already worked on a massive campus voter registration effort and taken on issues such as climate control and immigration. "You are educated to be the next generation of strong voices," Cantor said.
During the event, a number of other speakers addressed the crowd, including Rutgers University President Robert Barchi and graduating senior Christine Bernadette Garcia, who delivered the Class of 2019 Address.
Commencement speaker Dorothy Roberts, a constitutional law attorney, activist, author and a University of Pennsylvania professor, spoke about identifying institutional bias and the underpinnings of unjust systems and she eloquently described what is required when a person wants to make reforms.
Making social change, Roberts said, requires imagination. "You have to be willing to imagine a better world," she said.
For all of the pride, ambition, accomplishment evident inside the cavernous Prudential Center as hundreds of graduates sat assembled in rows of folding chairs and family members filled stadium seating in every direction to cheer in celebration, there were also high hopes for what the graduates would still go on to do.
As he described a country filled with disturbing politics, racism and economic inequity, Newark Mayor Ras Baraka told the graduates: "We need brave people today."
"Not just brilliant people," he said, "brave people."
Photos by Anthony Alvarez.
Press: For all media inquiries see our Media Kit