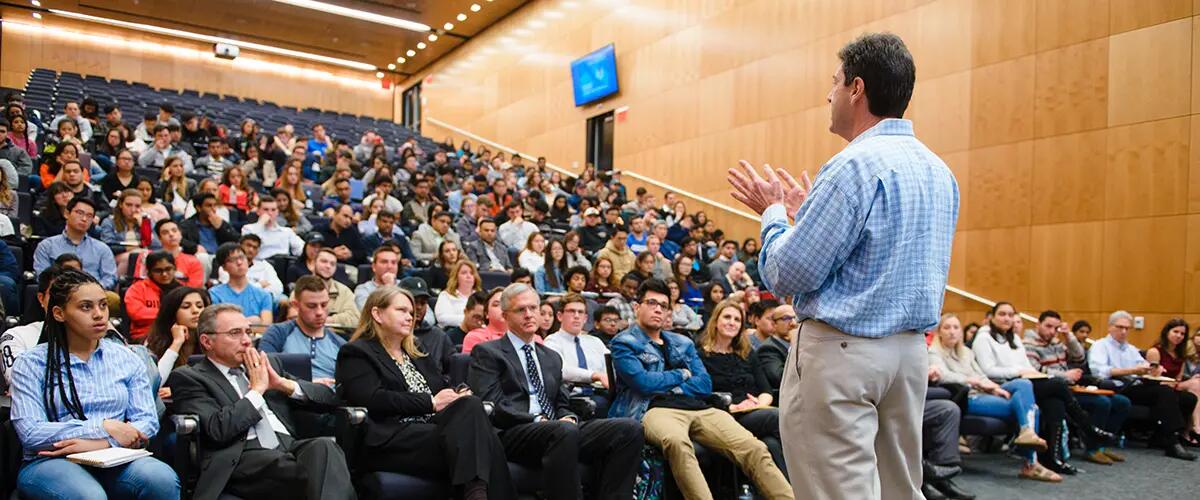 CEO of Bed, Bath & Beyond encourages students to follow their passions
"The entrepreneurial spirit of our people differentiates Bed, Bath & Beyond from other retailers," said CEO Steve Temares.
A Rutgers alumnus (economics and philosophy), Temares connected with students by recounting his career path and fielding questions from the large turnout.
Rutgers Business School's management & global business department hosted Temares for the third of 10 Leadership Speaker Series this term.
Associate Professor Can (John) Uslay of the marketing department put together the RBS Business Leadership Speaker Series as part of his work as RBS director of special projects. He provided an overview of the series and encouraged the students to ask questions.
Denis Hamilton, assistant professor of professional practice and director of management education - New Brunswick, management & global business department, introduced Temares and asked the initial questions from polling students previously.
To the question of how he transitioned from real estate to managing a large retail chain, Temares' answer demonstrated that he followed the advice that he gives to graduates just starting their careers:
"Love to learn, learn how to think, stay intellectually curious, and never be satisfied with half an answer," Temares said.  "Sure, you have to be bright, work hard, and it helps to be in the right place at the right time. But when you work hard, with intellectual integrity, striving to get better, you will create more times that you are in the right place."
A student in the audience asked how online shopping was affecting the brick and mortar stores.
"Digital is where everything is going, and we invest heavily to stay ahead of the curve," Temares said.  "However, the brick and mortar stores remain crucially important. They provide personal service and convenience to those buying online and returning in-store.  Whenever we open a physical store, our gift and wedding registry significantly grow; we offer specialized and seasonal shopping portals. Digital and physical stores are all part of our omnichannel."
"I'm new to studying business and James King's supply chain management course last term just blew me away," she said.  "I'm committed to getting my MBA right after completing my baccalaureate," said Mackrell. "Hearing Steve Temares speak was so inspiring. You don't have to know your entire career path, just follow your interests, stay passionate about what you do, and constantly change, learn, and grow."
Using its long-established relationships with corporate leaders, Rutgers Business School will bring five CEOs to the Newark and the Livingston campuses this term for 10 Business Leadership Speaker Series events, enabling students to interact directly with executives influencing the future of business.
-Sean Ireland
Press: For all media inquiries see our Media Kit