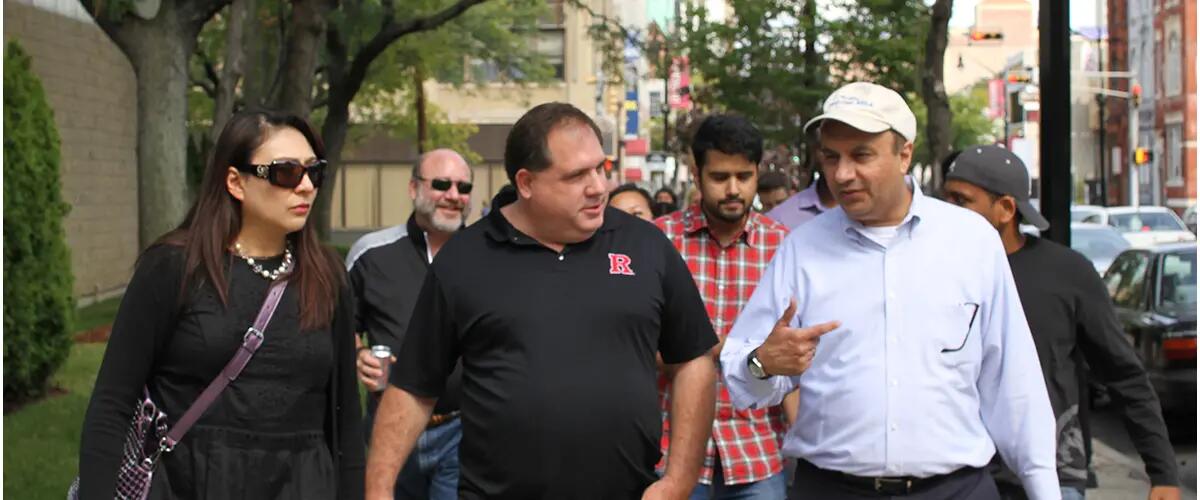 Executive MBA ranked No. 15 in the U.S. by Financial Times
Large salary increase & career objectives met among key factors helping Rutgers rank No. 4 in Big Ten; Rutgers EMBA rated No. 7 in the world in finance
Rutgers Executive MBA was ranked No. 15 for U.S.-only programs in the Financial Times latest rankings of the top 100 Executive MBA programs in the world [see full rankings]. Rutgers EMBA also made the "Top for Finance" category ranking No. 7 in the world.
Rutgers EMBA graduates saw a 53 percent increase in their salaries three years after finishing the program - ranking No. 10 for "Salary Increase" for U.S.-based programs and highlighting the tremendous advantage Rutgers EMBA provided their careers.
Members of the class of 2013 who participated in the survey described going through the Rutgers EMBA program as a transformational experience.
"Every case study, every week in residence, leaves one changed for the better," said Jennifer Budd Mattiello, senior vice president and COO at Northeast Power Coordinating Council, Inc. "I found fresh, new perspectives and a deeper understanding of timely issues in collaboration with my peers and the exceptional faculty members, speakers and professors associated with Rutgers."
The average annual salary for Rutgers EMBA graduates totaled over $184,000, according to the Financial Times, the 11th best salary total for U.S. programs. Rutgers EMBA also ranked No. 13 in the U.S. for "Aims Achieved," which measures the extent to which alumni fulfilled their goals or reasons for doing an EMBA [see full methodology].
"Upon graduation, I was more confident to implement higher level strategic initiatives for my management team," said Dianne Grenz of Valley National Bank. "Within six months I was promoted to executive vice president."
The Rutgers EMBA program takes its commitment to students very seriously. "We care deeply for our students," said Farrokh Langdana, director of Rutgers EMBA, and professor, Finance & Economics at Rutgers Business School. "The goal is not just salary maximization but to ensure that the course-work has immediate real-world added value. To this end, the curriculum is constantly updated every year."
Distinguished lecturers such as Tom Renyi, former CEO of Bank of NY/Mellon and Gary Rodkin, previous CEO/President of PepsiCo North America are invited to speak, and stand-alone modules such as Entrepreneurship, Lean Six Sigma Green Belt certification, Customer Centric Strategy, Consumer Behavior, and Consulting Skills are updated to enhance students' experiential learning. 
"We recently added an expanded high level finance course in valuation, the likes of which does not exist in other EMBA programs," said Langdana. "How much is a company, product, or service worth? What is the real strategy underlying mergers and acquisitions? And real and very current financial statements are deployed in this intense elective," he said.
This constant innovation in the curriculum resonated with alumni of the program. "The program was intellectually stimulating forcing me to see things differently, to explore options, to lead, to solve complex problems and to work with a diverse set of talented individuals from different industries and cultures," said Akhila Mahapatra, and Account Executive at Accenture.
"Going back to school for such a challenging program after 15 years was frightening. But the extraordinary guidance and support from the faculty as well as the program team helped overcome the initial hurdles and kept me motivated throughout the program," he said.
Rutgers EMBA students and alumni have continuous access to strategic career management and counseling to accelerate their job transition while ensuring competitive compensation.
Summary of Rutgers EMBA rankings among other U.S. programs by the Financial Times:
#15

 

Overall
#7

 

in Finance
#10

 

in Salary Increase three years after graduation
#11

 

in Total Salary
#13

 

in Aims Achieved
#20

 

in International Course Rank
#25

 

FT Research Rank (based on RBS faculty publications in the FT-designated "top" journals)
Compared to other Big Ten business schools, Rutgers EMBA ranked No. 4, behind Northwestern, Maryland and Minnesota, and ahead of Michigan State. Other Big Ten EMBA programs like Indiana, Penn State, Ohio State, Wisconsin, Illinois, Iowa and Purdue did not make the Financial Times rankings. Overall, out of 100 EMBA programs that made the final Financial Times list, Rutgers EMBA ranked No. 67 in the world going up 13 spots compared to 2015.
- Daniel J. Stoll  
Press: For all media inquiries see our Media Kit