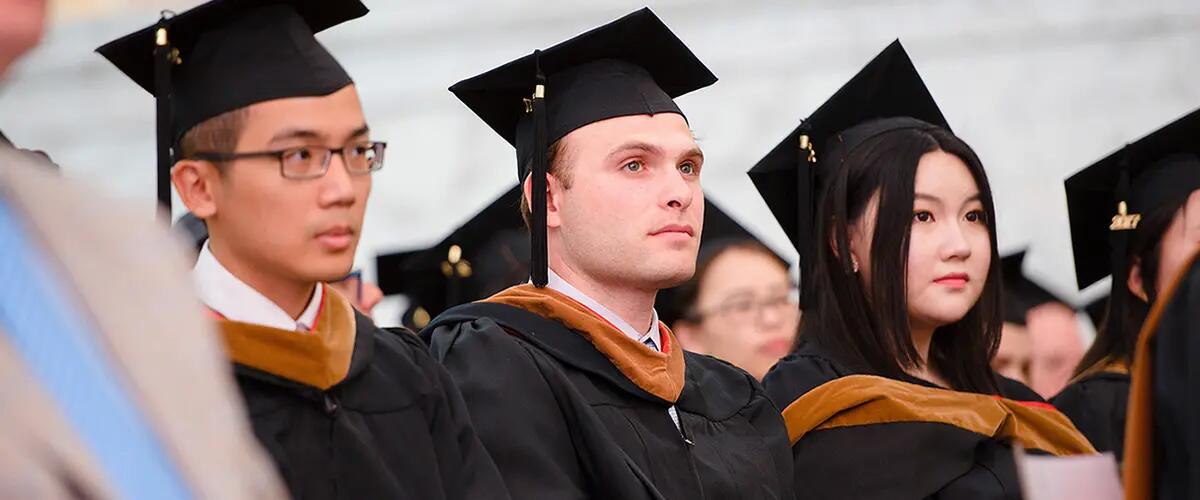 Graduate students find short, intense path to accounting careers
Students get a new skill set, a master's degree and the advantage of an intense job placement track all wrapped into one 14-month program.
The MBA in Professional Accounting program starts with an alumni reception which kicks off a series of meet-and-greet events with accounting companies interspersed with networking activities and recruiting presentations, followed by a sprint of mock interviews. As they dive into their first business classes, students are also preparing intensely for interviews to land a mid-program internship.
"It starts two weeks into the program and it just keeps going," Professor Alex Sannella, director of the MBA in Professional Accounting program, said of the focus on careers.
Find out more about the MBA in Professional Accounting from faculty members and graduate program admissions staff during  an Open House, Saturday, Oct. 7, 8:30 a.m. to 3 p.m.,  in Newark.
Gregory Forca earned his bachelor's degree from Rutgers University's School of Arts and Sciences in May and started the MBA in Professional Accounting program a few weeks later. He was prepared for the accelerated pace, he said.
"We will have an interview almost every Friday in September and October," Forca said. "It will be challenging to juggle homework, exams and interview preparation, but it will be worth it."
After studying economics as an undergrad, Forca always intended to go to graduate school to narrow his focus on a certain area of business. Accounting was ideal to add to his knowledge of statistics and public policy, he said.
Tom Giordano, who earned his law degree last year, started the MBA in Professional Accounting because he knew it had a reputation as being a "feeder" for accounting firms in the region.
"In two months' time, every Big Four accounting firm has come in and another four medium-to-small firms have come in and on top of that there was an alumni reception with people from all of the Big Four firms," Giordano said. "There's an immediate chance to meet people."
The program is designed to train students who have not previously studied business into the accounting field and places 75 to 80 percent of its domestic students in full-time jobs. It attracts students like Forca and Giordano who are looking to augment their knowledge and others like Isobel Menard who are transitioning from other careers.
Menard spent four years as a contract worker in the event production business, doing stints for VH1, Airbnb festivals and concerts for the Boston Pops.
She gained experience managing budgets, overseeing finances and doing requisitions. Doing that type of work put her in a position to spot inefficiencies. "It bothered me, and I didn't have any authorization to change things. That's how accounting ended up being on the short list of alternative career path she wanted to explore along with teaching and human resources. "Accounting boiled down to the thing I was interested in most," she said.
"The entertainment business sounds so cool, but people are a dime a dozen," she said. "Now, I'll be trained for a position that's in demand. Accounting is a clearer career path, where advancement is based on merit and hard work."
"It will be challenging to juggle homework, exams and interview preparation, but it will be worth it." - Student Gregory Forca
Menard is hoping that she lands a job with an accounting firm that has entertainment companies among her clients so she can still do work in the industry. It's one of the questions she poses regularly to the recruiters she meets.
Giordano thought about getting an MBA even while he was working on his law degree, but he thought having a specialty in accounting might also be valuable.
"Accountants are always dealing with the law, and accounting is the foundation of business," he said. "I knew it would benefit me." That's especially true given his interest in going into the advisory side of accounting, which deals with such business issues as mergers and acquisitions.
Giordano said  job placement  was also a "huge consideration" for doing the program.
"They give you all of the tools to get a job," he said. "You have to be serious about learning, but a lot of the intensity comes from sheer amount of networking you're doing."
-Susan Todd
Press: For all media inquiries see our Media Kit