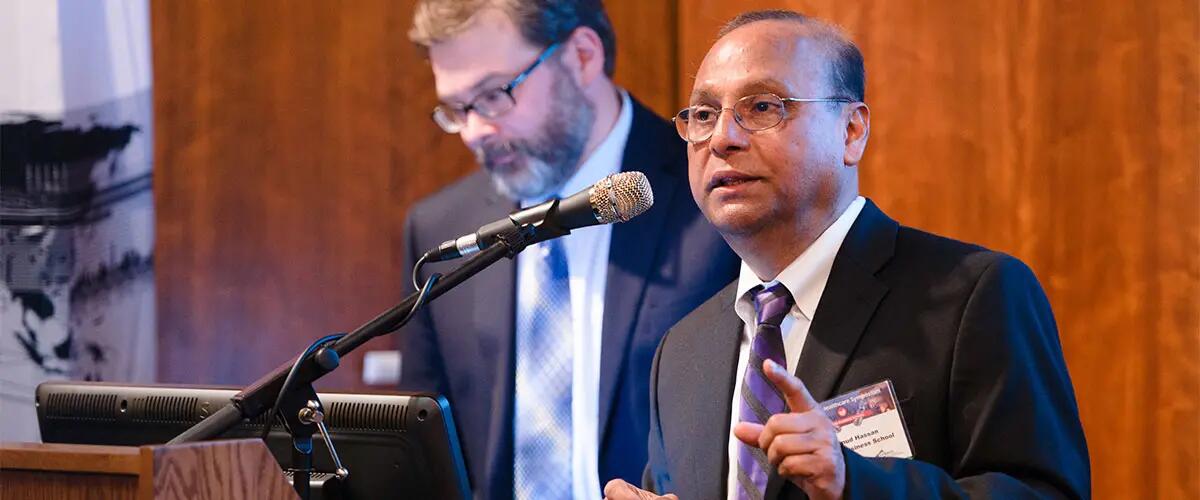 Health care symposium will examine the prospects for biopharmaceutical industry's new focus: biosimilars
Rutgers Business School will explore the prospects and challenges of the pharmaceutical industry's growing interest in biosimilar medicines during the Lerner Center's annual health care symposium on April 20.
Cole Werble, a founding member of Prevision Policy who has analyzed critical developments for the biopharmaceutical sector, will serve as moderator of a high-level panel discussion about the prospects for biosimilars.
The panel is composed of individuals who have closely watched as the new treatments have emerged in Europe and the U.S. The panelists are Carlos Sattler, vice president of clinical development and medical affairs at Sandoz; Molly Burich, Boehringer Ingelheim's associate director of public policy with a focus on biosimilars; and Gillian Woollett, a regulatory strategy expert with industry consultant Avalere Health.
The health care symposium has become an important thought leadership event at Rutgers Business School, attracting industry leaders, alumni of the Rutgers MBA in Pharmaceutial Management and current MBA students interested in leadership roles in pharmaceutical companies. Each year, it offers insights and discussions on some of the industry's most compelling business issues by leading experts, and it highlights Rutgers Business School's strong ties to the pharmaceutical and biopharmaceutical industries. Registration fees are waived for Rutgers students, alumni and faculty. 
Biosimilars are imitations of biologics – expensive medicines made of living cells – that treat serious illnesses such as cancer, diabetes and rheumatoid arthritis. Unlike generic drugs, they are not exact copies of the powerful biologics, making their prospects more complicated, both in terms of patient benefits and drug maker profits.
"There's a lot of interest in this area," said Professor Mahmud Hassan, director of the Blanche and Irwin Lerner Center for the Study of Pharmaceutical Management Issues at Rutgers Business School.
While some companies are betting on biosimilars to generate huge profits, Hassan said the market potential is not as certain as it can be for generic medicines.
Mahmud Hassan, director of the Irwin and Blanche Lerner Center for the Study of Pharmaceutical Management Issues at Rutgers Business School.
Biosimilars are not interchangeable with treatments that have already received regulatory approval, he said, and costly research and clinical trials to develop the drugs come with no promise that they will be effective, safe or win the necessary approval so they can be sold in the marketplace.
"It's a very, very risky game," Hassan said.
In addition to a stimulating panel discussion, the annual healthcare symposium will include a presentation by guest speaker Angeliki Cooney, director of strategic planning for IMS Health. As she did last year, Cooney will highlight some of the biopharmaceutical industry's newest and most significant trends.
The event's keynote speaker will be Robert Hugin, chairman and CEO of New Jersey-based Celgene, one of the world's largest biopharmaceutical companies. Hugin's talk will focus on partnerships in medical innovation. "Delivering value for patients, healthcare and the economy."
Press: For all media inquiries see our Media Kit