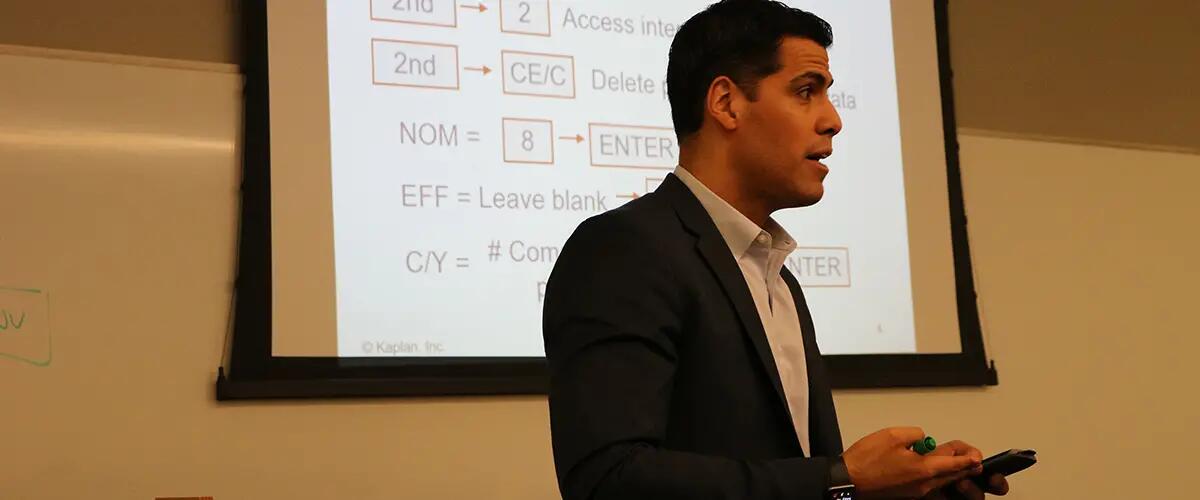 Intensive CFA Exam 1 review concludes Rutgers Master of Financial Analysis program
As part of the Master of Financial Analysis (MFinA) program, after the spring term and before CFA Exam 1, instructors from the Chartered Financial Analyst Society of New York (CFASNY) teach a four-day intensive CFA review session at our campus in late May (between spring finals and the early June CFA Level 1 exam).
 
CFASNY is the largest and one of the oldest member societies of the CFA Institute. All instructors are CFA charter holders with years of experience preparing students to take the CFA exams.
 
Juan F. Cabrera, Ph.D., CFA, associate professor of finance, City University of New York, just taught this year's CFA Exam 1 review session.  Students were provided a study guide and practice exams. Cabrera provided an overview of the four-day review, and of the June 23 (this year) exam.
 
The exam covers all ten topics in each of the two test sessions. Cabrera offered test-taking strategies beyond practice tests, and he even showed the students time-saving calculator functions.
Current student Wenxuan Yan said, "The test review is very helpful; we have been learning and studying the material through our courses all year, but the review highlights specific areas to focus on."
 
Si Cheng agreed. "If you want to take a challenge and learn more things about financial analysis, beyond just taking the CFA exam, the Master of Financial Analysis at Rutgers Business School is your best choice."
Join us Friday, June 15, 2018 from 12:00 PM - 1:00 PM to learn more during our specialty master information session - online.
-Sean Ireland
Press: For all media inquiries see our Media Kit