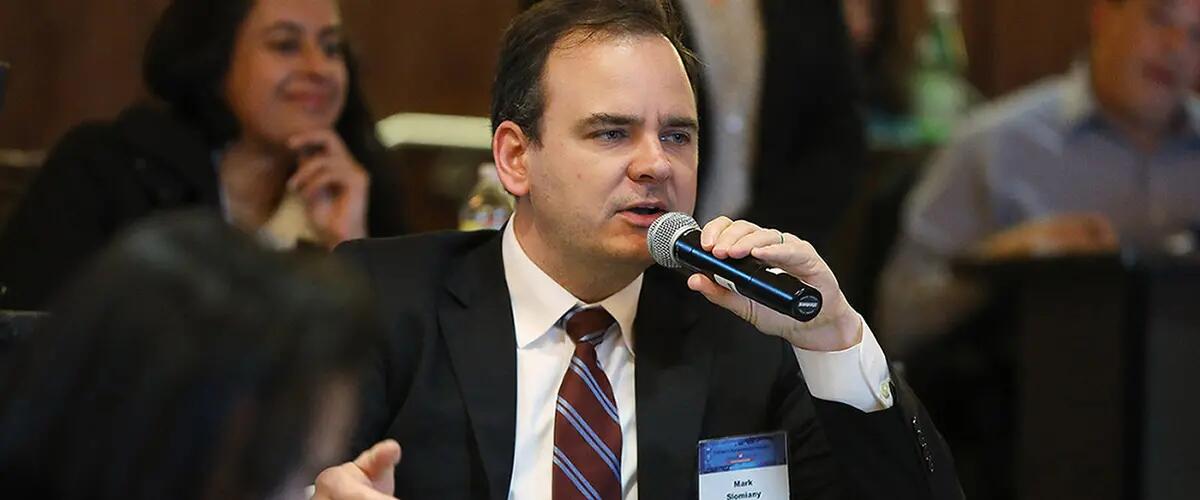 Lerner Center symposium addresses the high price of innovation
On April 25, the Blanche and Irwin Lerner Center for Pharmaceutical Management Issues invited experts from the biopharmaceutical industry to speak about the challenges to innovation, including powerful new medicines that remain too pricey for many patients.
An executive with the Pharmaceutical Research and Manufacturers Association brought the national conversation on drug pricing to Rutgers Business School, providing insights to an audience that ranged from drug industry professionals to MBA students.
"We are living in a new era of medicine," said Robert Zirkelbach, the executive vice president of PhRMA. "Medicines are not just better, they're entirely different."
The sophisticated medicines also come with a higher price tags, which has fueled criticism from patients and their advocates and overshadowed the marvels of science with controversy over costs.
In a keynote address at the April 25 annual healthcare symposium, Zirkelbach discussed four significant trends that help to explain what drives up the costs of prescription medicines, including changes in insurance coverage and the drug industry's supply chain.
"We need to make sure that the forces of marketplace competition are really helping to improve patient access to medicines," Zirkelbach said.     
The symposium, "Challenges to Biopharmaceutical Innovation," focused on pricing but also the powerful new drugs, such as immunotherapies, available to treat patients.
The healthcare symposium is a signature event for the Blanche and Irwin Lerner Center for the study of Pharmaceutical Management Issues. Each year, a high-level discussion attracts an audience of alumni, industry professionals, policy makers and graduate students, many of whom are hoping to land roles within the state's hub of biopharmaceutical manufacturing.
In addition to Zirkelbach's keynote address, the symposium featured a talk by Ed Adamcik, vice president of Express Scripts, and a panel discussion moderated by Richard Bagger, executive vice president of Celgene's corporate affairs and market access. The panelists were Bruce Car, vice president and head of translational sciences at Bristol-Myers Squibb, Paul Deutsch, vice president and head of translational medicine and early development at Sanofi and Francois Nader, chairman at Acceleron.
The Lerner Center sits at the heart of the Rutgers MBA Pharmaceutical Management Program and bolsters a program that supplies talent to New Jersey's hub of biopharmaceutical manufacturing.
In his welcoming remarks, Mahmud Hassan, the center's director, acknowledged the importance of the industry to the state as well as to Rutgers Business School. "The industry is, by far, the largest employer of our MBA students," Hassan said.
Forty-three percent of graduating MBA students were hired in the biopharmaceutical industry in 2017 compared to 12 percent who found work in consumer products, 5 percent who were hired by the finance industry and 3 percent who got jobs in technology companies.
"Whatever we can do to help this industry grow, helps us," Hassan said.
The symposium opened with remarks from Rutgers Business School Dean Lei Lei and Christopher Molloy, senior vice president, Rutgers University's Office of Research and Economic Development.
Alan Rubino, chief executive officer of Emishere Technologies and a member of the Lerner Center's board, delivered a testimonial to Irwin Lerner, recognizing his long career, his contribution to the pharmaceutical industry, his leadership and vision.
Rubino spent 24 years at Hoffman-La Roche, where Lerner worked for 32 years, including 12 as chief executive officer. "He was an awesome CEO who had a global impact," Rubino said.
Lerner presided over Roche's pharmaceutical business during a time when major drugs were produced, including Valium, and he engineered the company's acquisition of a majority stake in Genentech. He led the company with "an electric charisma, a daunting presence and impeccable character," Rubino said.
"He led with high energy and high standards," he said. "He was a visionary thinker and a visionary implementer."
"He was the most responsible pricing executive of our times," Rubino said, offering a prelude to the conversations that would unfold during the symposium.
-Susan Todd
Press: For all media inquiries see our Media Kit