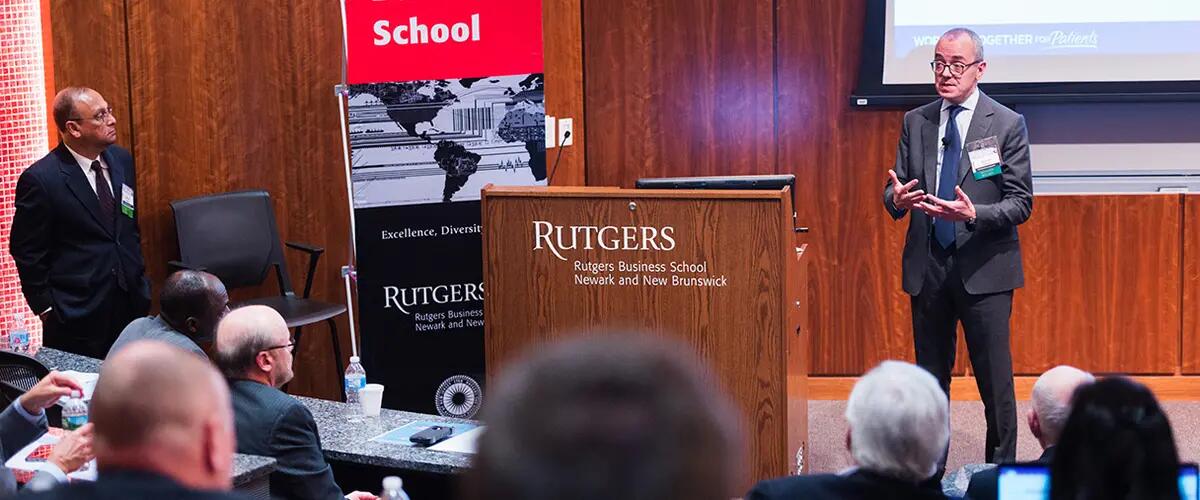 Lerner Center's annual symposium imagines the future of healthcare
The Lerner Center's annual healthcare symposium offered a look at the future of the biopharmaceutical industry, asking experts and executives to imagine what the next 15 years could bring.
There were no easy answers.
In a keynote address, Dr. Giovanni Caforio, chief executive of Bristol-Myers Squibb and chairman of the company's board of directors, predicted broad collaborations to discover new options for the most difficult to treat diseases, an increased focus on personalization of treatment options and the greater use of data, including biomarkers, to create efficiencies in both drug discovery and drug development.
"Collaborations are happening across the industry," Caforio said. "Research is going on internally and externally."
"Data is driving everything we do, enabling us to move faster and to be more effective," he said.
Bristol-Myers Squibb is an example of a traditional pharmaceutical company that over the past decade has refocused its business on innovative medicines to remain successful in the future. Twenty years ago, Bristol-Myers Squibb's leading product was a chemotherapy drug called Taxol. Now, its cancer-fighting efforts involve revolutionary immunotherapies that use the body's own immune system to fight cancer. "Today," Caforio said, "we are a very different company."
As the industry faces the challenge of developing innovative and expensive new medicines, it is also under pressure to lower drug prices. Ed Adamcik, a Rutgers MBA alumnus and vice president of Express Scripts, spoke about the complexities of healthcare and the promise technology and data have for creating more efficiencies.
A panel of speakers also addressed some of the trends shaping the industry and what that might mean for its future. Rohit Sood, another Rutgers MBA alumnus and the executive managing director and head of commercial advisory group, Consulting Syneos Health, moderated a discussion among Lawrence Ganti, president and CEO of Life Sciences Innoplexus; Mark Vineis, vice president, access strategy and commercialization for Novartis Pharmaceuticals, and Dr. Richard Moscicki, executive vice president, science and regulatory advocacy, for the industry trade group, Pharmaceutical Research and Manufacturers of America.  
The annual symposium is one of the signature thought leadership events for the Blanche and Irwin Lerner Center for the Study of Pharmaceutical Management Issues. Each spring, it brings together industry professionals, alumni, academia and students to discuss some of the most pressing challenges and biggest trends facing the pharmaceutical and biopharmaceutical businesses.
Enriching the MBA experience

"I view the healthcare symposium in a very positive way. You hear from very high-level leaders of the industry who are speaking candidly about current issues," said Puja Kapoor, a second year Rutgers MBA student with a concentration in pharmaceutical management. "At the end of the day, it's what you do with each opportunity, right? This offers enrichment and access to executives. It's a huge benefit."

In New Jersey, which has historically been a hub for the pharmaceutical and biopharmaceutical industries, a lot is riding on how the business continues to evolve. As Professor Mahmud Hassan noted as he opened the symposium this year, the industry is a big component of the New Jersey economy.
"Only time will tell how the industry survives," he said.
The half-day symposium drew MBA students, Rutgers Business School alumni and professionals who work within the industry. It also drew prominent members of the Lerner Center's board of advisors, including Chris Malloy, the chancellor of Rutgers University-New Brunswick, Richard Bagger, and Debbie Hart, president of BioNJ.
In opening remarks, Yaw Mensah, executive dean of Rutgers Business School, said RBS and the pharmaceutical industry have a "long-running relationship." The creation of the center in 2002 also provided for the initiation of an MBA concentration in pharmaceutical management.
With Irwin Lerner looking on from one of the front rows of the auditorium, Mensah emphasized the center's important role at Rutgers Business School. "Thanks to the Lerner Center, we've been able to have a program that has enabled us to produce MBA students for the industry," he said.
-Susan Todd 
Press: For all media inquiries see our Media Kit