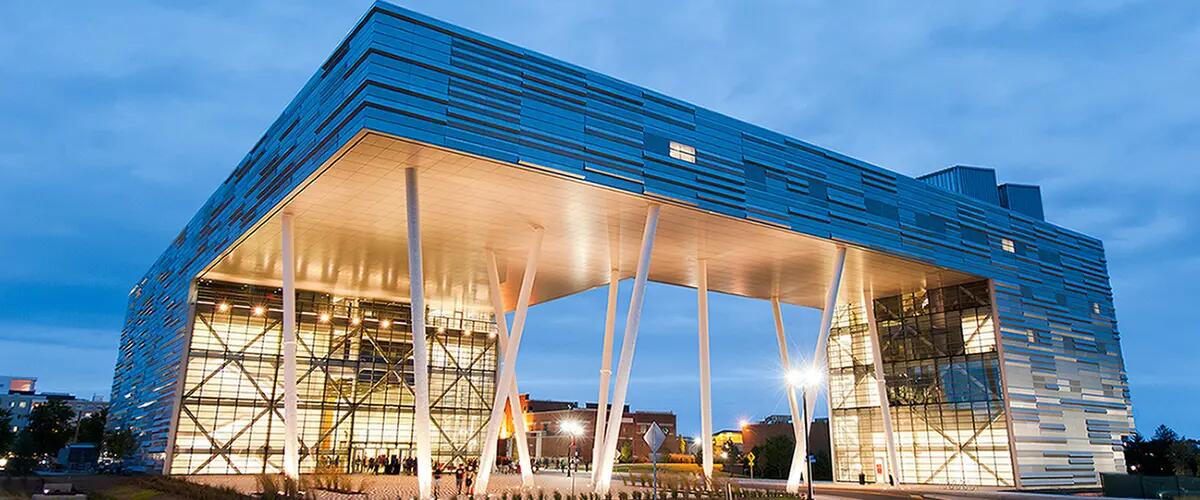 Letter from the dean: Savoring success and setting goals
As we enter the new academic year AY17/18, I would like to take a moment to celebrate the many milestones that we have achieved together during the past academic year, to remember the many inspiring events we have worked hard on, to learn from the many issues and challenges we have handled, and to buttress the many new initiatives we have embarked on as we, together, aspire to build a top public business school on the East Coast.
We celebrated the success of our students.
Our students achieved remarkable success during AY16/17, impacting both national rankings and global recognition. Among these achievements, our undergraduate honor society, Beta Gamma Sigma, was recognized as the #1 chapter in the world out of 544 chapters for both academic performance and contribution toward a better world. Our master of quantitative finance students beat nearly 600 teams from 35 countries to be #1 in the world at the CME Group Trading Competition - the first time in three years that the championship was won by a team from the U.S.  RBS students also claimed championships in many other national and regional competitions, such as the DECA Business Ethics Competition, the Yale School of Management Healthcare Competition, the PRMIA Risk Management Challenge, the Big Ten Plus Supply Chain case competition, the Grand Business Challenge at NC State, the University of Miami Real Estate Case Competition, the UPitchNJ Entrepreneurship Competition, and the U.S. Department of Energy Competition, etc.  Among Poets & Quants "Top 100 Best and Brightest Business Seniors of the Class of 2017" across the U.S., four percent of this elite group were RBS graduates. A few months ago, our undergraduate students also claimed the #1 position in the regional Hult competition for social entrepreneurship, and are competing against five other regional winners from around the world this September for the prestigious global Hult Prize, often referred to as the student Nobel Prize. The average GMAT score of our Full-Time MBA students entering fall 2017 is expected to increase by five percent compared to the cohort that entered in fall 2015. Meanwhile, our RBS-New Brunswick undergraduate program is now nationally ranked at #25, and our RBS-Newark undergraduate program is ranked #49, in the Poets & Quants Best Undergraduate Business Programs ranking released in December 2016. Both rankings are record-setting for RBS.
Faculty research contributions climbed to new heights.
Together with strong faculty publication records, we participated in many research projects that generated millions of dollars in federal grants during AY16/17.  We also launched our own academic journal, Rutgers Business Review, which has now been distributed in over 130 countries.  In addition, we have established five Dean's Research and Institutional Professorships, and received a $1 million endowment to establish the RBS Big Data Laboratory. Our continuous auditing research was ranked #1 in the world according to research done by BYU, and we celebrated the contributions of nearly 50 faculty members who serve as either editors-in-chief, associate/senior editors, or editorial board members of leading academic journals. We also planned to launch during AY17/18 the RBS Case Series, which will promote joint research of RBS faculty and industry executives and is expected to replace cases developed by the faculty of other B-schools in our classroom teaching. During AY16/17, our faculty organized and chaired several high impact academic conferences ranging from specific research fields to innovative practices and trends in business education. The conferences attracted renowned academic scholars from the world's leading research institutions, as well as many deans from leading B-schools such as U.C. Berkeley, Columbia, Cornell, Duke, Emory, Georgia Tech., INSEAD, John Hopkins, MIT, the Big 10 schools, etc.  In fact, as I am writing this letter, we welcomed another NSF grant totaling $778,293 to sponsor more ground-breaking research by our faculty.  
Our efforts to increase social impact, aligned with the strategic priorities of RU-Newark, have started to gain national visibility. The AY16/17 joint conference with the Federal Reserve Bank attracted more than 100 business leaders to our campus from both Fortune 500 companies and local communities. Our well-established bridge programs, B-STAR (which received the AACSB Innovation Recognition award this Spring) and RUBY, are transforming high school students into RBS-branded future business leaders, including many who are the first generation in their families to attend college. Our diverse graduates, who are also known for their confidence, eagerness, loyalty and teamwork, have helped RBS earn a #9 ranking in the nation for best business programs on Wall Street by Business Insider in 2016. The RBS reputation has also brought the prestigious Mandela-Washington business-entrepreneurship fellows program to Rutgers University. Right now, we have 25 young entrepreneurs, from 17 countries in Africa, studying at RBS. Our collaborations with local high schools and community colleges through various initiatives have nearly doubled in terms of the number of participating students. Our boards of prominent business executives, and the newly-established Military Board of Advisers including a Medal of Honor recipient, two generals, five colonels, and many proud West Point graduates, are now fully engaged with RBS to help shape future business leaders who have the ability to address critical business issues, the strength to manage businesses during tough times, and are patriotic and loyal to their company and our country.
 
We observed a significant RBS culture change.
The RBS culture is changing. People at RBS care, cherish, and are willing to contribute beyond themselves. For Rutgers Giving Day during November 2016, the number of donations made by our faculty, staff, students and alumni increased to 415, compared to 52 donations during November 2015. Your contributions have resulted in the establishment of the RBS Finish Line Scholarships for students experiencing financial hardship, and your efforts have made a difference in the lives of many. One of the scholarship recipients, a marketing major, sent us the following note: "I am overwhelmed with gratitude as this scholarship has aided me in becoming the first in my family to graduate from a four-year university."  With the strong support of our proud alumni, we named two classrooms and the South Tower at 100 Rock. While our student team was raising funds so they could test their business concept in preparation for the global Hult Prize challenge, over 260 faculty, staff, alumni and board members quickly jumped in to support our students by making a financial donation. We had a major academic conference (IGBE) during September 2016 that attracted many deans from leading business schools to RBS. To support the conference, many of our faculty – department chairs, distinguished professors, junior faculty members, and professional practice faculty – and many board members, spent three days of their valuable time, between classes and between meetings, to network with these external deans and industry executives at the conference and to showcase the strength of RBS. Our staff members wore red RBS scarves and RBS polo shirts, offered highly professional customer service at the conference, and created a long-lasting positive impression on the visitors. To this day, the RBS gold standard in customer service offered by our staff members is admired by many in the academic field. At today's RBS, whenever an initiative needs help, many on the RBS team close ranks. This new culture infuses energy and good will into our academic environment and unleashes the potential of a new RBS.
A strong upward trajectory of RBS has commenced.
Our rankings during the AY16/17 reflected our upward trajectory. RBS rose from being the top business school in NJ in 2015 (U.S. News & World Report Full-Time MBA Ranking) to the top public B-school in the Tri-State area in 2016 (U.S. News & World Report Full-Time MBA Ranking) to the highest-ranked public business school in the Northeast in 2017 (Financial Times Global MBA Ranking). Nationally, RBS claimed the #1 MBA job placement rate (Bloomberg, 2016), and the #1 B-school in the nation for ROI for a business degree in total salary increase three years after graduation (Financial Times, 2017). Our Part-Time MBA program ranking jumped from #69 in 2013 to #38 in 2017, an improvement of 31 places in five years (U.S. News & World, 2017). There have been many more ranking advances communicated in my emails to the RBS family throughout the AY16/17, from the national ranking of our specialty master's programs and several leading undergraduate majors, to the continued success of our proud powerhouse Executive MBA program. Our Communications Director Dan Stoll just got back from the annual national GMAC conference. He told me that for years at this conference no one seemed to notice RBS, but this year, people were talking about RBS. As quoted in the 2017 Financial Times Top 100 Business Schools in the world: "Rutgers Business School in New Jersey is the highest new entrant at 70 (globally)." We are working hard to enhance the currency of the RBS degree for our students, our alumni, and their parents.   
 
The joint efforts by all of you during AY16/17 have written a beautiful and memorable page in the RBS book. To continue our strong momentum in the face of furious competition and emerging trends, we must set and accomplish many new goals for RBS to achieve next. Stay tuned and get ready for AY17/18!  
 
Enjoy the summer!
 
Lei
Press: For all media inquiries see our Media Kit