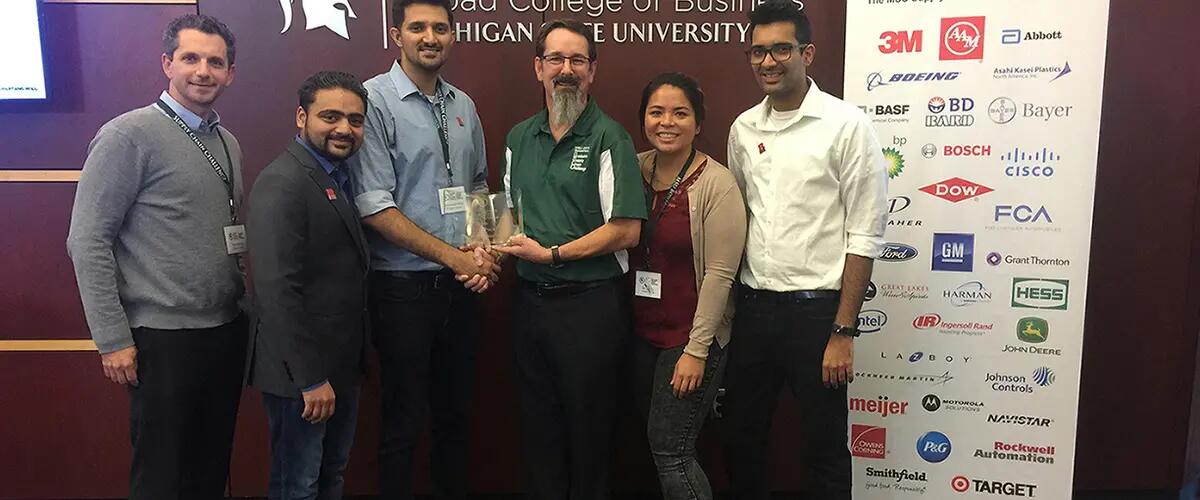 MBA students win second place in MSU Supply Chain Challenge debut
A group of Rutgers Business School MBA students proved their knowledge of supply chain strategy by winning second place at Michigan State University's annual Donald J. Bowersox Graduate Supply Chain Challenge.
The team was composed of Supply Chain Management MBA students Utkarsh Srivastava, Karandeep Bhorjee, Shreyas Sampath and Bonnie Chen. The students were advised by David Dreyfus, an assistant professor of supply chain management.
"This was a pure supply chain competition that tied together everything we've learned in our courses," said Rutgers MBA student Bonnie Chen. "It was a great experience."
The case required the team to carry out a plan for opening a new manufacturing plant, addressing everything from where the operations should be located and how to transport raw materials to the plant to how they would deliver product to customers.
In a marathon session before the three-hour simulation, the team spent hours preparing strategically for different situations, Chen said. "We implemented everything we've learned," she said.
Rutgers placed just behind Arizona State University and beat out the University of Tennessee, MSU, Ohio State University, Penn State, Wisconsin and Maryland. The second place win came with a prize of $3,000.
The invitation-only competition was open to U.S. News & World Report's Top 25 Best Supply Chain and Logistics MBA programs in the U.S. In the past, it has included only the Top 15 programs.
"We were happy to go," Chen said. "We were even happier to come back after demonstrating the strength of our program and our students."
Press: For all media inquiries see our Media Kit