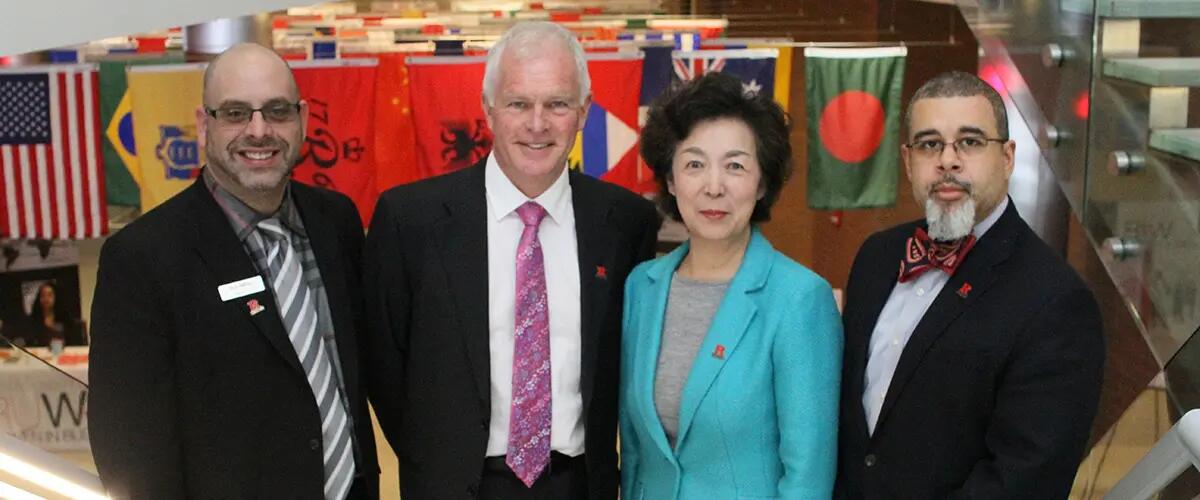 M&T Bank sponsors 2017 New Jersey County College Case Competition
Business case competition benefits community college students throughout New Jersey
NEWARK, N.J.—M&T Bank and Rutgers Business School have launched a new partnership for the second annual Rutgers Business School New Jersey County College Case Competition, with M&T serving as the presenting sponsor of this year's competition.
In addition to financial support for the competition, M&T will offer their bankers as advisers to participating community college students throughout New Jersey. Established by Rutgers Business School in 2016, the competition requires students to analyze a real-life business case and present their findings and recommendations to a panel of Rutgers Business School judges.
"Rutgers has one of the nation's leading business schools, particularly in placing graduates in the workforce, and we see benefits to building a long-term relationship with the university as we continue to grow our business in New Jersey," said M&T Bank Area Executive Paula Mandell. "Working with Rutgers Business School on this case competition is a great start, allowing our bankers to offer professional assistance to community college students interested in pursuing business degrees and careers."
 
"We look forward to developing a strong strategic partnership with M&T Bank and working together to train students of every background to become tomorrow's business leaders," said Lei Lei, dean of Rutgers Business School-Newark and New Brunswick.
 
Robert Kurland, associate dean of undergraduate programs at Rutgers Business School-Newark, added: "With the support of M&T Bank, we are able to extend an invitation to additional county colleges which allows more students the opportunity to gain real-world business experience and showcases some of the best future business leaders in New Jersey."
Students will begin working on the business case in March, with the competition culminating in a day-long event on the Rutgers Business School-Newark Campus on April 7. Participating community colleges include:
Bergen County College
County College of Morris
Essex County College
Hudson County Community College
Middlesex County College
Ocean County College
Passaic County Community College
Sussex County Community College
Union County College
M&T Bank operates more than 90 branches in New Jersey and ranks among the state's largest lenders to small business, middle market and commercial real estate customers. The bank earned a 2016 SBA Gold Award from the U.S. Small Business Administration Newark District for its lending to small businesses in New Jersey.
 
About M&T Bank Corporation
M&T is a financial holding company headquartered in Buffalo, New York.  M&T's principal banking subsidiary, M&T Bank, operates banking offices in New York, Maryland, New Jersey, Pennsylvania, Delaware, Connecticut, Virginia, West Virginia and the District of Columbia.  Trust-related services are provided by M&T's Wilmington Trust-affiliated companies and by M&T Bank. Member FDIC.
 
About Rutgers Business School
Rutgers Business School - Newark and New Brunswick is an integral part of one of the nation's oldest, largest, and most distinguished institutions of higher learning: Rutgers, The State University of New Jersey – founded in 1766. Today, Rutgers Business School is educating more than 7,500 undergraduate and graduate students at two main campuses in New Jersey as well as satellite locations in Jersey City, Madison and Singapore. Steeped in academic excellence, with a distinguished faculty and more than 40,000 successful alumni, Rutgers Business School is highly ranked by the Financial Times, U.S. News & World Report and Bloomberg Businessweek. For additional information, visit business.rutgers.edu.
Media are invited to contact Susan Todd at Rutgers Business School: 973-353-5224 or Chet Bridger at M&T Bank: 716-842-5182
Press: For all media inquiries see our Media Kit