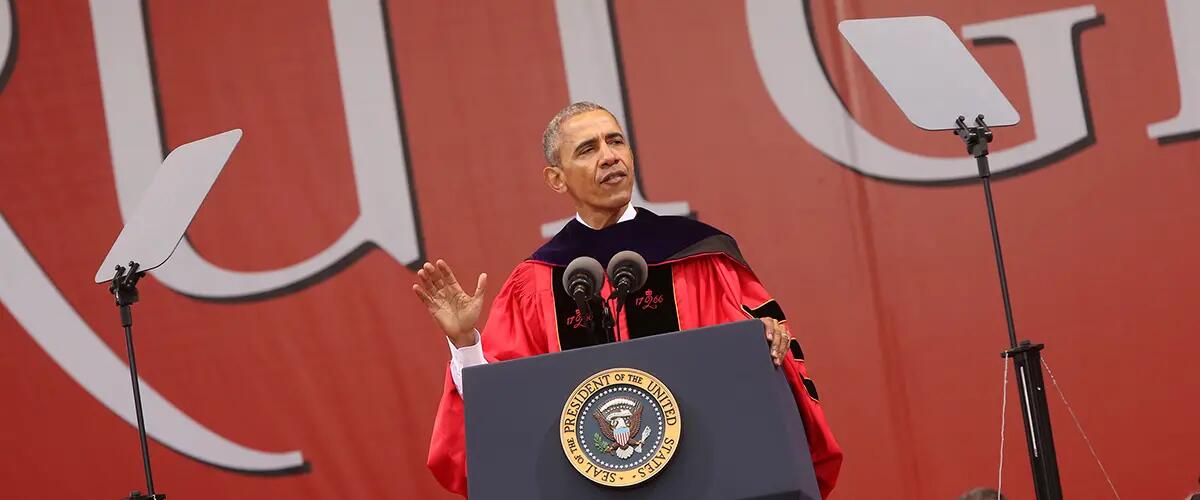 Obama tells RU Class of 2016: "It is your turn now to shape our nation's destiny as well as your own"
President Barack Obama told the Rutgers University Class of 2016 that ignorance is not a virtue and urged graduates to have faith in democracy.
"You've got to be a citizen full time, all the time," Obama told the more than 50,000 who gathered at High Point Solutions Stadium for the university's historic 250th commencement. The 2016 graduating class of nearly 17,000 students is Rutgers' largest ever.
The first sitting president to speak at Rutgers commencement told students and their families that the world is more interconnected than ever before and needs to work globally to solve problems, not just to build walls.
"The biggest challenges we face cannot be solved in isolation," he said. "When overseas states start falling apart, they become breeding grounds for terrorists and ideologies and nihilism and despair that ultimately can reach our shores," Obama said.
Before Obama spoke to the packed stadium, President Robert Barchi bestowed a Doctor of Laws upon him and journalist Bill Moyers. S. Jocelyn Bell Burnell, an astrophysicist, received an honorary Doctor of Science.
Barchi told the 250th commencement class to take the anniversary milestone to heart. "Be revolutionary, challenge the status quo. Change your communities, change lives," Barchi said. "Don't just go out and make a fortune, make a difference."
Obama's commencement remarks were among the last of his eight-year presidency. He told students he decided to speak at Rutgers, the nation's eighth oldest university, because it was the only university to launch a three-year campaign to try and convince him to come to New Jersey.
"Emails, letters, tweets, YouTube videos – I even got three notes from the grandmother of your student body president," Obama said. "I have to say, that really sealed the deal."
The president told students that progress takes time, personally and politically. He insisted that the system isn't as rigged or broken as many people think. The key, he said, is to vote and defy statistics that have resulted in only one in five young people going to the polls and voting.
"If you vote and elect a majority that represents your views you will get what you want," Obama told the students. "It is that simple. It is not that complicated."
Despite the heavy security that comes with a presidential visit, long lines and overcast skies, most students agreed that Obama's commencement speech was worth the trouble.
John Lato, who graduated from the Edward J. Bloustein School of Public Policy, found the president's speech inclusive, comprehensive and humorous.
"To me, being involved is an important part of democracy," said Lato of Franklin in Somerset County. "You can't let other people do it for you."
Matthew Panconi, president of Rutgers University Student Assembly, whose grandmother sent the letters the president mentioned, said Rutgers is a big, challenging, diverse university and he is leaving as a more confident, strong leader and a better person. "It has made all of us better," he said.
President Obama urged the students – who gave the president several standing ovations – to gear themselves for the long haul, not rush their success and endure any setbacks that may arise.
"You will not always get what you want, at least not as fast as you want it," Obama said. "You have to stick with it. You have to be persistent. Don't lose hope, don't let resistance make you cynical."
Recognizing student accomplishments, Obama spotlighted Rutgers graduates who have already made a difference, including Yasmin Ramadan, a School of Arts and Sciences graduate, who is an anti-bullying advocate and heads the Muslim Public Relations Council, and Madison Little, a School of Environmental and Biological Sciences graduate, who presented research findings at an international AIDS conference.
"Is it any wonder that I'm optimistic?" Obama said as he urged students to go into business, nonprofit organizations, government, education and the arts and make their mark.
"It is your turn now to shape our nation's destiny as well as your own, so get to work," he said. 
Press: For all media inquiries see our Media Kit