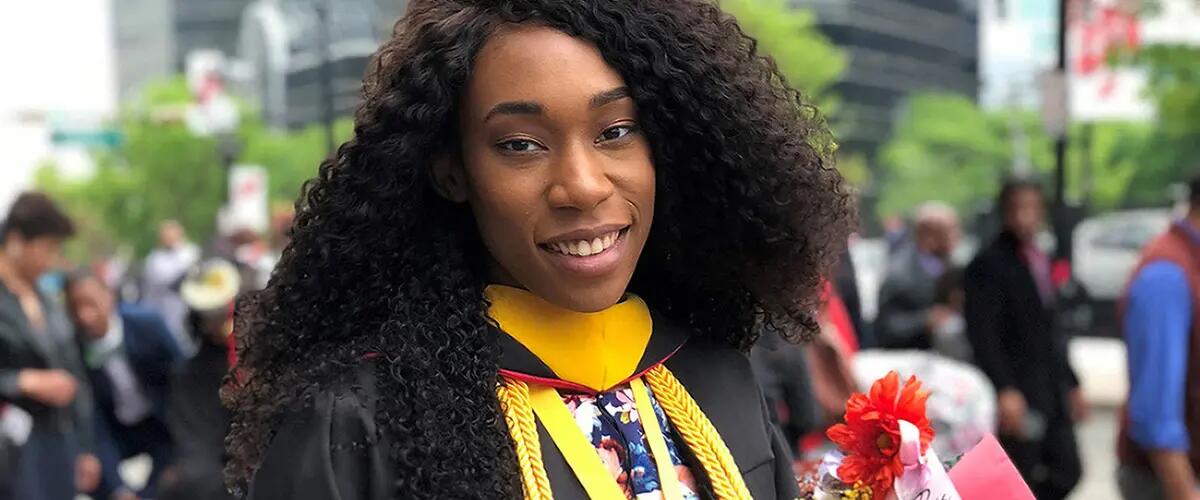 Once an aspiring pastry chef, standout student develops taste for accounting
Chanel Clarke only planned to attend Rutgers Business School-Newark for one semester. She dreamed of becoming a pastry chef, and figured she could take some basic business classes while waiting to study at an elite culinary arts program.
Her goal was to open her own bakery. "When I got to Rutgers, that plan completely changed," said Chanel, who discovered she had a penchant for accounting. "I took an introductory class, and it clicked. I just liked it."
Clarke excelled at Rutgers Business School. She landed impressive internships and served as president of the student chapter of the National Association of Black Accountants. She was also chosen as one of the 100 Best & Brightest undergraduate business majors in the nation by Poets & Quants.
"For me, Rutgers Business School opened up all the different career paths." - Chanel Clarke
Clarke was selected to receive the dean's Distinguished Leadership Award for 2018. The award, created in 2011, to recognize student leaders in the graduate program and the undergraduate programs in Newark and New Brunswick. The award is given to students who demonstrate outstanding academic achievement, service to the school and leadership potential.
"I'm so honored, and proud to share it with my family," Clarke said.
With a double-major in accounting and management information systems, Clarke will begin working at Ernst & Young's audit department in October. In the meantime, she is taking exams to become a certified public accountant.
"For me, Rutgers Business School opened up all the different career paths," Clarke said. "I met so many people who are driven like me."
Clarke got involved in the campus' NABA chapter early in her college career. Attending NABA's regional conferences provided her with opportunities for internships. One year, she said she interviewed and received offers from all of the Big Four accounting firms. "I was so happy," she said.
Clarke hasn't abandoned her love of baking. She enjoys preparing meals for her family and making sweets, especially pastries, for special occasions.
"It's really an art form: you want the food to not only taste delicious, but also to look beautiful," she said. "I can always enjoy cooking."
-Margaret Crouse
Press: For all media inquiries see our Media Kit