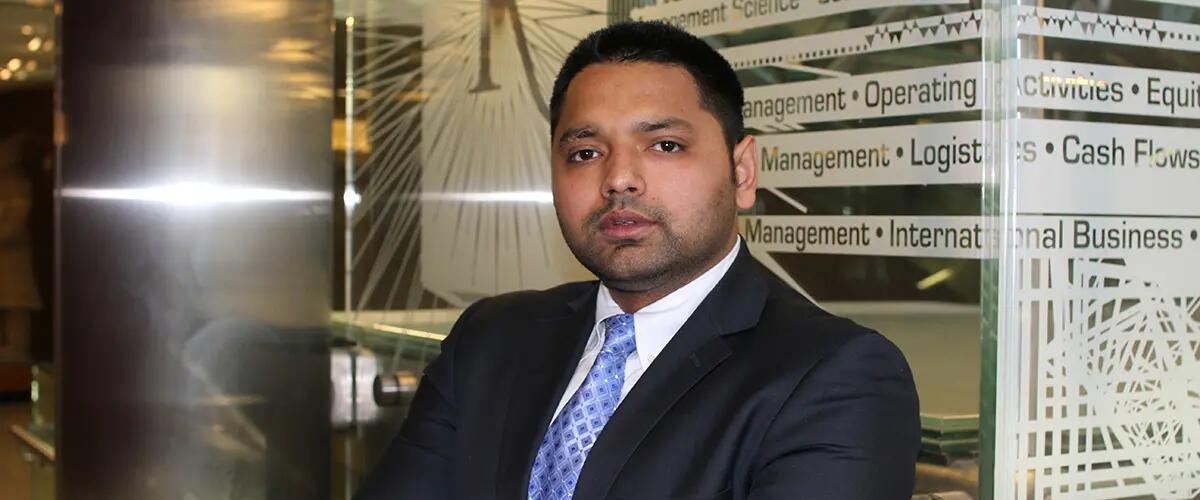 A passion for numbers: MBA student exhibits a talent for trading ETFs
MBA student Kashif Anwer has a love of numbers.
It's the reason he is studying finance and it's why an 11-week-long competition that tested his knowledge of Exchange-Traded Funds was something he wanted to do – twice.
In the fall, he finished fourth in the ETF Global Portfolio Challenge after holding the lead for nearly 10 weeks. He fell behind only after an OPEC decision lifted oil commodities, an investment he had shied away from in favor of gold and biopharmaceutical stocks.
"I entered the challenge in hopes of achieving two goals, to gain some practical understanding of ETFs and to test my investment rationale and analysis," he said. "It helped me to understand how everything is related and the bigger picture of economics."
ETF Global will honor Anwer and the other top five winners of the ETF Global Portfolio Challenge on April 7 during the annual ETP Conference at the New York Athletic Club.  More than 400 financial professionals will attend the event. 
The ETF Global Portfolio Challenge provides students with a hands-on way to learn about investing in ETFs, a popular investment vehicle, especially among millennial investors. The fall 2016 challenge ran from Sept. 19 through Dec. 2, 2016.
Students from more than 250 schools across six continents participated in the fall portfolio challenge.  Last semester's winners all received awards, a free night's stay at a New York City hotel and a private tour of one of the major stock exchanges.
I love numbers and am extremely interested in deciphering the meaning they can have for investors.
— Kashif Anwer
"Kashif displayed very impressive investing acumen and portfolio management skills, which is a clear reflection of the quality of students and teachers at your school," Russell Minetti, the contest program director at ETF Global, noted in a letter to Rutgers Business School Executive Vice Dean Yaw Mensah.
Anwer, who grew up in India and worked there as a technology analyst before coming to New Jersey to attend Rutgers Business School, is focusing his MBA studies on finance and strategy. He hopes to work as a portfolio manager or equity research analyst when he completes his MBA in May.
He said Ronnee Ades, who teaches Indexing and ETFs, encouraged him to represent Rutgers in the challenge. Another on of Ades' students, Edwin Lee, who is in the Master of Quantitative Finance program, placed 13th in the competition.
The fall competition wasn't Anwer's first time in the ETF Challenge. He placed eighth in the spring 2016 ETF Global Portfolio Challenge.
"I love numbers and am extremely interested in deciphering the meaning they can have for investors and then be translated into profitable investment opportunities," Anwer said.
-Susan Todd
Press: For all media inquiries see our Media Kit