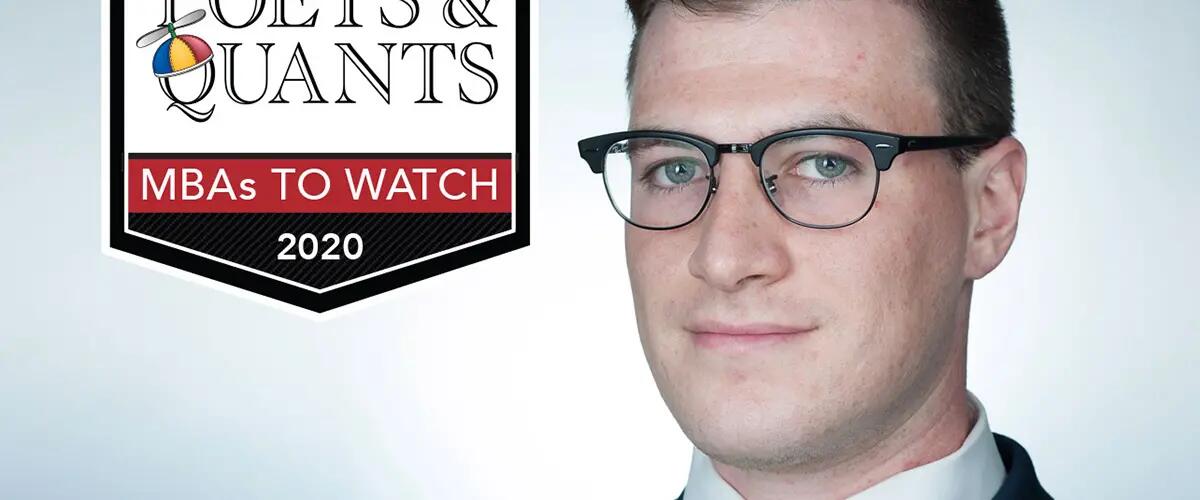 Poets & Quants 2020 MBAs to Watch: Dan Bolotsky
This profile of Full-Time MBA student Dan Bolotsky was originally published as part of the Poets & Quants feature MBAs To Watch 2020. It was written by Jeffrey Schmitt. 
Dan Bolotsky
"I am hardworking and driven by success for both myself and those around me."
Hometown: Wallingford, PA
Fun fact about yourself: I played two varsity sports, Football and Track, in undergrad.
Undergraduate School and Degree: Oberlin College, Bachelors in History
Where was the last place you worked before enrolling in business school? Good 2 Go (Fresh Food Services); Inventory Specialist
Where did you intern during the summer of 2019? UPS Global Customer Solutions, Alpharetta, GA
Where will you be working after graduation? UPS Global Customer Solutions, Solutions Engagement Supervisor
Community Work and Leadership Roles in Business School: I was the President of the Supply Chain Student Initiative at Rutgers.
Which academic or extracurricular achievement are you most proud of during business school? It was the first case competition I participated in. It was the Rutgers Biopharmaceutical MBA Case Competition and my team placed 3rd. I am very proud of this because I am far from a subject matter expert in the Pharma space. I had to leverage my teammate's knowledge to learn everything I could so my part of the presentation would set us up for success in a very competitive field. The feedback I received after the competition was that it seemed like I had worked in this field before, which I took great pride in.
What achievement are you most proud of in your professional career? When I started out at my company, I was in an inventory management role. Within a couple of months, I noticed issues with inventory due to incorrect procurement. I volunteered to help fix these issues and ended up taking over a procurement role. While doing this, I made large improvements in In-Stock Measure and reductions in waste. Coming out of undergrad with no business experience, I was proud that I was able to teach myself enough to make these improvements and learn more about the business world.
Who was your favorite MBA professor? John Hellreigel. I had him for a supply chain course, and he is a fantastic teacher. He was able to really help us to internalize the material and understand it. More than this, he is very involved as a mentor to students. He is always happy to meet with students and not just ask about what they are doing but to help them focus their career goals and provide advice on how to reach those goals.
What was your favorite MBA event or tradition at your business school? My favorite events were the alumni networking mixers. It was great to connect with alumni and hear what they were doing. I was able to meet alumni that I kept in contact with who were always happy to provide advice when I needed it.
Why did you choose this business school? Rutgers is a very competitive school in Supply Chain which is my main area of focus and an important factor in my decision. With that said, the real reason I picked Rutgers was the classmates I have here. I could feel it on my visit, but everyone is truly interested in the success of their peers – even if they are competing for the same positions. This supportive environment is what stood out to me about Rutgers.
What is your best advice to an applicant hoping to get into your school's MBA program? This advice isn't just about our school but make sure you visit if possible. Make sure to ask any questions you have to the students regardless of how silly you may think they are; we were all in your position before. You want to make sure you get a feel for the culture at the school. Everyone responds to cultures differently and you want to make sure you pick a school that is most conducive to you getting the job you want.
What is the biggest myth about your school? The biggest myth I had heard coming into school here is that everything at Rutgers revolves around the Pharma Industry. It is true that we have a lot of big Pharma companies come to campus, but this does not mean you need a background in this industry; these companies are here for a wide variety of roles. They are also far from the only companies who recruit here. I have classmates going into consulting, tech, CPG, and more. If you come to Rutgers you become a part of these alumni's network, so don't be concerned you can only get Pharma jobs here.
Looking back over your MBA experience, what is the one thing you'd do differently and why? I decided to take two concentration while I was here which can be pretty demanding when it comes to class schedules. As a result, I had to skip classes with some very good professors because it didn't fit into either my Supply Chain or Finance curriculums. If I can do it again I would have picked one concentration and branched out into a wider variety of elective classes.
Which MBA classmate do you most admire? I most admire Christina Betancourt. She was my first-year mentee and was really impressed with how ready for the challenge of an MBA she was. I know when I started I was lost trying to figure out what I should do but she was completely prepared, listed, and internalized to any advice she received and was immediately successful.
Who most influenced your decision to pursue business in college? My dad was the most influential person in my decision. Not to say he pushed me down any path but he got his MBA to make the next step in his career. I saw how influential this was on his professional growth and knew that I wanted to follow the same path
What are the top two items on your professional bucket list? I want to hire someone who goes on to become a leader in the company and I want to be selected to mentor new hires for the company.
In one sentence, how would you like your peers to remember you? I want to be remembered as someone who was driven to succeed in everything he attempted.
Hobbies? My hobbies include working out and staying active when I have the time I still like compete in Track meets. I also enjoy working on my car, I have an 01 Mustang.
What made Daniel such an invaluable addition to the Class of 2020?
"Dan has been a leader in the MBA Program from the beginning, taking on the role of Supply Chain Student Initiative President in his first semester. He wanted to run this Club in a way that not only provided social events for students but also helped first-years adjust to the rigors of the MBA program. Dan enjoys acting as an unofficial mentor to other students. To that end, he has provided first-years with mock interviews to help improve their interviewing skills.
Dan has taken full advantage of the MBA experience at Rutgers, competing in four case competitions in varying industries. Such extracurricular activities, however, have not detracted from Dan's academic accomplishments, as his strong grades attest. Dan thus epitomizes the ideal MBA student, as he strives for success in and out of the classroom while making time to help his classmates. There is no doubt that Dan will be a dedicated alum, as he already demonstrates the desire to pass on his experience to the next generation of Rutgers MBAs."
-Dean Vera, assistant dean and director MBA Office of Career Management
Press: For all media inquiries see our Media Kit