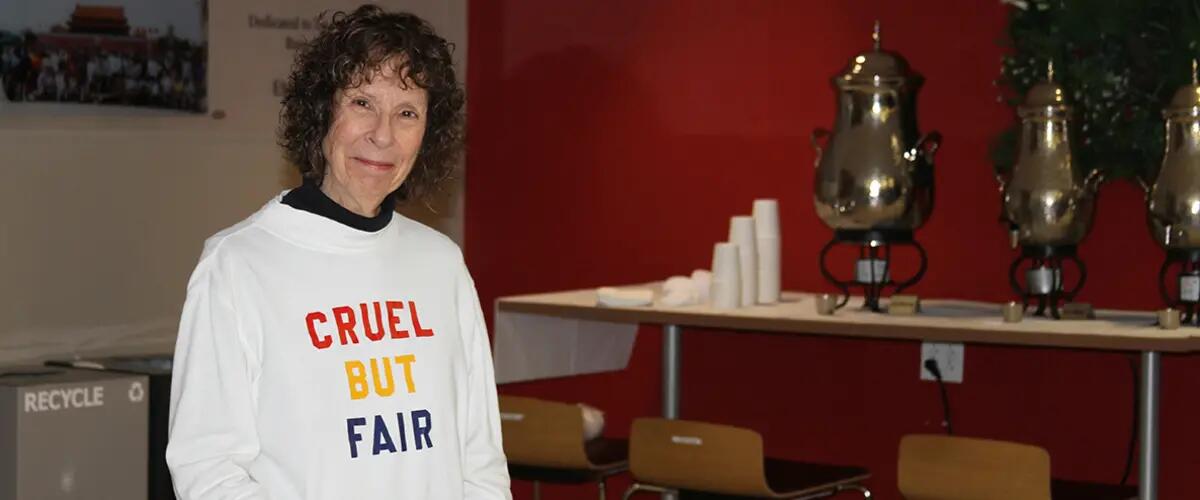 Professor Oppenheim holds her last class with Rutgers EMBA
Students and alumni of the Rutgers Executive MBA Program – some connecting to Bove Auditorium remotely in the middle of the night from China – celebrated Professor Rosa Oppenheim's final day of teaching in a program she helped to lift to national prominence.
Wearing her popular "Cruel but Fair" tee-shirt, Oppenheim smiled and reminisced, her voice sometimes cracking with emotion when she thanked the students who she "learned so much from."
"You really have been a big part of my life," she said.
Oppenheim will continue to teach supply chain management courses at Rutgers Business School but ending her work with EMBA means she will have more time with her family. In her remarks to a crowd gathered in Bove and on Zoom, she expressed appreciation to her husband Alan, her two sons, daughters-in-law, and her "five incredible granddaughters who I'll finally be able to see on weekends."
Dean Lei Lei expressed appreciation to Oppenheim for her teaching and her support of Professor Farrokh Langdana who has led the EMBA Program since 1980. "Your name will forever be associated with the Rutgers Executive MBA Program," Lei said as the crowd of students in Bove Auditorium applauded.  
Langdana told the audience that the adjective missing from Oppenheim's shirt is "inordinately kind." As he described his long-time friend and colleague endearingly – kind, fair, a finicky eater -- Langdana also told Oppenheim that her reputation "looms" over the EMBA program.
Oppenheim described her happiness at the front of the room, teaching, and expressed hope that her classes changed the way students thought about numbers and quantitative analysis.
She called the work of teaching EMBA students a "life-changing opportunity." As she ended her remarks, the crowd in Bove rose and applauded their professor once more.
Professor Oppenheim also teaches supply chain management theory to Rutgers undergraduate students. Read more about her in the Poets & Quants 2022 Top 50 Undergraduate Business Professors.
Press: For all media inquiries see our Media Kit