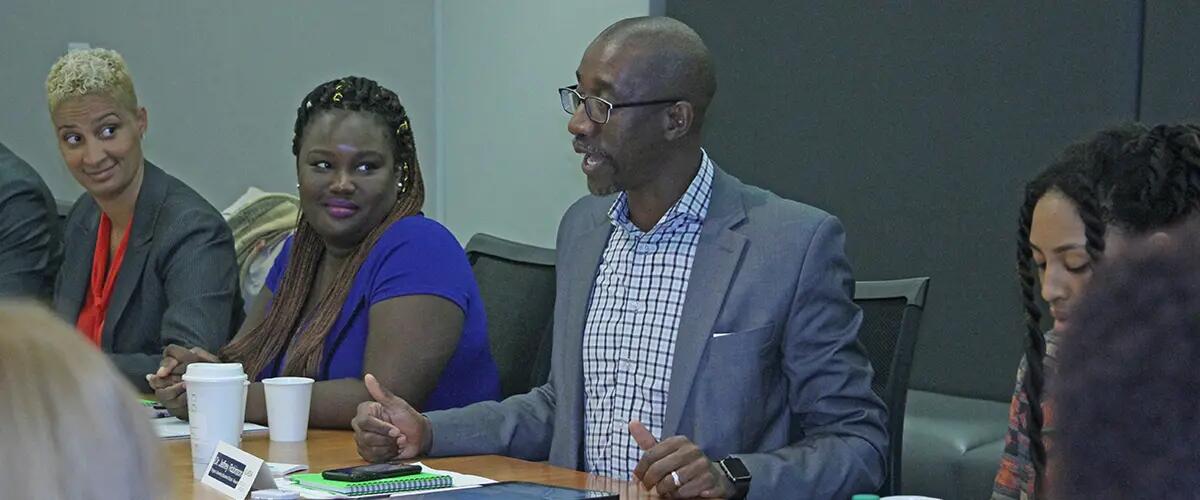 Rutgers hosts first-ever roundtable to discuss NJ's plans to build more diverse innovation economy
The New Jersey Economic Development (NJEDA) and the Rutgers Business School convened the first-ever New Jersey Founders and Funders Diversity Roundtable in Newark today to discuss steps the Garden State could take to build a more equitable, diverse innovation economy. Participants included public sector leaders, members of academia, investors, and entrepreneurs.
The discussion centered on defining clear strategies to ensure equity in new and existing programs, initiatives, and policies, and the fair allocation, deployment, and tracking of capital provided to entrepreneurs of color. Participants also discussed other ways to support growing minority-owned firms.
"One of New Jersey's greatest assets is its diverse population," NJEDA Chief Executive Officer Tim Sullivan said. "As we continue build a stronger and fairer economy and work toward Governor (Phil) Murphy's goal of creating the most diverse innovation ecosystem in the nation, we need to leverage this strength and create opportunities that drive equitable economic growth."
During today's discussion, NJEDA Vice President of Technology and Life Sciences Investments Kathleen Coviello spoke about resources the state offers to spur opportunities for minority- and women-owned startups. Over the summer, Governor Murphy signed legislation expanding the New Jersey Angel Investor Tax Credit, which will now include a bonus for investors that inject funding into minority- or women-owned businesses. In addition, the NJEDA has also been working closely with First Lady Tammy Murphy's office to establish a New Jersey chapter of Golden Seeds, a nationwide network of angel investors focused on supporting female entrepreneurs.
"Rutgers' Center for Urban Entrepreneurship and Economic Development (CUEED) has spent a decade fostering opportunities for entrepreneurs of all races," said Jeffrey Robinson, an associate professor at Rutgers Business School and CUEED's academic director. "Racial disparities among entrepreneurs are very real and all too frequent, and it is impressive to see the Murphy administration addressing the critical issue of closing this divide."
The Founders and Funders Diversity Roundtable was held in the midst of Women Entrepreneurship Week. Women Entrepreneurship Week began at Montclair State University in 2014 and is now celebrated internationally. The week showcases women's successes in the business world and offers opportunities to network and share ideas.
The roundtable also included presentations by Darlene Gillard, founding member and director of community at DigitalUndivided, and Hester Agudosi, New Jersey's chief diversity officer.
"Black women-led startups are historically undercapitalized compared to other startups and that's something that needs to change – and needs to change now," Gillard said. "At DigitalUndivided, we see today's diversity roundtable discussion as a good first step and look forward to more conversations like this one in the weeks and months ahead."
DigitalUndivided, which relocated its headquarters from Atlanta to Newark last year, is a technology incubator for women of color that focuses on supporting its tenants throughout the entrepreneurial process.
"Today's roundtable is one of several events designed to send a clear message that the State of New Jersey is committed to increasing diversity within our innovation ecosystem by," Agudosi said. "Active engaging among the public and private sectors and our world-class higher education institutes is key to turn this vision into a reality."
Today's discussion comes on the heels of last month's NJ Connects Business Summit, spearheaded by Agudosi's Office of Diversity. The summit offered hundreds of minority, women, veteran & LGBTQ business owners and entrepreneurs the opportunity to network and learn about resources to help their enterprises grow.
Press release courtesy of the New Jersey Economic Development Authority.
Press: For all media inquiries see our Media Kit