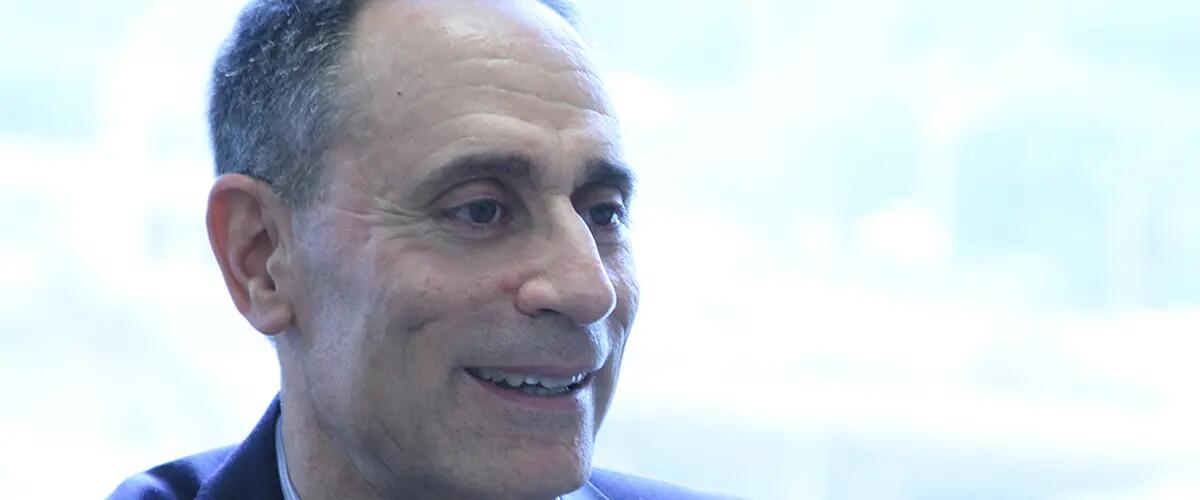 Rutgers MBA alumnus Michael Riccio adopts Japanese management style as Panasonic executive
In 1986, when Rutgers MBA alumnus Michael Riccio was still honing his management skills, the idea of working for a Japanese-owned company like electronics giant Panasonic was alluring.
Japanese management style was in vogue, and Riccio was interested in learning more, especially at one of the world's largest consumer electronics companies.
Twenty-eight years later, Riccio who has adopted a Japanese-influenced management style that emphasizes communication, deep understanding and mentoring, is the first American to hold the position of chief financial officer at Panasonic Corporation of North America.
In a recent interview, he reflected on a career path that began with undergraduate accounting classes at Rutgers University-Newark, included several jobs, becoming a certified public accountant and earning a Rutgers MBA before, ultimately, leading him to Panasonic.
"My role is a little beyond CFO," Riccio said. "It's almost like a mini chief operating officer. It is chief risk officer, but it includes operations, logistics, facilities management, procurement."
When he became chief financial officer in 2013, Riccio instituted weekly meetings of the company's various business division CFOs and functional team leaders at headquarters. "If we don't meet regularly and don't openly share," he said, "we tend to behave in silos."
Riccio said the reasons for communication to be strong among divisions is even more important now since Panasonic has shifted its focus to providing solutions for businesses rather than products for consumers.  
In Japanese, "nemawashi" is the word for a principle around decision-making. Riccio explained that it refers to a process of informing a group or a team adequately enough so that when the time arrives to make a decision, there has been so much discussion, the decision, itself, is almost ceremonial.
It's a process Riccio puts to use in his weekly meetings to encourage discussion, to help identify issues and drive results.
Although local management – or Americans – occupy all of the key positions at Panasonic's North American headquarters, Riccio spent years working under Japanese executives. And their influence, he said, rubbed off on him.
It is evident in his team mentoring approach to management.
"One of the key functions of a mentor is to translate what's happening in upper management and what that means to you," he said. "I was lucky in that I had a good mentor who helped me to understand what was happening in headquarters (in Osaka) and what was expected in the regional, and how I could fulfill that role."
"I like to use the term cascading responsibilities," he said, "so that in the end when we're all looking at the target, how do the responsibilities cascade down to the team so that if everyone does their part and everyone is held accountable, we can achieve the goal."
"It's critical," he said, "if we're going to be good at executing our plans."
Riccio, who grew up in Newark and nearby Bloomfield, said he decided to attend Rutgers College as an undergrad because he wanted to study accounting. "When you put the numbers together, it was a very good value," he said of his choice. "It was a commuter school, so I gave up the campus life. That was a decision I made."
"The great thing about Panasonic is that it's a large company so I was exposed to many different aspects of the business." - Michael Riccio
He worked for a few years and then carried out his plan of returning to school. He earned his MBA with a concentration in finance at Rutgers over five years while he worked at J.H. Cohn, a medium-sized accounting firm then based in downtown Newark (The firm is now known as Cohn Reznick).
While finishing up his MBA, he landed a job with Sealed Air where he worked as a corporate accounting manager and got his first experience working closely with a company's IT department.
The experience served him well, making him adept at learning new business areas, giving him knowledge broader than his own accounting and finance expertise.
"The great thing about Panasonic," he said, "is that it's a large company so I was exposed to many different aspects of the business."
"It's not just accounting. That's expected," he said of the experiences that helped him get to the chief financial officer position. "To really support the business and help the business grow, you have to have an education that's well-rounded enough to support management."
SNAPSHOT OF AN EXECUTIVE:
Name: Michael Riccio
Title: Chief financial officer, Panasonic Corporation of North America headquarters, Newark
Personal: Lives in Bergen County with his wife; they have three grown children.
Education: MBA, 1988, Rutgers Business School, Newark; bachelor's degree in accounting, 1980, Rutgers University-Newark.
Career milestone: First American to fill the role of CFO at Panasonic Corporation of North America.
Favorite vacation spot: "Italy. All three of my kids studied abroad at Bocconi University (in Milan), and we've used that as an excuse to explore where my family is from. Within Italy, Tuscany is my favorite."
What he likes most about Newark: "Ferry Street. There are so many different restaurants."
On management: "I was fortunate enough to have a good mentor, and I feel that's something I need to return to my team."
- Susan Todd
Press: For all media inquiries see our Media Kit