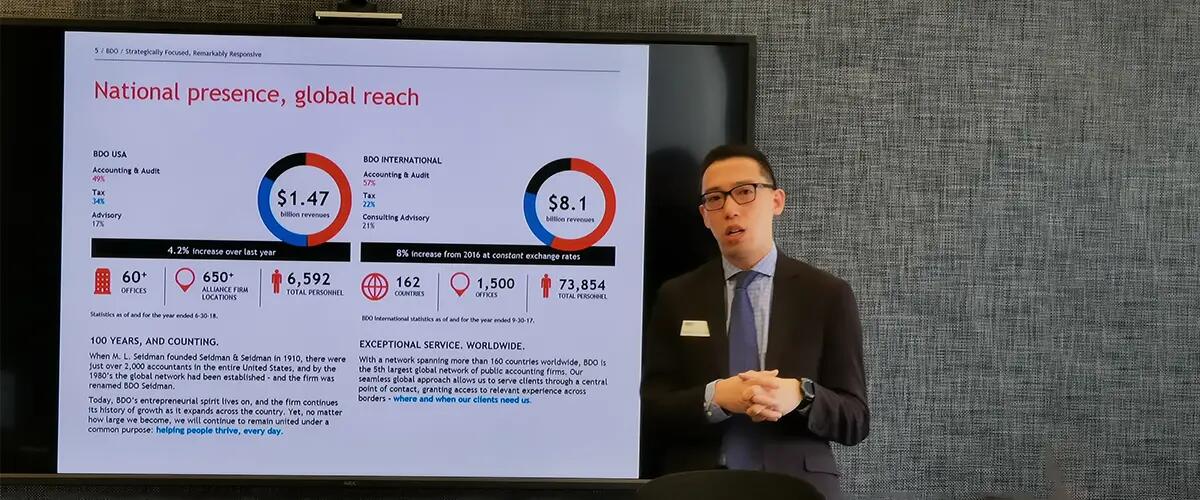 Seasoned international tax professional advances career in general U.S. tax law and application
"I highly recommend the program to tax, accounting, and advisory professionals looking to expand their knowledge or deepen their focus in a particular tax subset."
Shupei (Larry) Miao, MS '19
Shupei (Larry) Miao, MS '19
Program: Master of Accountancy in Taxation
Job: Managing director of BDO National Tax Office – ASEAN (Association of Southeast Asian Nations) and China Desk based in New York.
Shupei (Larry) Miao started the Master of Taxation program at Rutgers Business School in 2016. After 15 years of international tax experience focusing on the foreign tax field, he wanted to increase his knowledge and abilities to become a U.S. tax generalist, both to further his career as well as holistically advise his clients in an increasingly complex global and domestic tax landscape.
"The Master of Taxation program absolutely met my expectations," Miao said. "The professors' real-life experiences and class discussions helped me gain specific knowledge and understand the practical implications and applications of U.S. tax law.
"Several years after graduation, I still remember real-life cases that instructors shared during classes."
Miao was able to advance his understanding of the nuances between U.S. and foreign tax law. He was also able to interpret the complicated U.S. tax concepts into another language to make them understandable for his clients.
"I came to appreciate the value I could bring to my foreign clients across all different tax areas, and my clients started to realize how significant and complex U.S. tax consequences could be," he said.
Rutgers Business School corporate connections enable faculty to invite guest lecturers to class occasionally. Students gain different perspectives and hear from some of the brightest tax experts in the business world, tax partners from accounting firms, litigators, and IRS agents.
"I highly recommend the program to tax, accounting and advisory professionals looking to expand their knowledge or deepen their focus in a particular tax subset," said Miao. "This program serves a broad range of students: it helps those looking to become a tax generalist or a specialized tax practitioner, or even experienced professionals looking to diversify their work experiences and support career progression."
-Sean Ireland
Press: For all media inquiries see our Media Kit