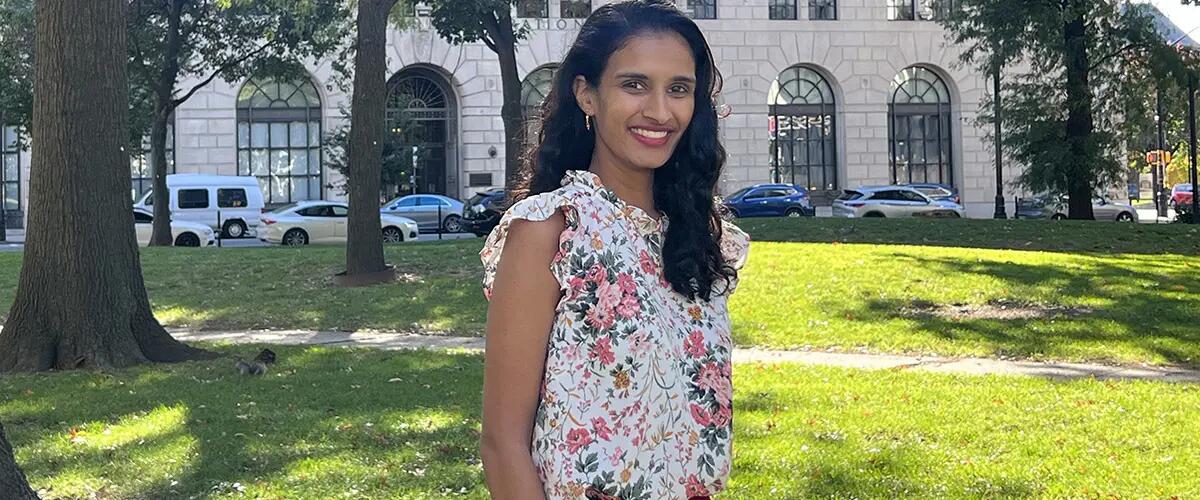 Student leader applies MBA lessons to improve Student Government Association
Anju Thottakara's first few months as president of the Student Government Association (SGA) at Rutgers Business School (RBS) didn't go as smoothly as she'd hoped. In her enthusiasm to create opportunities for graduate students to make connections and gain knowledge, Thottakara said she set unrealistic goals and took on too much.
The situation began to turn around when she began applying what she learned in "Organizational Behavior," one of her favorite MBA classes. "It helped me understand why people acted the way they did, and that I needed to understand everyone's priorities in order to play to their strengths," said Thottakara who is concentrating her Rutgers MBA studies in marketing.
Over the summer, Thottakara developed a vision for the SGA and set realistic expectations, making a commitment to delegate more. Those efforts, she said, have improved the organization's structure. For example, the SGA now has a transition plan so incoming officers for the nine MBA clubs and two specialty master's clubs receive training from the current club leaders. Thottakara said she is proud the events are open to students in specialty master's programs as well as MBA candidates.
"I've learned that as a leader, I need to provide a vision," Thottakara said. "My role is not to micromanage but to nudge people in the right direction."
When she enrolled at Rutgers Business School in August 2022, Thottakara had five years experience in supply chain management, four of those with Anheuser-Busch. Working at the Newark plant during the COVID-19 pandemic "taught me a lot about managing people during a crisis," she said.
Dean R. Vera, director of the MBA Office of Career Management, said Thottakara arrived at Rutgers "with the energy and drive to be a productive MBA student" and has "taken ownership of her career management process." While holding a student leadership role, "Anju took seriously learning how to interview and to network," Vera said.
Having learned on the job how products are made and distributed, Thottakara decided to study brand management. "I wanted to learn how you get people to want to buy your product," said Thottakara, who earned her bachelor's degree in chemical engineering.
She said a former boss at Anheuser-Busch encouraged her to apply to RBS, his alma mater. "He told me how much of a positive experience it was, that it was a good investment in my future." A scholarship allowed her the financial flexibility to take on a student leadership role.
Thottakara counts "Analytics of Business Intelligence" among her favorite classes. "It's one class I never thought I'd take," she said, "but I'll need to know coding to analyze data. As future leaders, we need to be ready for the changes that are coming."
Thottakara spent the summer interning at Bristol Myers Squibb learning about marketing products to doctors over multiple digital channels. While she enjoyed the experience, the 28-year-old said her professional interest lies in brand management of consumer packaged goods.
- Margaret McHugh
Press: For all media inquiries see our Media Kit