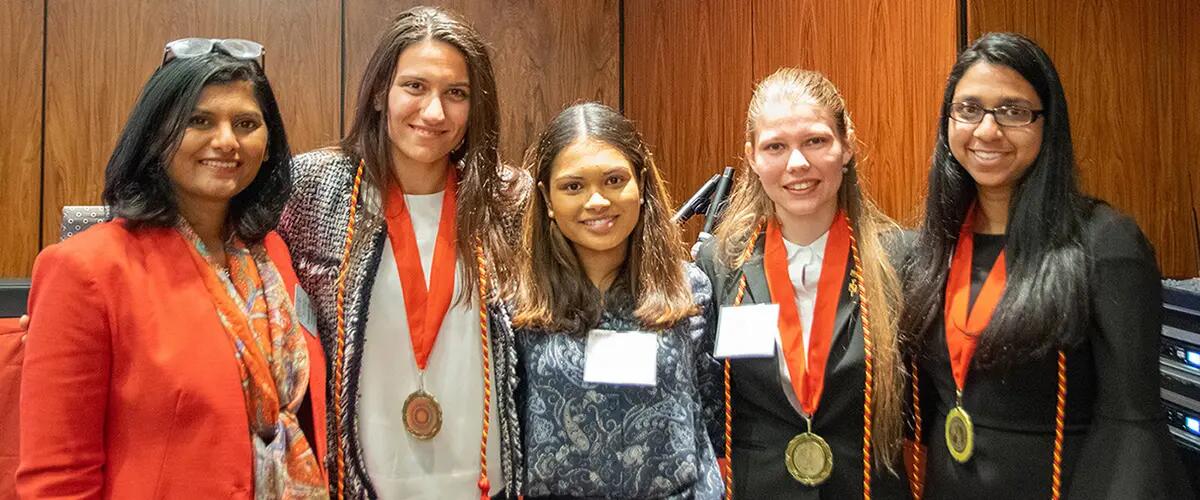 Summit celebrates women and women leaders in the making
Members of Women BUILD (Business Undergraduates in Leadership Development) got some inspiration about being change-makers from Prudential's vice president of corporate social responsibility and other career women during the organization's annual summit.
In a keynote address, Kimberly Ostrowski described her path to Prudential, including a "pivotal moment" of career inspiration that led her to philanthropy. She also spoke of the influence of her father's focus – he was a welder and union member – on social justice and equity on her own drive to work to help create a just system.
"You, as an individual, always have a chance to be a change-maker whether you're an accountant or a welder," she said.
The summit is a ritual for Rutgers Business School students selected for the leadership development program. While it brings together students from both campuses and showcases women in positions of leadership in the business world, it also recognizes seniors who are graduating from Rutgers Business School – and BUILD in May.
For first-year BUILD member, Natalie Borys, a sophomore studying finance, the summit was a good opportunity to network and talk to recruiters "on a more personal level." At each table, a recruiter from one of the sponsoring companies sat among BUILD members.
Borys said BUILD has provided her with a chance to develop as a leader and guidance to help her prepare for a career – all in a supportive environment. "When I first joined, Dean Rao told us, treat this like a sisterhood, and that's what it's really like," Borys said.
The summit also featured a panel discussion among a group of women from different fields – Sharon Apple, an associate general counsel at Nestlé; Peggi Einhorn, chief financial officer and treasurer at Robert Wood Johnson Foundation; Jill Johnson, co-founder and CEO of the Institute for Entrepreneurial Leadership; Kyra Scalea, Vanguard's manager of community stewardship; and Candice Tse, U.S. head of market strategy for Goldman Sachs. Apple and Tse are graduates of Rutgers University.
Tse described creating a program at Goldman called Empower, an educational financial planning program designed specifically for women, including female entrepreneurs. The initiative does something good by empowering women, and it also brings in business for Goldman Sachs, Tse said.
"It wasn't in my job description. It doesn't necessarily have to be," she said. Other speakers echoed her sentiment, saying mentoring and volunteering outside of work were also opportunities to have a social impact.
As Johnson put it: "There's no one way to achieve social impact."
The program sponsors for the 2018-2019 academic year were: Prudential, Goldman Sachs, EY, Johnson & Johnson, PWC, Vanguard, Nestlé Health Science, Stanley, Black & Decker and Accenture.
Press: For all media inquiries see our Media Kit