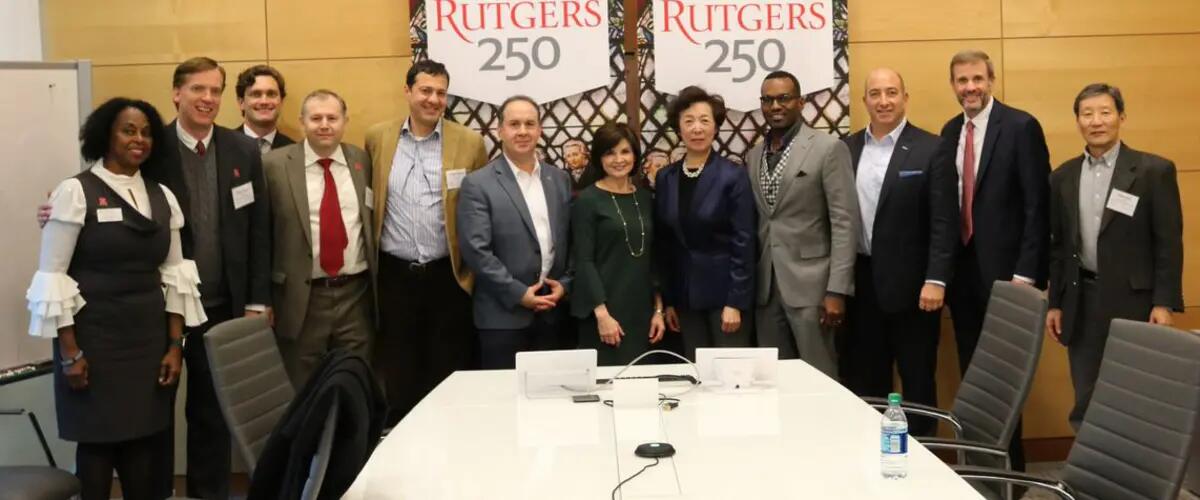 Summit explores future of selling in a digital world
Two panels of veteran sales executives from a variety of industries spoke about the role of technology as well as irreplaceability of human contact during Rutgers Business School's summit on the future of selling in the digital world.
The line-up of panelists included Phil Cohn, senior vice president of U.S. Sales for Samsung; Jeff Clachko, senior vice president for NBC Sports Ad Sales; Gary Carleton, president of sales-healthcare for UPS; Tolga Akcura, co-founder of eBrandValue; and Joel Silverman, executive vice president and general manager of Synchronoss Technologies. The group delved into the role of analytics, metrics and customer relationship management for sales professionals.
The second panel was made up of Rita Fawcett, vice president of cardiovascular sales for Bristol-Myers Squibb; Frank Palumbo, senior vice of Cisco's global date center sale; Rahsan-Rashan Lindsay, executive vice president, TV One; and Jim Sterbenz, senior vice president of U.S. sales at Campbell Soup.
Palumbo and Carleton are both Rutgers alumni.
Students and faculty members spent the morning listening to the discussions and then participating in question-and-answer sessions with the visiting executives. The event also gave students an opportunity to network with the executives.
While much of the second panel discussion focused on the challenges and opportunities in sales as a result of technology, the speakers were also asked to impart other insights. Moderator Eric Toncre, a professor of professional practice in marketing, asked them to describe the skills they look for in job candidates and employees.
Fawcett said the ability to interpret analytics is important to her, but so is the ability for an individual to collaborate on a team. "You can't solve a problem by yourself, problems are too big these days," Fawcett said.
Other panelists said job candidates should ask questions – not matter how much research they've done on a company. Another executive said he wants employees who are able to navigate and get to know people in different functions through the organization.
Keynote speaker John Wycoff, president of The Cocoa Exchange, part of Mars Inc., spoke about the power of the gig economy. By 2020, forecasts show that the gig economy will have 7.7 million workers. "That is immense growth enabled by technology," Wycoff said. "What's at the heart of that, a sale."
When he began his talk, Wycoff described the history of Mars in Newark and its plans to return to the city where it will open U.S. headquarters for Mars Wrigley Confectionary. The company's manufacturing will remain in Hackettstown.
But Wycoff also spoke about the company's Cocoa Exchange, which empowers women in parts of Africa to operate cocoa farms and make a livelihood that helps to support their families. The ability for the growers to connect with the company is enabled by technology, he said.
"Technology has brought people together like never before," he said.
Press: For all media inquiries see our Media Kit