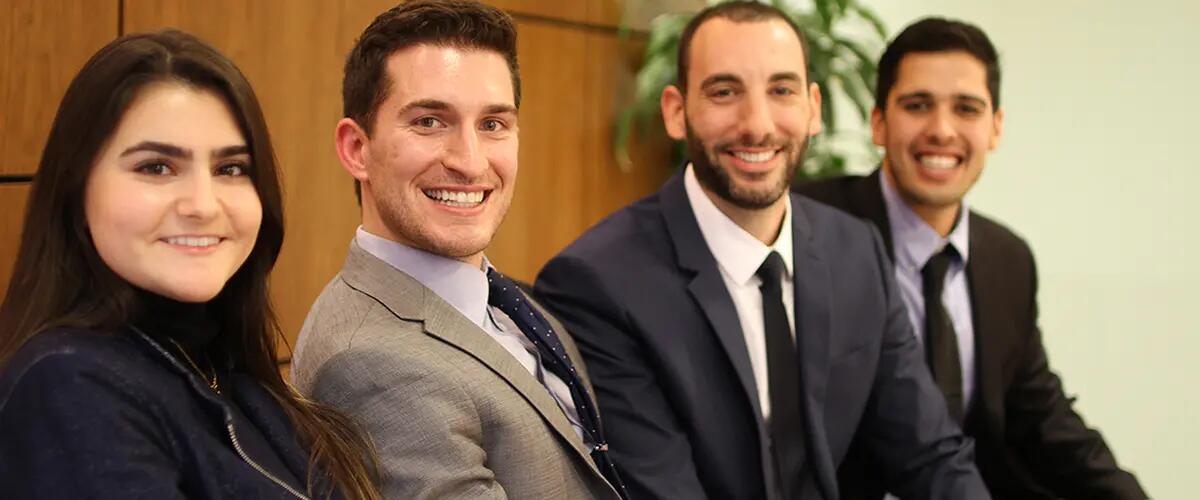 Two teams share top prize in annual business plan competition
First prize in Rutgers Business School's annual business plan competition was divided between two teams working on very different companies.
The annual business plan competition at Rutgers Business School ended in an unprecedented first place tie between a pair of app developers and a team with plans to open a restaurant.
Restaurant owner Byron Salazar and Paul Auriemma, a part-time MBA student and oncology pharmacist, tied for first place with Darrin Maconi, another part-time MBA student, and undergraduate Sofia Mezzasal, who is studying business analytics and information technology.
Salazar and Auriemma are planning to open a restaurant in Somerville that will be a play off Salazar's current Turf 'N Surf restaurant in Warren. The new restaurant will be called Turf, Surf and Earth, reflecting its emphasis on plant-based menu options.
Mezzasal and Maconi are developing an app called Cross off your List, or Coyl.com, which offers users service providers for everything from painting to dog-walking.
The two teams will each receive $17,500 in prize money from the Sales Executive Club of Northern New Jersey Foundation, which has sponsored the competition for the past 20 years as a way of encouraging the entrepreneurial ambitions of students and alumni and to support job creation in New Jersey. The competition has helped to grow a number of ventures, including Bergen Botanicals, Playa Bowls, Charles Roberts LLC, Emma's Premium Foods, and Perfect Life Nutrition.
Doug Brownstone, an assistant professor of professional practice who organized the event, said 45 student teams entered the competition. "We had the highest level of competition ever," he said.
Brownstone described the two first-place winners as "very strong businesses."
"They're so different," he said, "but very strong in their own right."
The third-place prize of $10,000 was given to a team of Executive MBA alumni who building Beer in a Box. The business partners are Phil Keyes, Doug Hansen and Mike Kim.
Other teams participating in the annual competition included a team of undergraduates – Priyanka Patel, Sara Ali, Annie Zhang, Rachel Winner and Carly Kenselaar – who are developing a bracelet capable of helping to protect its wearers against sexual assault. The team – the first one made up entirely of undergraduate students – received $1,000 in prize money to continue developing their company, Merakhi Smart Jewelry.
MBA student Leslie Silva also won $1,000 to invest in Altani, an online boutique with a curated selection of fashions from designers and boutiques that put ethics first.
Richard Romano, president of the Sales Executive Club of Northern New Jersey Foundation and a judge, said that the five finalists participating in the 2019 competition were the "best ever as a group."
"Each had very marketable ideas, some further along than others, which informed our decisions," he said.
In addition to Romano, the judges included Sharon Lydon, executive director of the Rutgers MBA Program and John Wilson, who also represents the Sales Executive Club of Northern New Jersey Foundation. Mayuresh Pandit, a Verizon Wireless product manager and Rutgers MBA alumnus, helped to mentor the students. 
Press: For all media inquiries see our Media Kit