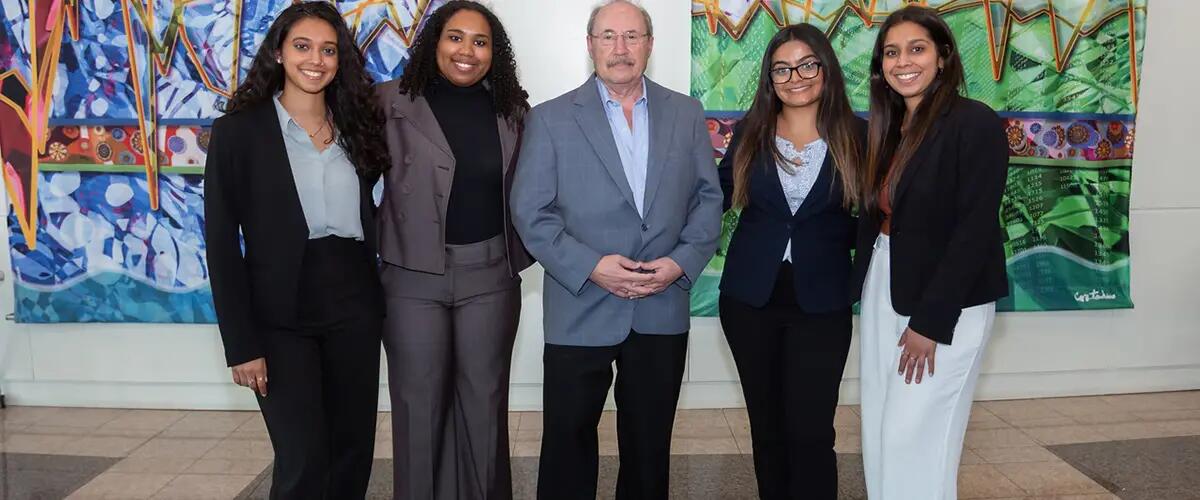 Undergraduate real estate students are top winners in MBA-designed competition
Four undergraduate real estate students from Rutgers Business School won the top prize of $10,000 over three teams of MBA students in the University of Miami Real Estate Case Competition.
The students, Kanika Chhibber, Aesha Mehta, Elisa Mills, and Hemani Patel, were shortlisted for the final presentations against MBA students from the University of Miami, University of Chicago, and Columbia University.
The competition required the students to identify a vacant or significantly under-utilized commercial property. Properties that are currently for sale or those that have been for sale in the past year were useful as targets for the case. The primary goal of the competition was to bring attention to worthy projects in or near communities that host important academic real estate programs. Teams were encouraged to interact with members of their advisory boards and area commercial real estate firms for the selection of the best project to study.
The case competition was designed for MBA students and in the preliminary round, the Rutgers Business School students were the only team of undergraduates to submit a case.
"I've been teaching for several years for the Center for Real Estate, and this group of students went above and beyond to win this...I was proud to see them win this coveted prize." - George Jacobs
The Rutgers team was selected to present their case at the in-person finals to a team of judges (high-level industry professionals) along with University of Miami (MBA), University of Chicago (MBA), and Columbia University (MBA). The judges selected the Rutgers team as the winner based on the strength of the financial analysis, the clarity of the presentation, and the performance during a question-and-answer session with the judges. The team will share the $10,000 prize.
The Rutgers students, who are all graduating seniors, completed the real estate concentration as part of their degree. Four courses make up the real estate curriculum offered by the Center for Real Estate, including Real Estate Finance, Real Estate Law, Development, and Capital Markets.
George Jacobs of Jacobs Enterprises and Ibrahim Hasan of Blackstone 360 mentored the team for their presentation. Jacobs spoke highly of this diverse group of women students, whose commitment to real estate was evident in their preparation for this challenging competition. "I've been teaching for several years for the Center for Real Estate, and this group of students went above and beyond to win this," he said. "They will all be successful in their careers, and I was proud to see them win this coveted prize."
Professor Morris Davis, who holds the Paul V. Profeta Chair in Real Estate and is academic director of the Center for Real Estate, also mentored and coached the team. Davis praised the students for the accomplishment in their senior year. "The Center for Real Estate has graduated hundreds of students since its inception in 2015, and these four students are among our best," he said. "Winning this competition is a significant achievement, and we are extremely proud of them."
Press: For all media inquiries see our Media Kit