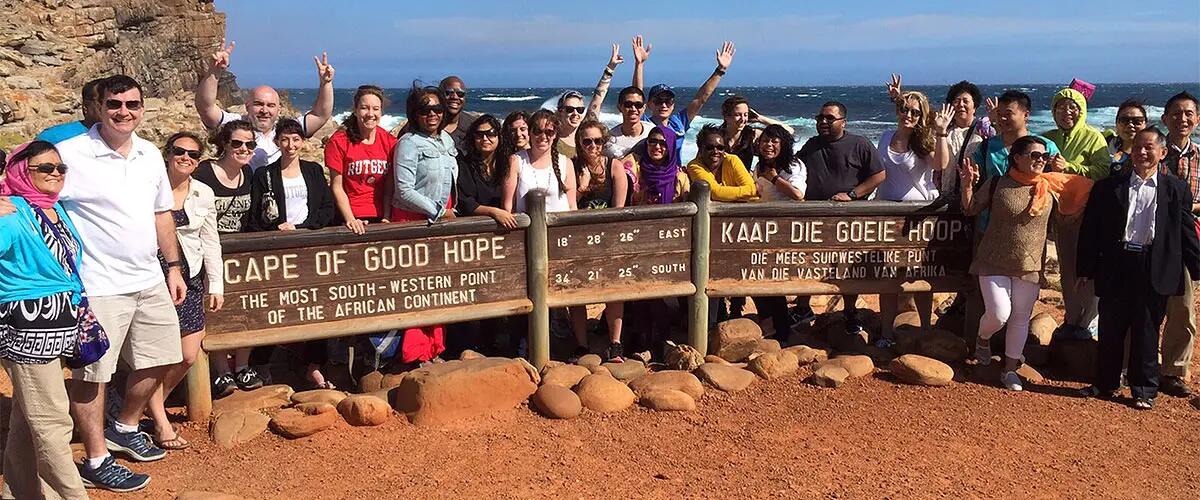 Wondering where a Rutgers MBA can take you? Our alumni prove the places can be extraordinary
Career paths rarely follow straight lines these days. They twist and turn and, yes, they climb.
If you're thinking about getting an MBA, maybe there's already an upward move or a turn you're contemplating. Or maybe you're wondering what an MBA can do for you. Well, we can tell you where a Rutgers MBA has taken others.
No stranger to entrepreneurship, MBA alumnus Desi Saran joined up with friends Robert Giuliani and Abby Taylor last year and helped them to win the top prize of $20,000 at the annual Rutgers business plan competition. By the summer, the year-old Playa Bowls business started by Giuliani and Taylor, was one of the busiest spots on the Belmar boardwalk and growing strong with Saran's strategic assistance.
Learn more about Rutgers MBA program by attending the next Open House on March 5 in Newark. RSVP now.
Rutgers MBA alumna Tashni-Ann Dubroy's experience in the research laboratory and the classroom combined with her leadership and business skills landed her a position leading Shaw University. Read about Shaw's newest president. 
Olena Paslawsky was a trailblazer when she completed her MBA in 1978 and entered the world of corporate finance. After 30 years, she wanted to continue her career in the non-profit sector. Today, she is the Metropolitan Museum of Art's chief financial officer. Find out more about her move to the non-profit world.
Former ConverDyn Chief Executive Ganpat Mani began his career as an engineer, but moved into management after completing his Rutgers MBA. Read about his journey.
Michael O'Neill and Broadcast Music Inc., the iconic company he leads, continue to navigate the digitalization of music and its impact on songwriters, composers and music publishers. O'Neill credits his Rutgers MBA for his ability to reach the corner office at BMI.
Prospective students have until March 15 to submit their applications for Round 3. The deadline for Round 4 is May 1.
Choose your path. Find out more about the Rutgers Full-Time MBA. For more details on applying. And for more information about the program, including concentrations and curriculum.
Press: For all media inquiries see our Media Kit