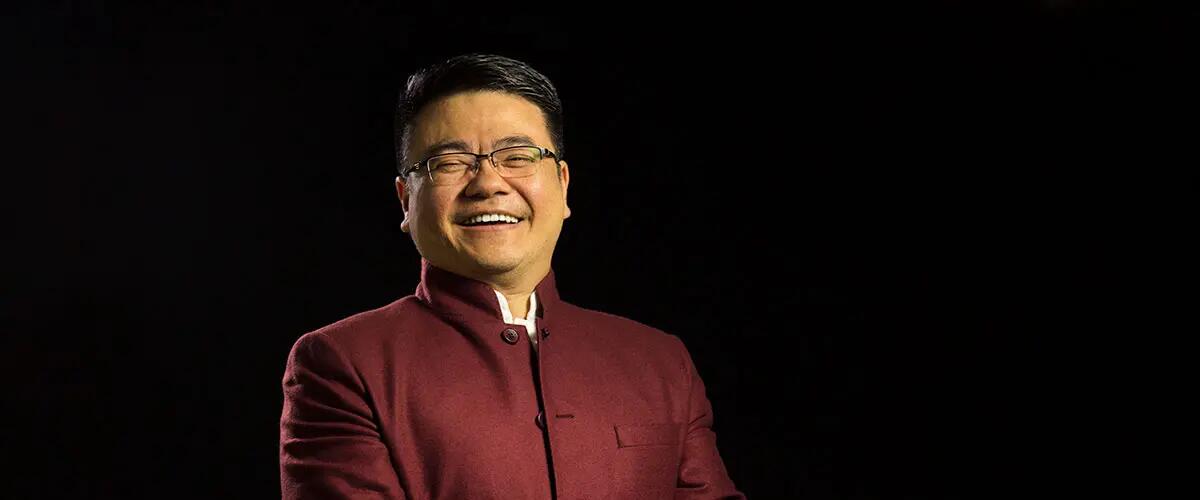 Breakthrough Interview with SY Lau
SY Lau joined Tencent in 2006 and was the president of Online Media Group for 11 years. Today, SY plays a key leadership role in enhancing synergies of Tencent's advertising properties across different business groups to serve all advertising partners. He also serves as chairman of Tencent's Group Marketing and Global Branding and manages Tencent's international strategic partnerships on behalf of Tencent's Leadership team. In 2015, the Cannes Lion Festival of Creativity named SY "Media Person of the Year."  In 2016, he was named chairman of the China Media Assessment Council, and in 2017, he was inducted into the Rutgers Hall of Distinguished Alumni. He graduated from the Rutgers Executive MBA Program in 2004.
We had the incredible honor of interviewing SY Lau for our "Breakthrough with Brilliance" series and asked him to share his thoughts on creativity, technology and humanity.
Jackie Scott: Let's get started. What's your personal definition of a breakthrough?
SY Lau: I would simply define it as an end result that is out of the box, benchmarking in standard and stature, and likely achieved from a persistent habit or culture of pushing the envelope. More importantly, the impact of such an end result should not be purely self-serving, contribute towards the greater good within the space of influence wherein the idea resides.
This is a concept that is increasingly gaining more attention across various industries. In today's highly connected world, with information and resources available at our fingertips, it is really difficult to come out with an idea or innovation that is truly original and impactful.
Scott: Who is a breakthrough thinker you admire and why?
Lau: Many names come to my mind. From Adam Smith to Steve Jobs, and Bill Gates to Pony Ma. In a more contemporary times and global in stature, I would name digital visionary Kevin Kelly as my favorite. Why? Let me simply quote what I have read from his profile at TedTalk for the benefit of our readers, as any of my own words will not serve better justice in recognizing Kelly's accomplishments.  "There may be no one better to contemplate the meaning of cultural change than Kevin Kelly, whose life story reads like a treatise on the value and impacts of technology. He's admired for his acute perspectives on technology and its relevance to history, biology and society. His new book, The Inevitable, just published, explores 12 technological forces that will shape our future."
Scott: Kevin Kelly is a true visionary and excellent example of a breakthrough thinker. What company or brand do you admire for breaking though?
Lau: In all honesty, the Starbucks brand and company for having the vision and courage to uncover and rejuvenate a mundane consumption occasion into a global phenomenon that goes beyond simple product experience. Starbucks is a great cultural icon characterized by elements of modernity and technology breakthrough offering a warm and welcoming third space, regardless of geography.
Scott: Starbucks is a true trailblazer! This company and its success as a  "global phenomenon" demonstrates how building brand love for such a simple product can be created by leveraging technology with a smart marketing strategy and a compelling, differentiated customer experience. Last question is optional and just for fun…if we were to make a movie about your life, who would you like to play you?
Lau: Hahaha, I would so so love to have Aamir Khan, the Indian actor who is larger than life not because of his great looks, excellent sense of humor and charming stardom, but rather because of his humanitarian approach to movie making that presents powerful content that evokes universal values.
Scott: Wow. Thank you for participating in our "Breakthrough with Brilliance" interview series and please allow me to close out our interview with a quote from a breakthrough thinker I admire  - that would be you!
We don't need a powerful few to change the world, we only need everyone to do a little more
— SY Lau
We hope that you have enjoyed this "Breakthrough with Brilliance" interview with SY Lau.  To learn more about SY and his induction into the Rutgers Hall of Distinguished Alumni, please check out this brief video.
Press: For all media inquiries see our Media Kit