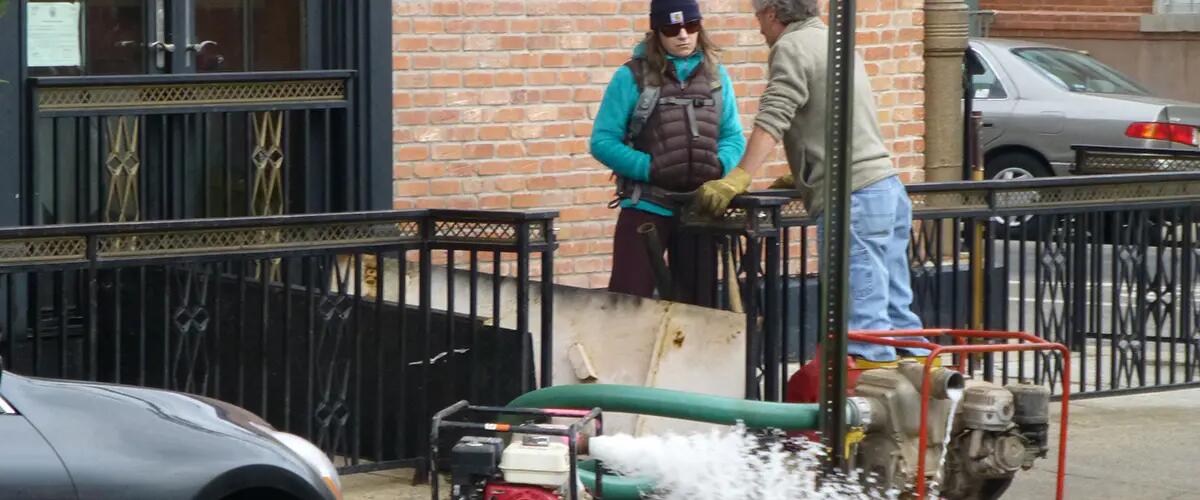 Recovery Fund would help prevent the loss of businesses after Sandy's fierce blow
"By my conservative estimate of the damage across Monmouth, Ocean, Atlantic and Cape May counties, there are more than 16,000 businesses affected with approximately 350,000 workers who have been impacted by the storms."
By Jeffrey A. Robinson, assistant professor, Management & Global Business, and founding assistant director of The Center for Urban Entrepreneurship & Economic Development.
As a native of New Jersey and advocate for economic development in our state, I am concerned that Super Storm Sandy will prove the death knell for the most significant drivers of our regional economy: small businesses.
The challenges of recovery for small business owners after a storm like Sandy take on many forms.  In the most severe circumstances such as Sea Bright or Seaside Heights, the storm has completely and utterly destroyed store fronts and other establishments, and wiped out inventory.  The storm has seriously hampered the future prospects for such businesses.  Due to the scale of destruction, these businesses have only one recourse: filing their insurance claim.  If they're fortunate enough to have flood insurance, they may be able to rebuild.
But there are many other businesses that function away from the water that employ New Jerseyans in the thousands.  By my conservative estimate of the damage across Monmouth, Ocean, Atlantic and Cape May counties, there are more than 16,000 businesses affected with approximately 350,000 workers who have been impacted by the storms. They probably have not been destroyed by water but they are at serious risk of closure due to damage from wind, falling trees, multiple days without electricity, and plunging revenues - all a result of the storm and its aftermath.  Many of the business owners I have spoken with are worried about the gap between what their insurance covers and their reserves. They may not have suffered catastrophic losses like their brethren on the shore. However, they lack cash reserves, access to capital and customers meaning they will have to shut their doors permanently.
After Hurricane Katrina, I visited New Orleans more than 10 times as a volunteer and in support of their efforts to restore the small business community. Just as in post-Katrina New Orleans, the U.S. Small Business Administration (SBA) and some local financing institutions are making available low-interest loans to business owners in the affected areas.  But, also similar to New Orleans, business owners are reluctant to get "another loan."  FEMA does not provide any grants or loans directly to businesses.  They work through the SBA.
This is problematic for a variety of reasons. First, many businesses will close because of shortfalls of less than $20,000.  This is the working capital not covered by insurance companies - money that is used to pay employees while business picks back up, conduct advertising campaigns, and buy inventory.  Second, consider the economic shock of thousands of these small businesses closing their doors and a new group of unemployed residents looking for jobs.  This will certainly strain an already fragile economy.  Third, the current system of SBA Loans and micro-loans does not meet all the needs of these businesses - especially if they already have significant debt and may not qualify for more loans. In this economic environment, this would not be unusual.
For these reasons, the state needs to quickly establish a New Jersey Business Recovery Fund to support these business owners and the thousands of employees in these companies.  From a technical standpoint, this fund could be organized as a business grant or a forgivable loan fund.  This fund would be modeled loosely on the Louisiana Business Recovery Grant and Loan Program that successfully stemmed the tide of business closure following Hurricane Katrina.
So, where does the money come from for this kind of effort? The state and federal government are already going to be paying billions of dollars in aid to restore these storm ravaged areas.  These dollars come from tax revenues and by skillfully moving items in the respective budgets.  The state could set aside development funds at the New Jersey Economic Development Authority (NJEDA) or apply for a federal Community Development Block Grant (CDBG).  Regional philanthropic organizations could contribute to a business recovery fund as well.  
But setting aside some of these funds makes sense in the long run because tax payers will be impacted in many ways in the near future if these small businesses close.  If these small businesses disappear, we pay for the defaulted SBA loans guaranteed by the federal government; we pay for the unemployment programs and business tax revenues decrease which is critical for our state. 
And then there is the ripple effect of the supply chain – one business closing affects all of its suppliers and service providers so that their revenues decrease.  Multiple this out thousands of times and impact of one super-storm is an economic downward spiral.  The solution is to halt the spiral with an initiative that props up the small businesses that employ most of the people in the area.
There are certainly some critics who will say that the government should not meddle in the market and should leave the small businesses owners on their own.  But, the consequences of non-action will impact our communities in one way or another.  By providing the fund described here, we have an intervention strategy that keeps businesses open and people working without piling more debt onto entrepreneurs who have already been through a disaster.
In Louisiana after Katrina, they used a business grant model.  New Jersey needs to get on board with this idea so that in these economic times, we don't slow our economic recovery by allowing the small business engine impacted by Super Storm Sandy to stutter and stop.
Press: For all media inquiries see our Media Kit