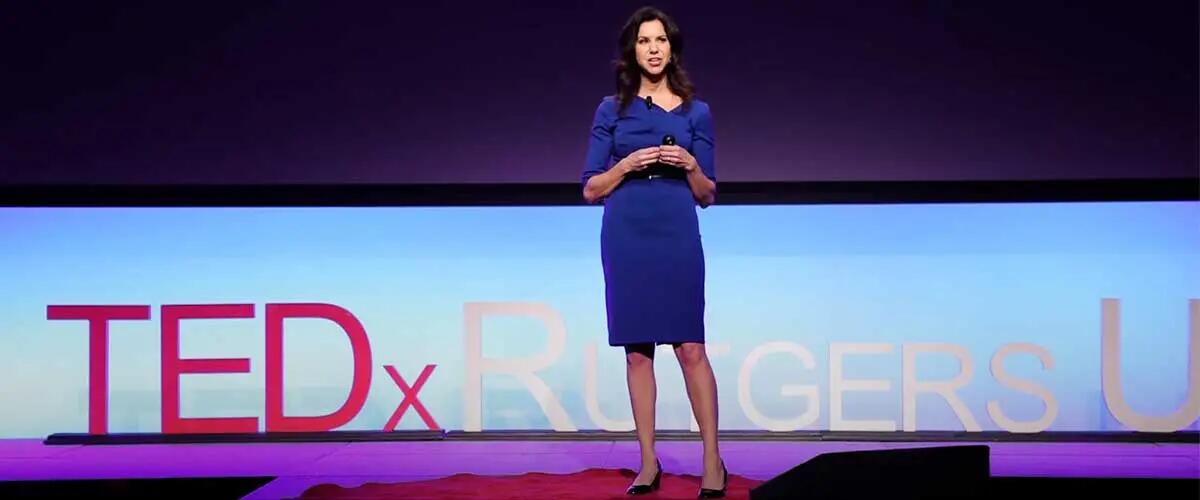 Thought Leadership: Advancing Women by Redistributing the Housework, One Son at a Time
Lisa S. Kaplowitz is co-founder and executive director of Rutgers Business School's Center for Women in Business (CWIB). The mission of the CWIB is to remove barriers, build community, and empower women. She spoke about gender equity at the TEDxRutgers 2022 Conference.
Kaplowitz said that gender equity can, and should, be championed both in the workforce and at home. Kaplowitz talked about her professional endeavors as impacted by gender equity, and her experimentation with the distribution of housework amongst her two teenage boys as a microcosm of what should, and can, be done in the workforce.
During her TEDxRutgers presentation, Kaplowitz posited that in order for women to advance in the workforce, we need to redistribute the housework. "It all comes down to how society values the time and responsibility of boys and girls differently," she said.
"Men, regardless of partner or parental status need to do more at home," Kaplowitz continued. "Companies and organizations need to create a culture where that is not only accepted but more importantly, it is valued.
"My call to action is this: For partners, I challenge you, to not just help but to share equally in the housework, and if you have kids, the childcare as well. For parents, I challenge you to value your daughter's time as much as your son's. Require your sons to cook and clean, so they know that housework is not just mom's work and that everyone's place is in the kitchen.
"I believe [and research has proved] these two simple actions will empower women to be more productive and satisfied in their paid work.
"As this next generation enters the workforce and starts their own families, my hope is they will abandon the gender stereotypes of previous generations and value and embrace the equal sharing of household responsibilities."
Kaplowitz, assistant professor of professional practice in the Department of Finance and Economics, leverages 25+ years of experience as an investment banker and CFO.
She is also a restless champion for gender equality and her work has been featured on Bloomberg TV and in Forbes, CFO Magazine and Bloomberg.com. Kaplowitz' advocacy began as a scholar-athlete at Brown University, when she was part of a landmark Title IX case that added more varsity athletic opportunities for women. Today, she continues to champion gender equity at work and in the home, alongside her husband and teenage sons.
TED is a nonprofit devoted to spreading ideas, usually in the form of short, powerful talks (18 minutes or less). TED began in 1984 as a conference where Technology, Entertainment and Design converged, and today covers almost all topics — from science to business to global issues — in more than 100 languages. Meanwhile, independently run TEDx events help share ideas in communities around the world.
Press: For all media inquiries see our Media Kit