Digital Transformation - Establishing a Big Data strategy to provide Customer Value
A two-part module on Digital Transformation and Big Data Strategy
In today's fast-paced business environment, Digital Transformation is an imperative for most organizations. This training covers how technology alone will not achieve expected outcomes, unless combined with a well-defined big data strategy and a customer-centric approach.
During the session we will distill the topic of Digital Transformation into a practical guide and demonstrate how data can serve as a strategic asset to improve the customer experience and drive change in an organization's operating model, while identifying opportunities for enhanced optimization.
At the conclusion of this course, participants will understand how a successful digital value proposition is shaped by an organizational culture of innovation and directly influenced by continuous improvement based on iterative market feedback.
The fundamentals of Digital Transformation and establishing a Big Data strategy to provide Customer Value
Duration: 3 hours for both sessions. 1.5 hours per session. Time for each session is 9:30am to 11am.
Part 1 (1.5 hours):
Understand digital transformation and its misconceptions
Learn the 5 domains and key considerations of a digital strategy
Get familiar with how to develop a value proposition and utilize innovation as an enabler
Discuss value of ecosystems and business disruption
Part 2 (1.5 hours):
Understand Big Data and its impact
Understand the components of a Big Data Strategy and developing a value assessment methodology
Learn how to turn customer data into business value and how to engage with customers in the digital age
---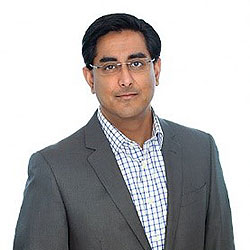 Conducted by Rishi Thukral
Principal, Acquis Consulting and Vice President, SSI Strategy
As a Principal at Acquis and VP at SSI Strategy, Rishi is an accomplished LifeSciences Digital Transformation leader with 20 years of cross-functional business and technology expertise. He leads large-scale, global, digital initiatives with a keen understanding of organizational challenges, from the perspective of both the business and end-to-end applications. He brings extensive experience in Digital Innovation strategy and process improvement, leading to increased efficiency and maximum return on investment for his clients. With certifications in Big Data & Artificial Intelligence from Rutgers and MIT, an executive MBA from Rutgers, and a Bachelors in mechanical engineering (B.Eng), Rishi successfully guides his clients in developing and executing the right Digital initiatives, tailored to their specific long-term strategic business goals.
Companies
Acquis Consulting, SSI Strategy, Alexion, Daiichi-Sankyo, Bristol-Myers Squibb, J&J, Aegerion, Integra LifeSciences, E*TRADE, MetLife, Ford, IBM, Unilever
---
The second module will be presented online on Saturday, November 7, 9:30AM - 11:00AM
Price
This event is free.