Signature Leadership Series – A Journey Through Space, Business, and Beyond - Leading with Passion and Purpose
A live virtual discussion with Anousheh Ansari, First Female Private Astronaut, CEO of XPrize Foundation, and Executive Chairwoman & Co-Founder of Prodea Systems, moderated by Lisa Kaplowitz, Director of Rutgers Center for Women in Business
The Rutgers Business School Signature Leadership Series: Lessons of Resilience, Resourcefulness, Responsibility, and Reinvention features live virtual discussions with thought leaders and business leaders from across the industry spectrum. This complimentary biweekly series will give you:
the opportunity to hear and learn from leadership experts
stories of their journey
lessons learned
insights
Join the conversation and get a glimpse into their everyday, real-life challenges and learn from their leadership playbooks.
Speaker: Anousheh Ansari
---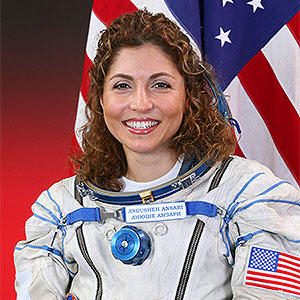 On September 18, 2006, Anousheh Ansari captured headlines around the world as the first female private space explorer. Anousheh earned a place in history as the fourth private explorer to visit space and the first astronaut of Iranian descent.
Anousheh is a serial entrepreneur and co-founder and chairman of Prodea Systems, a company that will unleash the power of the Internet to all consumers and dramatically alter and simplify consumer's digital living experience. Prior to founding Prodea Systems, Anousheh served as co-founder, CEO and chairman of Telecom Technologies, Inc. The company successfully merged with Sonus Networks, Inc., in 2000.
To help drive commercialization of the space industry, Anousheh and her family provided title sponsorship for the Ansari X Prize, a $10 million cash award for the first non-governmental organization to launch a reusable manned spacecraft into space twice within two weeks.
Anousheh immigrated to the United States as a teenager who did not speak English. She earned a bachelor's6 degree in electronics and computer engineering from George Mason University, followed by a master's degree in electrical engineering from George Washington University. She has an honorary doctorate from the International Space University. She is currently working toward a master's degree in astronomy from Swinburne University.
Anousheh is a member of the X Prize Foundation's Vision Circle, as well as its Board of Trustees. She is a life member in the Association of Space Explorers and on the advisory board of the Teacher's in Space project. She has received multiple honors, including the World Economic Forum Young Global Leader, the Working Woman's National Entrepreneurial Excellence Award, George Mason University's Entrepreneurial Excellence Award, George Washington University's Distinguished Alumni Achievement Award, and the Ernst & Young Entrepreneur of the Year Award for Southwest Region. While under her leadership, Telecom Technologies earned recognition as one of Inc. magazine's 500 fastest-growing companies and Deloitte & Touche's Fast 500 technology companies.
She currently works to enable social entrepreneurs to bring about radical change globally, with organizations such as X Prize, ASHOKA and the PARSA Community Foundation.
She believes the key to a better future for humankind is in the hands of our young generation, and it is up to us to provide them with the right tools through education and as good role models. Through it all, Anousheh continues to quote Gandhi, one of her personal heroes, who said, "Be the change you want to see in the world."
Visit Website | View Wikipedia Page
---
Contact
If you have any questions, you may contact our Executive Education team directly at 1-848-445-2020.
Price
This event is free.