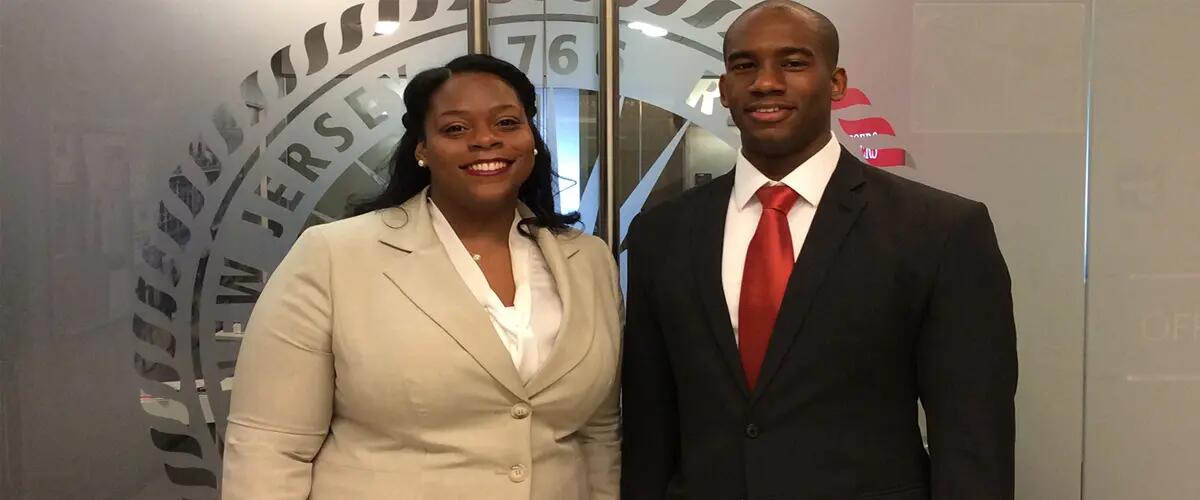 2016 business plan competition winners ready to launch product
Dri-sound headphone covers expected to hit stores in early winter.
When Jon Roberts and Stephanie Charles, the partners behind Charles Roberts LLC, won the 2016 business plan competition at Rutgers Business School, it provided a huge boost to the launch of their first product.
The partners spent some of the $20,000 prize money to improve their dri-sound premium headphone covers, which are specifically designed to protect pricey headphones from damage without diminishing the look or quality of the devices.
Roberts, an alumnus of the Rutgers Part-Time MBA program, and Charles spent the summer working with a manufacturer to carry out product testing to refine the silicone headphone covers. One of their goals was also to reduce the production costs. Now, they're preparing for the headphone covers to hit the market in early winter.
Charles and Roberts were colleagues working in the financial industry when they first met and eventually they worked on a project in Hong Kong that required close client interaction and long days to accommodate global time zones. "We realized we both wanted to do things outside Corporate America," Roberts said, recalling their initial conversations about the idea of creating a start-up.
After a year of discussions, they decided to partner up around the idea of the headphone covers. While continuing to work full-time jobs, they began their entrepreneurial venture, which included securing patents, creating prototypes, attending first-time inventor conferences and entering the annual Rutgers Business Plan competition.
"Every single opportunity we've had to present to someone has helped us to validate something," Charles said.
As business partners, Roberts and Charles have matching levels of determination. They say they are constantly challenging one another to ensure the business is as sound as possible.
In addition to winning first place in March, they said the business plan competition was an affirmation that their idea had merit and their product was viable. "We're on the right path," Charles said after winning the competition. "It's not just a good idea to us. It's a good idea to everyone."
The annual business plan competition is sponsored by the Sales Executive Club of Northern New Jersey Foundation to encourage entrepreneurial students and alumni and to support the creation of jobs in New Jersey. Past winners include the founding partners behind Playa Bowls, Brian Bergen of Bergen Botanicals and Tea & Honey Blends, which was started by Tiffani Bailey Lash and Rutgers MBA alumna Tashni-Ann Dubroy.
Roberts and Charles plan to continue turning their ideas – they're staying mum for now about what's in store next – into products they can take to market. "We want to be in the innovative products business," Roberts said
"My goal," Charles said, "is to set this up so my grandchildren have a legacy to inherit."
-Susan Todd
Press: For all media inquiries see our Media Kit