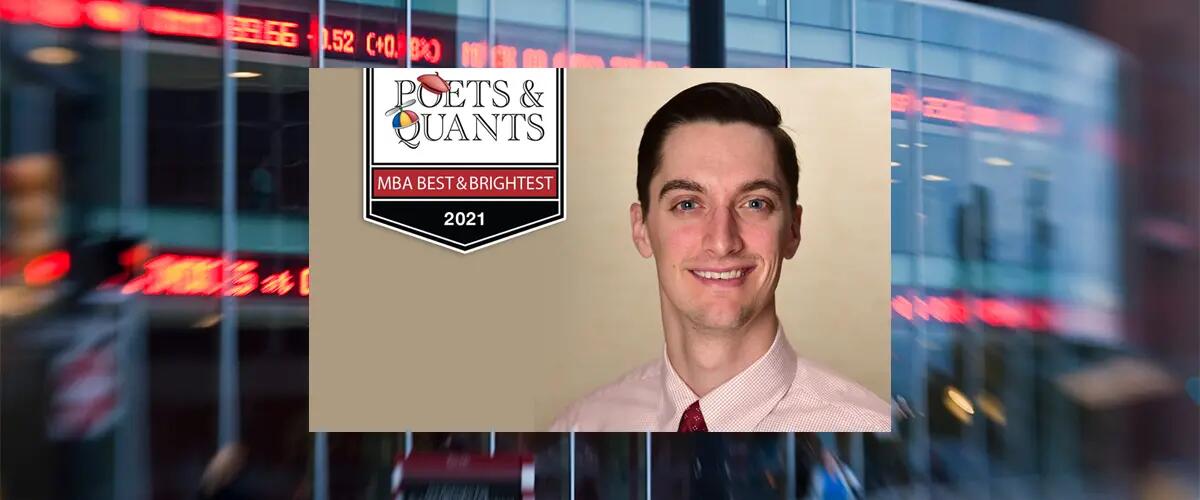 2021 Best & Brightest MBAs: Eric Hurley
This profile was included among the 100 Best & Brightest MBAs: Class Of 2021 published by Poets & Quants on May 9, 2021.
Eric T. Hurley
"Compassionate leader who loves helping others reach their full potential."
Hometown: Current: Rahway, N.J. Born and raised: Omaha, NE
Fun fact about yourself: I've knocked my left, front tooth out three different times.
Undergraduate School and Degree:  
B.A. Political Science, Magna Cum Laude, Honors program participant,
Loyola University Chicago, Chicago, IL.
Where was the last place you worked before enrolling in business school? U.S. Army, Commissioned Officer. 7 years. Held multiple leadership roles, mostly in the cavalry. Two deployments – one for peacekeeping in Egypt's Sinai Peninsula and one for combat to Nangarhar province, Afghanistan.
Where did you intern during the summer of 2020? Ethicon, subsidiary of Johnson & Johnson, based out of the Somerville, N.J. (remote due to COVID-19)
Where will you be working after graduation? Ethicon, Johnson & Johnson. Participant in the Medical Device Marketing Leadership Development Program (MLDP).
Community Work and Leadership Roles in Business School:
Helped establish the Rutgers Business School (RBS) Student Veterans group for current and past RBS student veterans.
Worked as a Teaching Assistant for two semesters for both undergraduate and graduate level courses.
Played club baseball for Rutgers New Brunswick campus during first year (second year cancelled due to COVID-19).
Which academic or extracurricular achievement are you most proud of during business school? I am most proud of how I helped found the RBS Student Veterans group. When I joined Rutgers Business School, I realized that while the veteran's assistance at the school-level was strong, there was no cohesion among student veterans (including alumni). I am proud to say that we've started a group on LinkedIn that's up to 30 members and growing and have already hosted a few virtual events. I plan on being involved as an alum and hope that this entity will continue to grow and support student veterans at RBS for years to come.
What achievement are you most proud of in your professional career? In my professional career, I'm most proud of how I enabled one of the largest special operations in the history of the War on Terror. During my time at Operating Base Fenty, Afghanistan, I was in control of all base life support and defense assets and logistical operations for a base of around 3,000 personnel. While there, an offshoot of the Islamic State called the Islamic State of Khorasan Province (ISKP) invaded Afghanistan from the southeast of our region, Nangarhar. In response, the U.S. Army conducted multiple special operations to expel them from this region. I was the direct liaison to multiple special operations units and black-ops units, helping to build warm-bases, store ammunition, requisition supplies, and orient them to the area. The operations were a major success — ISKP was beaten back with great losses while our forces took minimal casualties.
Why did you choose this business school? The death of my father-in-law caused by an unexpected heart attack made my wife and I decide it was time to leave the Army and move back to her home state of New Jersey to take care of her mother. I knew that I wanted to get an MBA so I began searching for programs in and around New Jersey. I stumbled upon Rutgers due to their great ratings in veteran-support and diversity, two things I care deeply about. As I researched Rutgers, I found they had close ties to the healthcare industry. As I learned more about the opportunities available to me post-MBA through the Rutgers Office of Career Management, I realized I would be able to continue to serve a purpose higher than myself through my career choice, something that was important to me and would fill the hole left from leaving the Army.
Who was your favorite MBA professor? Professor Sharon Hellman was my favorite professor. She teaches Organizational Behavior and Management Skills to first-year MBAs. She was my favorite because she was extremely passionate about what she taught but also because she used many methods of teaching to reach her students. We built towers to hold marshmallows, role-played negotiations, read case studies, read a textbook, listened to her lecture using PowerPoint, watched short videos, and even analyzed major films. This creativity in instructing is what is required to keep learning exciting, ensure lessons hit home, and link theory to practice. I was impressed by her teaching and course so much so that I applied to become her Teaching Assistant.
What was your favorite MBA event or tradition at your business school? My favorite MBA "tradition" was actually an entire program. The Office of Career Management at Rutgers puts students through a rigorous training and development program while simultaneously offering them multiple outlets with which to connect to companies and industries. The seriousness and tough-love approach taken by the dean of the program, Dean Vera, reminded me of the way the military trains their recruits. While many students feel tremendous pressure from this program and are quite anxious during their participation, it molds them into outstanding candidates and future employees. I can guarantee that through the rigorous training, resume reviews, networking standards, and mock interviews, each of us left the program a better candidate than when we entered RBS. This reflects upon the fact that RBS sees its students as unique individuals with their own capabilities and skillsets, not just a number on an admission roll.
Looking back over your MBA experience, what is the one thing you'd do differently and why? When student government elections came around a lot of my classmates pushed me to run for something, especially President/Vice President. However, I had just spent seven years in the Army being a leader and was ready to support a leader while I focused on my studies. I wish I would have decided to run. While I'm proud of the assistance I gave to those who were elected and proud of what I've done at the school for veterans, I wish I would have used my experience and knowledge to better the lives of students through student government.
What is the biggest myth about your school? When I was looking up reviews of Rutgers, I read that the Office of Career Management (OCM) and the school would pressure students to take positions in the pharmaceutical and medical device industry. While they definitely have many great ties to these industries and the companies in them, I felt no pressure to join them at all. I ended up joining Johnson & Johnson, but only through my own desire and great advice from people I know. I've seen multiple students who didn't want anything to do with the medical/pharmaceutical world get tremendous help from the OCM and school as they search for landing spots outside these industries post-MBA.
What surprised you the most about business school? The closeness of my graduating class really surprised me. Rutgers has quite small MBA cohorts; there's only about 40-60 students per year group. While this seems like it'd be a negative, I found it to be a major positive. In no way are you just a number to the school and your classmates. My class goes out of their way to support each other. I truly feel that I'll keep in close contact with about 90%+ of my graduating class over the coming decades and I look forward to it.
What is one thing you did during the application process that gave you an edge at the school you chose? During my application process, I presented myself with confidence during the interview and I think that gave me an edge not only in being accepted but during my time there. The Army taught me how to always be confident and to present myself professionally and I used this to my advantage. The graduate admissions office seemed to be impressed by my video interviews and it made me memorable. As soon as I arrived on campus, I had the trust and respect of the program administrators and professors.
Which MBA classmate do you most admire? I most admire my classmate Alyssa Dragelin. She is easily one of the most impressive people when it comes to a combination of IQ and EQ, and she's compassionate about helping others as well. Her work ethic, attitude, and character impress me every time I share a class with her. Despite being only 25 and with limited work experience relative to the median MBA candidate, she has shown herself to be both a formal and informal leader of our class. She took charge of the Rutgers Women in Business Club and was able to make that club a hit with multiple visits from great companies. She landed a job at Verizon, and I'm sure she'll accomplish great things there.
How disruptive was it to shift to an online or hybrid environment after COVID hit? Honestly, it wasn't disruptive for me much at all. It simply felt like an Army deployment. I was locked away with the same people day-after-day (this time my wife and dog instead of my military colleagues). I was only able to go from where I sleep, to work, to eat, and back again, and I had to communicate a lot virtually. About the only thing missing was bad guys and rocket attacks. The school and professors stepped up to the challenge and the semesters seemed to go without a hitch.
Who most influenced your decision to pursue business in college? My father definitely influenced my decision to pursue an MBA. My dad grew up quite poor and wasn't the greatest student when he was younger. He ended up joining the Navy at 18 and they shaped him into a successful young man. After the Navy, he went to college, earned his CPA license, and then pursued a career in business. My dad went from having very little to being very successful and was able to provide for my family due to his hard work. What impressed me the most, however, is how my dad seemed to gravitate toward jobs that fulfilled a higher purpose, rather than filled his bank account. He spent most of his career as CFO of a non-profit called "Outlook Nebraska", which predominately hires blind people, and turned that business into a major success story. I hope to follow in his footsteps, using my God-given endowments, my experiences, and my education to not only provide for myself but to improve a company that has a mission focused on improving the world.
What are the top two items on your professional bucket list? Both items on my professional bucket list are unrelated to my personal career path. While I hope to achieve great things at Johnson & Johnson over a long career, I see this as a means to an end. I hope to build the skills, knowledge, wealth, and network needed to pursue two separate dreams of mine.
First, I hope to start a charity for underrepresented youth that utilizes many of the systems and programs created for veterans (such as pay-it-forward mentorship like American Corporate Partners, continuing education programs such as Syracuse's Institute for Veterans and Military Families, and fellowships/internships). I hope to help thousands, if not millions, of underrepresented children realize their full potential.
I also want to create a Prize-Linked Savings Account program coupled with free personal-finance education and advice that will replace state lottery programs. I believe that financial illiteracy is a major problem in America and a major factor in the cycle of poverty and the increasing wealth gap we see. I hope that someday I can create a program that doesn't act as a regressive tax and prey on the unfortunate but helps them achieve financial freedom.
What made Eric such an invaluable addition to the Class of 2021?
"Eric has enriched the RBS MBA Class of 2021 in many ways. His impressive leadership experience, exceptional intelligence, curiosity, humbleness, and genuine interest and concern for his fellow classmates and RBS veterans, has made him an invaluable addition to the Class of 2021 and endeared him as a friend to many.
Eric was a student in my Organizational Behavior class last year. He was an eager participant in each week's lecture and had much to share on a wide range of course topics. His contributions not only enriched the class discussions but provided new insights and understanding of the course material. What made Eric's contributions so impactful were his significant and unique experiences as an officer in the U.S. Army. Instead of just offering his opinion on such topics as leadership, ethics, and problem-solving, Eric was able to describe situations that required decisions and actions on his part or that of his superiors, peers, or troops. These experiences exemplified what is required for leading others, acting ethically, and solving problems under high pressure circumstances. By sharing his experiences, Eric made the course's abstract concepts understandable, relatable, and real.
Additionally, Eric has a keen intellect (he earned the highest grade point average in my class of 45 students and has been one of my top students in the past five years) and he would often ask probing and insightful questions related to the lecture material and in response to his classmates' comments.  He was genuinely curious to hear his classmates' opinions and experiences and his questions typically led to a deeper discussion and exploration of the course topic or case. His curiosity created an environment that fostered greater learning for all students in the class.
His interest in his fellow classmates' ideas and perspectives were also ways that he displayed his humbleness. Although Eric truly was one of the smartest people in the room and had the richest leadership experiences, he valued the opinions and ideas of his fellow classmates, recognizing that he could always learn from others. His humbleness was also evident when he worked as my TA these past two semesters for an undergraduate management class that I teach. Eric shared with me that he enjoys reading the students' papers since he's interested in what they think and he can learn from their perspectives. His ability to recognize that everyone has something to offer, and that learning comes from those around you regardless of their age and experience, epitomizes his curiosity and humbleness.
Outside of the classroom, Eric has been an invaluable addition to the Class of 2021 and will leave an indelible mark through his creation of the RBS Student Veterans Program. Through Eric's sincere concern for his fellow students, and for the MBA students that will follow him at RBS, he founded the Veterans Program as a means for current and former students with military affiliations to form relationships, stay connected, network, and help with job placement. The program is open to full-time and part-time MBA students, Executive MBA students, and RBS alumni. The group currently meets virtually and has an active LinkedIn Group. The program represents the significant impact and legacy that Eric has made during his two years at RBS. Eric is truly one of RBS's Best and Brightest, and I strongly believe that he is also one of the Best and Brightest MBAs graduating this year."
Sharon Hellman
Assistant Professor of Professional Practice
Rutgers Business School
Press: For all media inquiries see our Media Kit