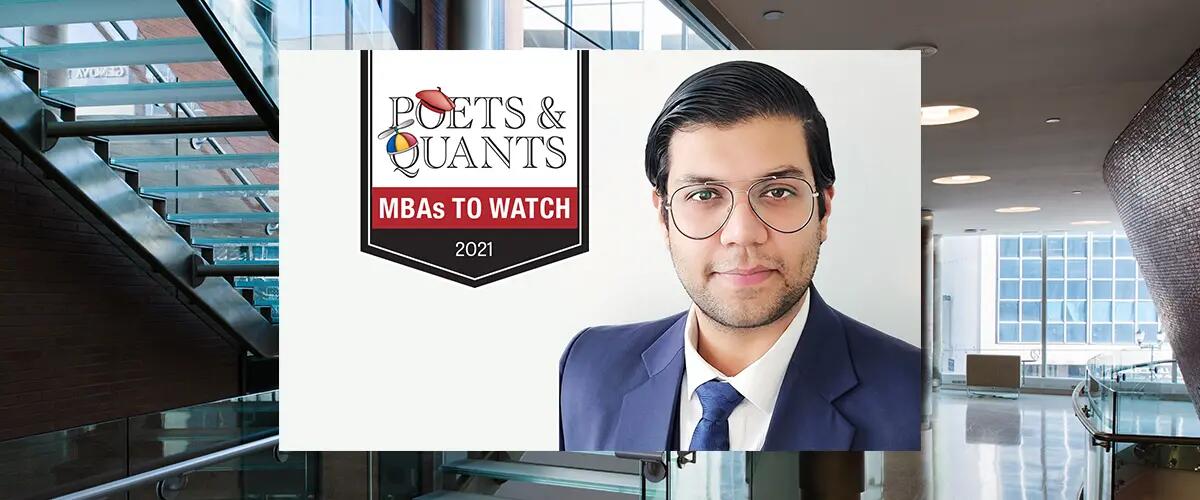 2021 MBAs To Watch: Akshay Arora
This profile was included among the 2021 MBAs To Watch published by Poets & Quants on June 30, 2021.
Akshay Arora, Rutgers Business School MBA '21
"A passionate, technophile marketeer who wants to make a dent in the consumer and healthcare industry."
Hometown: New Delhi, India
Fun fact about yourself: I am a lark and wake up at 5:30 am every day. I start my day watching the sunrise with a cup of Indian chai. Also, I like to make video montages of important life moments, events, and journeys.
Undergraduate School and Degree:
Master of Pharmacy, MPharm (Hons) – UCL School of Pharmacy, London, UK
Executive Business Management – IIM Lucknow, India
Where was the last place you worked before enrolling in business school? Wings Pharmaceuticals, Delhi, India as Brand Manager (Orasore, Hairshield & Digital).
Where did you intern during the summer of 2020? Signify (Philips Lighting), Somerset, New Jersey. I assisted the professional lighting segment for Office & Industry portfolio.
Where will you be working after graduation? Brand Management, Over the counter (OTC) Healthcare/Consumer Packaged Goods
Community Work and Leadership Roles in Business School:
Vice President, Student Government Association, RBS 2020
Social Media Ambassador for Rutgers Business School & Rutgers MBA Program
Co-Organizer, J&J RBS Hackathon 2020
Fundraising Ambassador, RU Giving Day
Which academic or extracurricular achievement are you most proud of during business school? I am most proud of being involved with case competitions during my Rutgers MBA. I participated in six case competitions and co-organized/volunteered for two events. I was lucky to win three out of them. I gained invaluable expertise and unparalleled skills while solving those real-world problems in marketing, strategy, supply chain, and healthcare. I also used this opportunity to network with MBA students across the nation and made some great friends at Rutgers. I believe every student should participate in at least one case competition during their MBA.
List of Competitions: Yale Healthcare Services Innovation (YHSI 2019), Katz Invitational (2020), Rutgers Big 10 (2020), MIT Sloan OpsSimCom (2020), Tepper 25th ICC (2020), Rutgers 8th Annual Biopharma (2019), Rutgers Business Plan (2020), RBS J&J Hackathon (2020).
What achievement are you most proud of in your professional career? Although a pharmacist by training, I have always been inclined towards strategy and consumer-facing roles. I was fortunate enough to land a role in pharma marketing that helped me grow and learn with a hands-on approach. I shifted gears and focused on digital marketing. Since 2016, I have helped several organizations with their digital & social media strategy. I am proud of being creative and having an out-of-the-box approach to my work.
Why did you choose this business school? Before choosing Rutgers, I spent two months visiting business schools across the US to find the perfect match for me. I attended open days, talked to students on campus and alumni on LinkedIn, audited classes, walked around the school area, evaluated the local transportation, researched housing, and deep-dived into the websites. Rutgers Business School was the only one that complemented my pharmaceuticals background, had an unmatched reputation and ROI in the tri-state area, and gave me easy access to companies in New Jersey and New York City. I like living on campus, and I am proud of how successfully Rutgers dealt with this pandemic: mandatory weekly testing, email reports and social distancing protocols across the campus.
Who was your favorite MBA professor? Doug Brownstone, assistant professor of professional practice in the Management & Global Business Department. Professor Brownstone has been an exceptional mentor and guide during my time at Rutgers. I have been fortunate enough to work with him on real-world projects such as the first-ever RBS J&J Hackathon 2020, the annual Rutgers Business Plan Competition, and the Paterson Film & Entertainment Commission. He is super friendly, insightful, and approachable. His consulting class, "Integrated Business Applications," is designed to be exciting, and interactive. Outside of academia, his industry experience and professional network is vast, and he leverages it to invite relevant guest lecturers to his courses.
What was your favorite MBA event or tradition at your business school? Before the pandemic hit, the MBA experience was communal and fun. The MBA program here is a close-knit community and hanging out with classmates and faculty at Barcade, a neighborhood bar, was a great part of our evenings. The best event was the elegant Winter Gala (video) that took place at the Hyatt Hotel in Jersey City in January 2020.
Looking back over your MBA experience, what is the one thing you'd do differently and why?  Initially, due to my pharmaceutical background, I focused exclusively on all marketing and pharma-related courses. I found new love and interest during my second semester in Finance and Supply Chain Management. If I had to do it again, I would keep myself open to all subjects equally. An MBA is an experience like no other. To maximize this opportunity, one must be open to all challenges. Additionally, if I knew we had 2.5 semesters of study-from-home coming our way, then I may have traveled a bit more during the initial period of the MBA program.
What is the biggest myth about your school? Many people back home (India) and in the U.S. only check the rankings to judge MBA programs. I have heard many of them, and I believe their judgments are meritless as they fail to consider the community, faculty credentials, and school location. Rutgers Business School's proximity to New York, strong alumni network, distinguished faculty, and part-time MBA community is impressive. No one ever talked about the industry leaders, VPs, or senior managers you meet in your classes.
What surprised you the most about business school? The MBA program is what you make of it. Many professionals join the MBA program with a myopic vision of the program offerings and how to leverage the school community. A business school is a gold mine of professionals and academic champions. The opportunities offered here to learn, network, lead, and maximize the time are endless. I was surprised by the leadership opportunities a business school offers you.
What is one thing you did during the application process that gave you an edge at the school you chose? As an international student, I gained an edge by visiting the schools in-person, auditing classes, connecting with current students, and exploring the campus, housing, and the city. My pharmaceutical background also helped advance my case on being selected.
Which MBA classmate do you most admire? Jie Wen Phang – As a fellow international student, I have been impressed with her approach to school, coursework, deadlines, and sponsorship challenges. She has held leadership roles in the student body, stayed on top of her work, and excelled at finding a job in her desired industry. She has always been helpful for schoolwork, and her knowledge & experience adds value to any team that she is a part of. Jie Wen and her husband, Dr. Keshav, are good friends and stars of my Instagram feed.
How disruptive was it to shift to an online or hybrid environment after COVID hit? Academically, it was challenging for the first few weeks back in Spring 2020. People were getting used to the new environment. The class vibe was not the same as everyone always just discussed COVID and there was gloominess everywhere. We have a come a long way since then and now, classes are more interactive and technology usage has evolved manifold. Personally, it has been tough since I'm an extrovert and I liked the social settings. Lockdown and online classes took the human side away and being away from home didn't help either. I am thankful for my friends (Prateek, Ria, Krystian, Doel, Abin, & Madhoo) in Newark, who kept the social circle going during these challenging times. We explored a lot of lakes, parks, outdoor dining and did weekly potlucks. Rutgers housing kept us safe and shielded.
Who most influenced your decision to pursue business in college? My dad, RP Arora, and brother, Varun Arora (Thunderbird, MBA 2013), have always motivated me and challenged my business acumen. They convinced me that pursuing an MBA would provide me with a broader knowledge of business and would sharpen my ability to solve business problems. Every weekend, they keenly listen as I recount my classroom cases and discussions. My brother always emphasized the efficient and thought-provoking case study-based teaching of U.S. MBA programs. They are my heroes and inspire me every day.
What are the top two items on your professional bucket list?
I want to be a good mentor to someone and share the knowledge I have gained. "Knowledge increases by sharing, not saving."

I want to promote creativity and design thinking in my future teams. I have had my fair share of success with the proper utilization of the available creative resources. I would want my peers to enhance their digital transformation in day-to-day business operations by implementing design thinking.
What made Aksay such an invaluable addition to the Class of 2021?
"Akshay Arora is one of the best and most productive MBAs that I have had in my career as a professor at Rutgers Business School. Here's just one example of how Akshay has demonstrated his abilities: In his second semester, he volunteered to develop and run the inaugural Rutgers – Johnson & Johnson Hackathon at Rutgers Business School. The objective of the Hackathon was to generate ideas for solving the current issue of how to increase the number of women going into a career in data analytics." This is important since data analytics is a huge and growing field, and the number of women in this field is very small.
Akshay's work was a key factor in the success of this event. He was able to recruit over 250 Rutgers students in just one week with a strong marketing campaign. He was able to capture the information about the students when they applied, allowing us to select the participants. He also organized and coordinated the day so that the Hack-a-thon ran smoothly, enabling six student teams to work alongside 10 industry professionals from Johnson & Johnson to develop their ideas. Each of the teams presented its solution, and at the end of the day, the judges selected a winner.
The winning idea for increasing the number of women entering the field of data analytics is now a test plan in five major companies in New Jersey. Akshay not only made a difference to Rutgers with his expertise. He made a difference to society."
Doug Brownstone
Professor of Professional Practice, Management and Global Business
Rutgers Business School
Press: For all media inquiries see our Media Kit